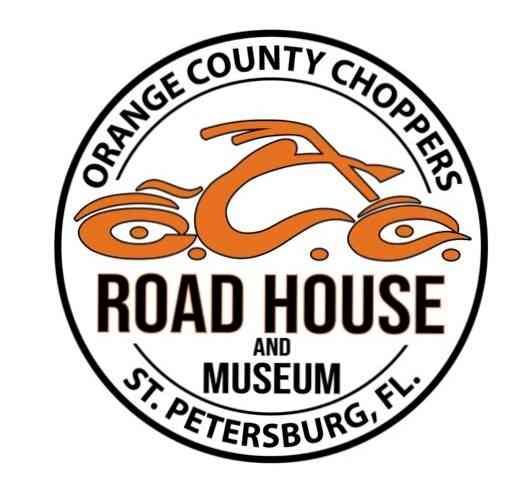 Local Businessman Keith Overton Partners with Celebrity Paul Teutul Sr. on New Orange County Choppers-Themed Restaurant and Attraction
St. Petersburg, Fla. (Nov. 17, 2020) – Paul Teutul Sr. of Orange County Choppers fame and area hospitality executive Keith Overton today announced plans to open the OCC Road House & Museum, a new restaurant and attraction based on Teutul's wildly popular OCC brand. Located adjacent to the 9.5 acre complex that is home to Bert's Barracuda Harley-Davidson, the one-of-a-kind destination restaurant will be decked out with a fleet of Paul Sr.'s custom choppers featured on the hit Discovery Network series "American Chopper," along with hundreds of rare items from his vast collection of biker memorabilia, many never before seen by the public. With more than 11,000 square feet of indoor space, the family-friendly OCC Road House will be one of the area's largest full-service restaurants, with indoor and outdoor seating for more than 325 guests to enjoy a full menu of classic American fare. The restaurant will also feature a massive 25,000-square-foot pavilion for concerts, outdoor dining, a billiards hall, floor games and other entertainment, and a retail store loaded with merchandise and collectibles for bikers, friends, and fans. The new OCC Road House & Museum is expected to break ground by the end of the year, with an anticipated opening in May 2021.
"As a long-time biker and St. Pete resident, I'm fired up to partner with Paul Teutul Sr. and bring something new and exciting to the dining and entertainment scene that will appeal to locals looking for great food, fun and live entertainment, and to motorcycle enthusiasts and OCC fans from all over the world," said Keith Overton, owner and developer of the OCC Road House & Museum. "We expect this unique, destination experience to be an instant success, and a concept we will plan to immediately license to other interested restaurant owners throughout the U.S. and Europe."
Overton, a 35-year veteran of Florida's hospitality industry, served as President at TradeWinds Island Resorts for the past 25 years. During that time, he and his team worked with Bert King of Bert's Barracuda Harley-Davidson and Paul Sr. to create the overwhelmingly successful St. Pete Beach BikeFest, which attracted 75,000 visitors to the area annually. "That experience got me thinking about other opportunities to build on the synergies from St. Pete Beach BikeFest and Bert's brand-new destination dealership, and to further collaborate with Paul Sr. on something bigger and badder," said Overton.
Partnering with entrepreneur, TV celebrity, motorcycle builder and founder of Orange County Choppers Paul Teutul Sr. was an easy decision for Overton, as the two have become friends over the past decade. According to Overton, Paul Sr. has long-standing ties to Florida and the local community, and a huge following in the Sunshine State. The OCC Road House & Museum will be an extension of the OCC brand, showcasing Teutul's one-of-a-kind creations in an upscale, industrial environment that will make guests and fans "feel like they're hanging out with Paul in his workshop."
The restaurant and museum will be packed with motorcycle memorabilia Paul Sr. has personally collected over the past three decades, including an enormous "patch wall" with tens of thousands of patches he has been gifted by members of the military and first responders over the years. Overton and Paul Sr. welcome military personnel and first responders, past and present, to help continue to fill the patch wall, leaving their mark for others to see. An Orange County Choppers Wall of History will feature custom choppers in a "chronology of chrome" detailing the brand's more than 20-year evolution.
Building the OCC Road House & Museum adjacent to Bert's Barracuda Harley-Davidson dealership was a natural choice for Overton as well. One of the top performing Harley-Davidson dealerships in the country, Bert's Barracuda has a loyal following and attracts a steady stream of bikers and brand enthusiasts from far and wide. In addition to this built-in customer base and the region's enduring tourism appeal, the restaurant's central location in Pinellas County will make it a convenient option for lunch, Happy Hour, dinner, and late-night entertainment for the many nearby businesses and residents of the greater Tampa Bay area. A full year-round calendar of live nightly entertainment, major concerts featuring regional and national acts, and other charity and special events at the campus pavilion is also expected to generate additional traffic to the restaurant and museum.
At a cost of more than $6.5 million to build, Overton expects the OCC Road House & Museum to provide a significant economic benefit to the City of Pinellas Park and the entire area by creating more than 50 construction jobs, and roughly 90 full-time and 20 part-time restaurant positions. "The timing of this announcement and the project is intended to bring some very positive news to residents and businesses in this community who are dealing with the negative effects of the pandemic. Paul, Bert and I are very confident about Florida's recovery and the success of this newly created concept," added Overton.
For more information on the OCC Road House & Museum, visit OCCRoadHouse.com or call Keith Overton, President & CEO, at (727) 432-3428. For media inquiries, contact Kelly Prieto, Vice President of Hayworth PR, at (386) 677-7000 ext. 2.