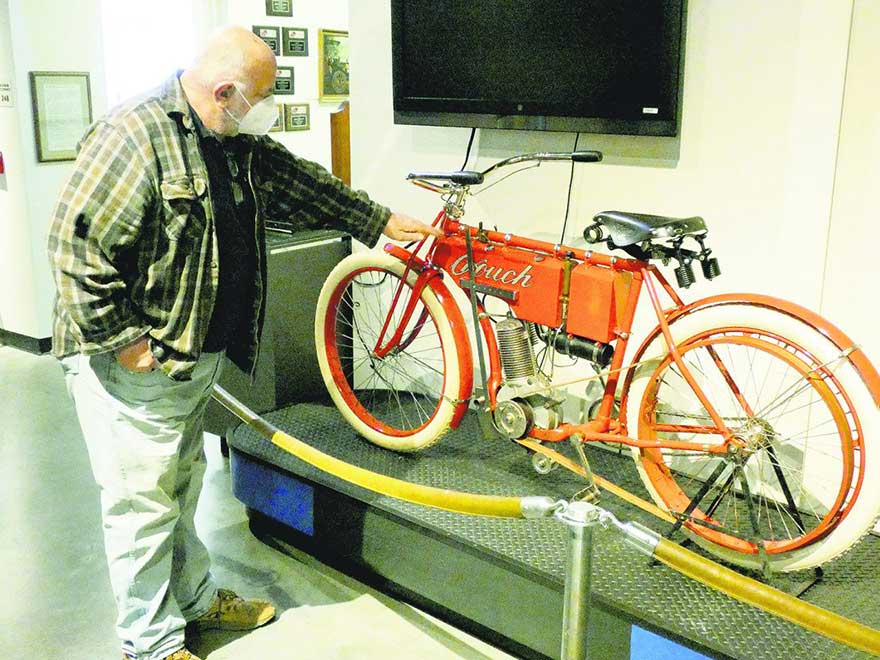 by Andy Gray from https://www.tribtoday.com
Some people aren't satisfied with a motorcycle straight off of the lot.
Collectors and motorcycle enthusiasts often modify those dealer purchases, restore damaged bikes that look like scrap metal to everyone else or build their own motorcycles from scratch.
The 21st Vintage Motorcycle Exhibit at the National Packard Museum celebrates those kinds of machines with "Roll Your Own," which opens Saturday and runs through May 22.
"Last year when we were working on the exhibit 'Two Wheels at the County Fair,' we realize there were a lot of bikes that were highly modified, that guys got real crazy with," museum Executive Director Mary Ann Porinchak said. "We decided to show off some of that creativity.
"The challenge was to find enough bikes, but once we started, they came out of the woodwork. It snowballed and had a life of its own, and there are some truly unique pieces that came about … One bike was built from the ground up from just a pile of parts. That shows a determination to ride and a fair amount of ingenuity."
For the restorers, it's a point of pride. Bruce Williams, a past organizer of the motorcycle show, has reconstructed several machines from most humble beginnings.
"People see you have half a motor (and ask), 'What are you gonna do with that?' I'll build a bike," Williams said. "They'll say, 'You'll never do that,' and a year and a half later, there it is."
That doesn't mean it's easy. For one 1906 motorcycle he rebuilt, Williams had to hire a guy in Holland who could build the rims and back pulley he needed. Since that kind of rim was outlawed in the U.S. in the 1930s, the guy in Holland wouldn't ship it to Williams directly. The parts were shipped to England and then to the U.S., and Williams had to pay duty fees on the parcel twice.
"I had $2,000 (invested) in two bare unfinished rims and a pulley, but it was the only guy I could find in the world who could make it for me," Williams said.
For another restoration, he found a photograph of the motorcycle model when it was for sale in England. He knew the size of the rims, so he had the photo blown up to actual size and used it to create the bike's frame and the other parts he needed.
A full list of the motorcycles usually is included with the preview story, but some of machines on display truly are one of a kind. One was built around 1922 Villiers frame. Another was assembled from parts from various Triumph motorcycles from the late 1960s and early '70s and started with a single bolt.
Some of the motorcycles featured this year are a 1902 Sylvester & Jones, 1905 Riddle (with a Thor motor), 1908 Crouch, 1912 Indian Beltdrive, 1922 Agricycle, 1923 Douglas Model W, 1928 Indian Scout, 1949 Harley Panhead, 1951 Vincent black Shadow, 1954 BMW R-25/3, 1967 Triumph T-100R, 1968 Triumph T-100C, 1971 BSA Diesel 2 cylinder, 1971 BSA-A65 Lightning, 1974 Triumph T140V, 1974-75 Penton Custom, 1976 Yamaha TT 500 Hill Climber, 1976 GS750 Suzuki, 1984 BMW R80 RT and 1996 Buell ST Lightning.
Not all of the motorcycles are vintage. There are a few 21st century bikes in the show, including a 2021 Triumph Scrambler inspired by the motorcycle featured in the upcoming James Bond film "No Time to Die."
William Dennis, president of the Packard board, has his 2015 California Custom show bike on display.
"Every piece of bling on there is an accessory that's in their catalog," Dennis said. "It has every accessory they make except for the fringe seat. Every piece of chrome on there is an add-on. The paint is a custom color. It emulates a Harley-Davidson paint scheme from years and years ago."
Dennis said he and his son bonded over their mutual love of motorcycles and they've restored several bikes over the years.
The annual motorcycle show is popular attraction, and it's earned the National Packard Museum several awards, including the Antique Motorcycle Foundation's highest honor, the Award for Excellence, as well as three consecutive first place awards in the Interpretive Exhibits Category from the National Association of Automobile Museums.
Dennis is one of the people who became involved with the museum because of the motorcycle show, and he said he would like its success to guide the museum's future programming by preserving the Packard history but also exploring other areas.
"I would like for this museum to be a mecca for transportation," he said. "The people who own Packards are older … You ask young folks today about a Packard, they think you're talking about Hewlett Packard.
"My thought is looking backward to move forward. What did we do in the past that worked and what can do in the future to keep going?"
One new challenge in organizing this year's motorcycle show was the COVID-19 pandemic, which kept the committee members from being able to meet and interact the way they normally do.
"With the motorcycle guys, their excitement and enthusiasm feeds off each other," Porinchak said.
As a result, there aren't as many supplemental items accompanying the motorcycles compared to past shows, but one addition for 2021 is a piece by Youngstown artist Guy Shively that is part of the permanent collection of the Butler Institute of American Art.
"It's a black-and-white piece, a pile of just motorcycle parts," Porinchak said. "One of our committee members remembered seeing it there and said let's see if we can borrow that piece and hang it up here. It's the epitome of what we're doing with this show. It's a nice partnership, collaboration with them."
If you go …
WHAT: 21st Vintage Motorcycle Exhibit — "Roll Your Own"
WHEN: Saturday through May 22. Hours are noon to 5 p.m. Tuesday through Saturday and 1 to 5 p.m. Sunday.
WHERE: National Packard Museum, 1899 Mahoning Ave. NW, Warren
HOW MUCH: $8 for adults, $5 for senior citizens and children ages 7 to 12 and free for children 6 and younger. For more information, go to www.packardmuseum.org or call 330-394-1899.