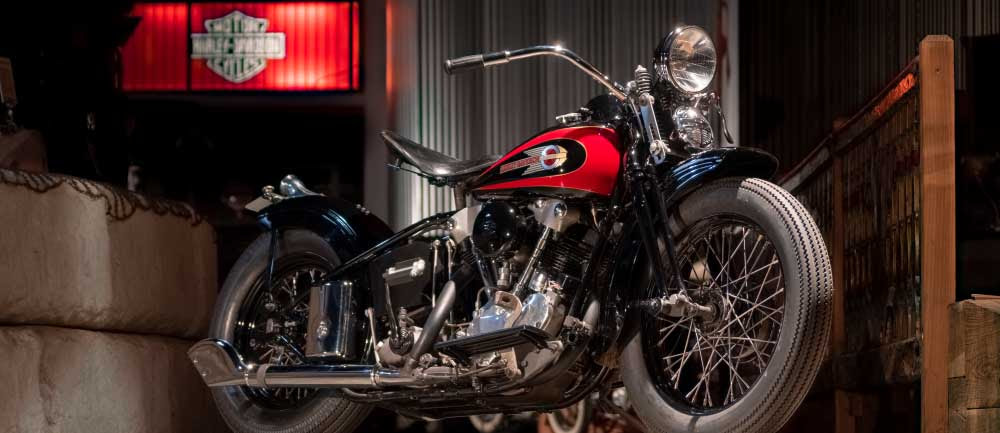 November 9th is only two weeks away, and we're gearing up for one of the best days of the year. One lucky winner will be taking home this beautiful 1936 Harley-Davidson Knucklehead, not to mention a second prize winner taking home $10,000 and a third prize winner $5,000. Now is the time to get your last minute tickets for the 2019 Raffle Bike.
https://wheelsthroughtime.com/win-this-bike/
Now until raffle day, we're giving away 2 separate prizes to two separate winners for everyone who enters the annual raffle at the "Better Deal" Package or higher. We're offering a chance to win a 3-day 2-night stay at Elk Ridge Cabin and a chance to win our Vintage Racing Jersey! That means you have 2 chances to win one of these prizes from this special!
The 2019 Raffle Bike
The 2019 Wheels Through Time Raffle Bike is a stunning 1936 Harley-Davidson EL Knucklehead Bobber, painstakingly rebuilt in the WTT Restoration shop by museum founder and curator Dale Walksler and his team. The bike features a first year 61 c.i. OHV engine based around a genuine pair of new old stock replacement knucklehead engine cases mated to a 4-speed transmission in Harley-Davidson's classic black and vermilion red with gold striping. This marks the second year in a row that Wheels Through Time will be raffling off the Holy-Grail of all American motorcycles. Many of the motorcycle industry's top vendors collaborated with their parts, service, and expertise.
The raffle takes place in front of a live audience on Saturday, Nov 9th, 2019 at the Wheels Through Time Museum in Maggie Valley, NC. Second prize is $10k, and 3rd prize is $5k — you do not have to be present to win.
We wish you the greatest luck in the Wheels Through Time Annual Motorcycle Raffle!