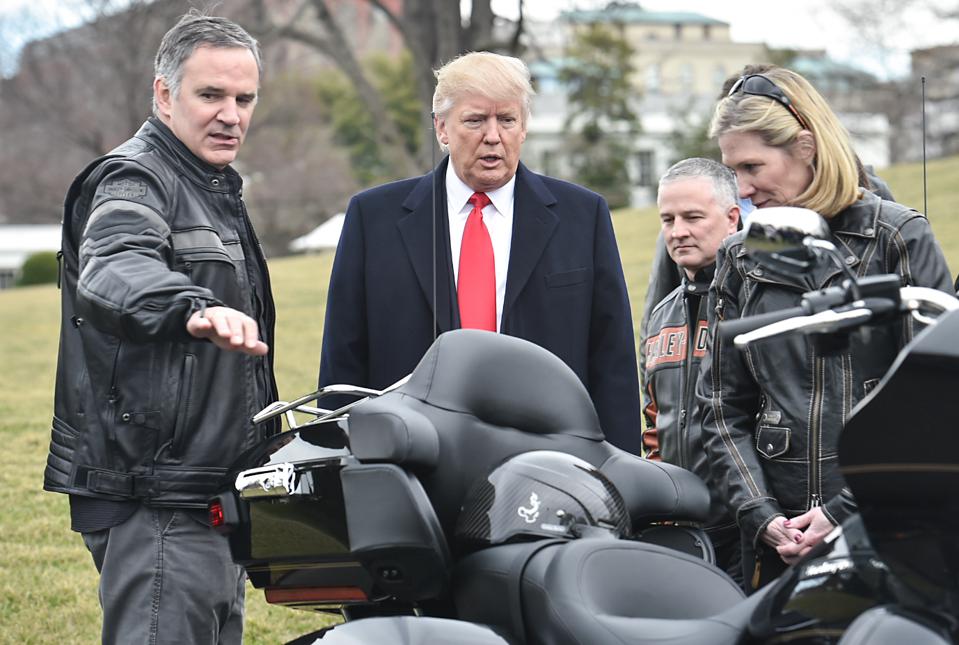 by Jim Osman from https://www.forbes.com
Visionary CEO Keith E. Wandell should go down in history as the man who introduced the electric motorcycle to the US market and possibly the first CEO to bring it to the world.
It was in 2011 that Mr. Wandell first showcased his unbranded team-made creation to a keen San Francisco motor bike enthusiast crowd. He might be the most notorious CEO that the iconic US bike manufacturer Harley-Davidson HOG +4.1% has had (founded 117 years ago in Milwaukee, Wisconsin).
However, The Edge (the global leader for activist ideas, special situations and Spinoffs) believes new CEO Jochen Zeitz is the best thing to happen to the company since Mr. Wandell left and successor Matthew S. Levatich was fired suddenly thanks to Impala Asset Management, the $2.4 billion activist hedge fund led by Bob Bishop.
The US military purchased over 20,000 motorcycles from Harley-Davidson in World War I and the company also lent itself to supporting US and Allied troops in World War II, with 90,000 military motorcycles handed over.
Harley-Davidson's global fan club run in the millions of members, called Harley Owners Group (HOG), and their constant support of US military and Allied troops gives to many charities around the world.
Under Mr. Wandell's stewardship, the electric motorbike became a reality for Harley-Davidson when the LiveWire was first displayed to the media in June 2014 and released to customers by September 2019.
It even became the star of 2019 documentary "The Long Way Up" featuring Unicef Ambassadors and Hollywood actor Ewan McGregor and his longtime riding buddy Charley Boorman when they traveled from Argentina to LA on the electric LiveWire bikes.
In the 1950s Harley-Davidson dealt with reputation damage as well as economic downturns, and was on its knees by the 1960s. In 1969, American Machine and Foundry (AMF) rescued the nearly bankrupt Harley-Davidson.
AMF sold the company to a group of 13 investors led by Vaughn Beals and Willie G. Davidson for $80 million in 1981. To this day, it's one of only two major American motorcycle manufacturers to survive beyond the Great Depression.
On July 1, 1987, executives from Harley-Davidson and the New York Stock Exchange rode from the Harley dealership in Queens to the New York Stock Exchange on Wall Street to celebrate the first day Harley-Davidson began trading under the ticker symbol HDI, according to the Harley-Davidson museum.
Mr. Wandell joined Harley-Davidson in May 2009, becoming the first external CEO since 1981. On February 7, 2012, under Wandell's reign Harley-Davidson changed its New York Stock ticker symbol from HDI to HOG.
Mr. Wandell joined Harley-Davidson as CEO in 2009 and by 2012 he had assumed complete control as Chairman of the company's board of directors while paying investors an increased dividend. It was Mr. Wandell who showed off his unbranded electric motorcycle to enthusiasts in downtown San Francisco in Autumn 2011.
But Mr. Wandell had an eye for talent and promoted Matthew S. Levatich, who joined Harley-Davidson in 1994, as Chief Operating Officer to President, and then CEO of the company in 2015 when Mr. Wandell retired.
Current President, CEO and Executive Chairman Jochen Zeitz (took office February 2020) made two purchases in May 2020, once on May 8 (97,850 shares at $21.26, totaling just over $2m) and again on May 13 (51,020 shares at $19.52, totaling just shy of $1m and representing a 51% increase to his holdings).
These were his first purchases of HOG stock and he has recently made another purchase on August 12 – this time buying 71,450 shares at $27.86 (again spending about $2m, representing a further 47% increase to his holdings) at a significantly higher level than his previous buys. From the May 8 purchase to date, Zeitz's insider buying made an adjusted +23% return.
Another executive also bought on May 13, then-CFO John Olin, who bought 13,500 shares at $19.02 (spending $260k and representing a 19% increase to his holdings at the time. Since that purchase, Mr. Olin has left the company as part of the larger cost-cutting restructuring called "The Rewire," though his purchase has yielded a significant return of +45% in just over three months.
Vice President & Treasurer Darrell Thomas has taken over interim CFO duties as of July 9 until a formal successor has been named.
In April 2020, in response to the ongoing COVID-19 pandemic, HOG announced a strategic turnaround plan called "The Rewire," intended to overhaul the company's global operating model and save costs.
As a result of the ongoing implementation of the Rewire, several optimization changes have been made to the global workforce and reduction of redundancies, there is an increased focus on offering customizable parts and accessories to help consumers make their motorcycles more personal.
The creation of Chief Digital Officer with Jagdish Krishnan in the role is designed create broader and more engaging digital marketing experience for consumers.
This initiative intends to bring Harley-Davidson into the modern era and appeal to generation Z consumers and beyond (as much of the counter-culture base has grown older and motorcycles have struggled to catch on with a wider young audience), and may provide another example of Mr. Zeitz's turnaround magic.