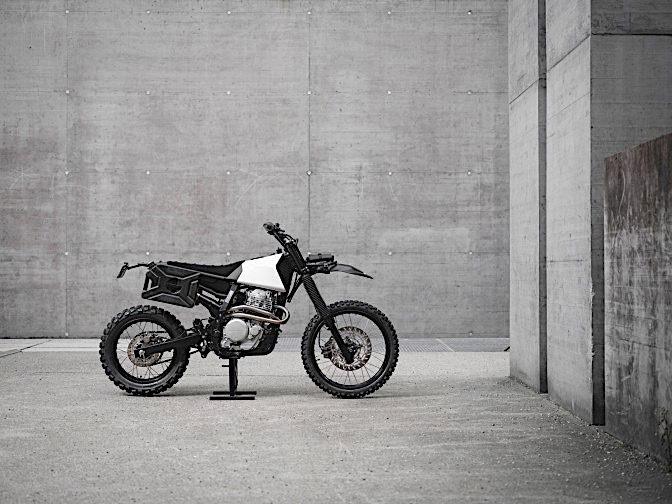 by Daniel Patrascu from https://www.autoevolution.com
3D printing is slowly making its way into car and motorcycle manufacturing processes. Still to be adopted on a large scale by established players in the two segments, 3D printing is gaining increased traction in the world of startups and smaller, more adaptable entities.
And that's a good thing, seeing how extraordinary projects came to light over the past few years. And a fine example of that manufacturing process is the Vagabund V13 Dominator based on an otherwise unassuming motorcycle.
Vagabund is an Austrian design studio that specializes in making custom motorcycles. And by that we don't mean the usual Harley conversions and not even custom frames. Vagabund uses 3D printing for certain parts of the bikes, and it does it really well.
The motorcycle in the gallery above was once a 1991 Honda NX 650 Dominator that got modified beyond recognition and turned the sport bike into a true off-roader. Its modern, yet utilitarian design is heavily due to 3D printing.
A host of new parts for the bike were created this way: the fuel tank, which also features a mini speedometer, the rear end, air filter cover, indicator light bracket, and the handlebar switch housings.
Accompanying these custom made parts were an engine rebuild and the addition of elements sourced from third parties: the front fender comes from a Husqvarna TC 85, there are Kellerman turn signals, and Bridgestone tires.
Despite its minimalistic, borderline futuristic look, the V13 is a road legal motorcycle, at least in its home country of Austria. So much so, that the bike's official page on Vagabund's website reads the build is sold – we have no information on how much it went for.
As part of our Two-Wheeler Month coverage, we'll probably talk more about Vagabund's creations over the following 30 days, as we're trying to uncover the best custom motorcycle shops from around the world.