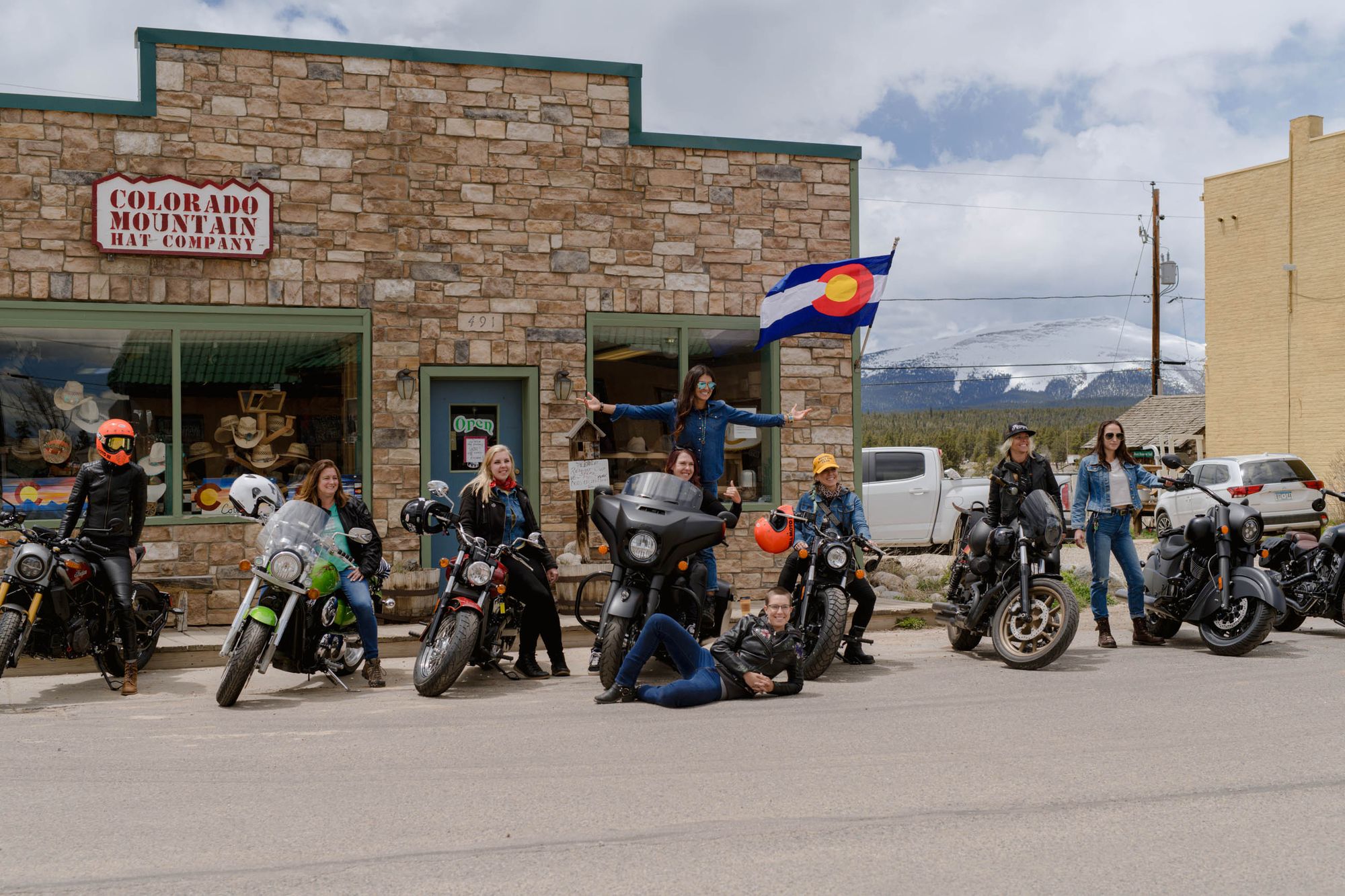 Anxious to find new audiences after a decade of declining sales, the giants like Harley-Davidson and BMW Motorrad are finally taking notice of a self-made community.
On Valentine's Day, Sharry Billings posted a photograph on Instagram. Below the image of herself, her hair a red caramel and her smile open, she wrote: "I love you so much I wanna squeeze you!"
The object of her affection? "All the motorcycles I have owned and will own in the future," she explained. Alongside the photo of her astride a Harley-Davidson, she wrote that bikes "have changed my life, healed my soul, and brought me more love and friendships than I could have ever imagined."
Billings goes by @sistermother13 on Instagram, but the main account she oversees is @thelitaslosangeles. The Litas is a group she joined three years ago as a way to connect with other women riders in her city. She's co-led the L.A. branch for two years. When she joined, it provided her with much-needed healing and camaraderie after her kids grew up and she got divorced. Billings had ridden as a teenager and into her 20s but took a hiatus later. "It was always in my heart," she says. But when she was married with young children, "I thought it was a little too dangerous."
After the breakup in 2015, she found herself longing for escape. And adventure. "My prayer at the time was, 'God, I don't want to date.' These men are not happening," Billings says, laughing. "The first thing that came to my heart was the motorcycle I wanted. It was a Harley."
She bought the bike, took the ride. Then she joined the Litas. "I'm very grateful to have found my heart again," Billings says.
Founded in Utah by Jessica Haggett half a decade ago, the Litas have expanded to include hundreds of branches around the world (Litas Denver, Litas Lisbon, Litas Rome), with members ranging from twentysomething singles to 60- and 70-year-old retirees with grandkids. They take regular rides, often along wild back roads, including the Pine Mountain Ridge route near Ojai, Calif., that Billings took with 32 other riders one Saturday in July. It's about riding with your own style and pace but surrounded by like-minded friends.
"If you're learning to ride, you're going to kill yourself riding with men—they ride like bats out of hell!" Billings says. "And women—I'm generalizing here—tend to be more careful. We are mothers, we are sisters, we feel obligated to stay alive."
The Litas are singular but not uncommon. All across California, Oregon, and Utah, from Texas to New York, women-only motorcycle groups and riding events are springing up like wildflowers. They go by names such as the Miss-Fires (Brooklyn, N.Y.), the Chrome Divas (Austin), and Leather and Lace (Daytona Beach, Fla.). They do regular rides: Tuesday night pizza runs, say, or weekend coffee meetups—and they take periodic excursions to women-only destination events such as the Wild Gypsy Tour, which is organizing a festival in Sturgis, S.D., in August, and the Dream Roll in Ashland, Ore.; it's early June event near Denver was photographed for this article.
The biggest crowd follows Babes Ride Out, a series of events founded by Anya Violet and Ashmore Ellis in 2013. It started with 50 women riders who gathered to camp out in Borrego Springs, Calif. They built fires, pitched tents, drank beer, and played games on Harleys, Husqvarnas, and Hondas while soaking in nature and one another's company.
These groups are tapping into an undercurrent of the motorcycle industry. As sales have faltered, dropping more than 40% from 2008 to 2010, then recovering somewhat by 2014 but never to previous levels, manufacturers including Harley-Davidson Inc. and BMW Motorrad have struggled to create appeal beyond their core demographic of older white men. Their efforts include offering electric and less-expensive motorbikes and introducing exciting conceptual prototypes. Female riders offer enthusiasm and youth, and, yes, they're spending money that brands crave.
The number of women who own motorcycles has almost doubled since 2010, according to a 2018 study by the Motorcycle Industry Council. Today, 19% of owners are women, up from 10% in 2009 and 8% in the late 1990s. And the number of female riders gets higher as you go younger: 22% of Generation X riders are women, and 26% of millennial riders are women. What's more, the average woman who owns a motorcycle spends $574 annually on maintenance, parts, service, and accessories, while the average man who rides spends $497.
While the industry on the whole dropped 40% from 2008 to 2010, the amount of women who own motorcycles has almost doubled
"We are riding a ton," says Joy Lewis, who started when she was 12. "I have a friend who put 20,000 miles on her bike in one year." Lewis's father, an Alaskan crab fisherman who owned a Harley, got her hooked. "We spend a lot of money on our gear and our bikes, and a lot of things to go with them. I think that's starting to be appreciated."
Andy Jefferson, a spokesman for Husqvarna, says one of the brand's priorities must be to provide support for women's motorcycling. "We were like everyone else—going after a piece of the pie," he says. "But everyone was looking at men, and there are all these other people—women—that nobody even really talks about in conversations about how to sell more bikes." The brand lacks figures for how many of its owners are women but is "working to change that," Jefferson says. "That's part of the problem."
Husqvarna honed in on women riders five years ago when it started sponsoring Babes in the Dirt, an offshoot of Babes Ride Out that's more focused on off-road and dirt-bike riding. Last year the company spent $50,000 to $60,000 in support of the three-day rally, lending 27 motorcycles and nine staffers to service the bikes and teach.
"We counted between 80 and 100 girls out there [trying out] Husqvarnas," he says. "The number is not huge by any means, but those are 100 people we didn't have before. It also jumps down to their brothers and sisters and kids. We never would have got these people without doing this."
But more important, "we want to get you to ride a motorcycle," Jefferson adds. "If you ride with Babes and have fun and go buy another brand, great. We just want people riding."
At BMW Motorrad, which on July 1 named Trudy Hardy vice president for the Americas, the company is sponsoring women-only events including the Sisters' Centennial Motorcycle Ride. It's also covering travel expenses and appearance fees for brand reps such as Elspeth Beard, an architect who was the first British woman to ride her motorcycle around the world. The brand also sends pro racer Jocelin Snow and Erin Sills, who holds a 242 mph land speed record, to attend events at local dealerships.
Harley-Davidson has expanded its retail line in recent years to include a host of riding jackets, helmets, boots, and gloves sized and styled for women. It's perhaps the most critical field of growth for the 116-year-old Wisconsin brand, which has seen sales steadily decline since 2014. The average age of a Harley owner is 50. The average price of one is $15,800—more than many millennials will spend on a car, let alone a motorcycle.
"Even just in the last five years the conversation has shifted," says motorcycle aficionado Lewis. "I'm sitting here in leather Kevlar pants as we speak, about to go into a meeting. Not only are companies making cute technical stuff that you could wear to work—rather than some weird leather pants with pink embroidery all over the butt that you'd never wear—they're making things we can actually use."
Attendees at events for Babes Ride Out (or BRO, the ironic abbreviation they've adopted) come to America from as far away as Sweden and South America. Some have ridden since they could walk; some can't operate a bike at all, preferring always to be a passenger and imbibe the inspirational atmosphere. There's always plenty of denim and leather on-site—but the hipster kind, not the leather-daddy look. Local shops give classes on basic bike maintenance. Some women get tattoos to commemorate the experience.
"People camp, and there are trailers, too," Lewis says. "The idea is that you grab coffee and breakfast, and then during the day everyone is out riding. And then all the stuff happens in the evenings with bands or karaoke and slow races"—feats of throttle control.
Earlier this year, a 96-year-old woman joined them at camp; she'd first ridden cross-country on her motorcycle 75 years ago. Last summer the annual California desert meetup saw 1,700 women ride in Yucca Valley; 500 attended an East Coast campout in the Catskill Mountains in New York; 700 attended the most recent Babes in the Dirt in Lebec, Calif.
"Maybe people think that women who ride are pretty tough and badass, which is probably true, but all in all, women riders come in all shapes, sizes, colors, and lifestyles, so any label that you want to give them does not really work," co-founder Violet says. "I can honestly say that there is no 'type' … and we like it that way!"
Be Here Next for Motor-Loving Ladies
The Dream Roll
Set at New Frontier Ranch in the southern wilds of Oregon, the Dream Roll offers camping, tattoos, dirt trails, an on-site bar, and water activities near stunningly picturesque Crater Lake. Aug. 23–25; Ashland, Ore.
Wild Gypsy Tour – Sturgis Buffalo Chip
The biggest and baddest Gypsy festival of the year, the five-day South Dakota event will appeal to the truly unbridled spirit with Super Hooligan races, minibike showdowns, the Wall of Death—and multiple concerts including Keith Urban, Toby Keith, Snoop Dogg, and Styx. Aug. 3–7; Sturgis, S.D.
Babes in the Dirt East
A mix of flat-track and motocross riding gives dirt-loving ladies a place to experience and perfect their off-roading skills. Where Babes Ride Out focuses on asphalt routes, here you'll be on trails. Sept. 20–22; Greenville, Tenn.
Babes Ride Out 7 – Central Coast
BRO 7 will include the jewels of years past: karaoke, free beer, performances from local bands, route maps for area rides, and hands-on classes for working on your bike. B.Y.O. tent. Oct. 11–13; Santa Margarita, Calif.