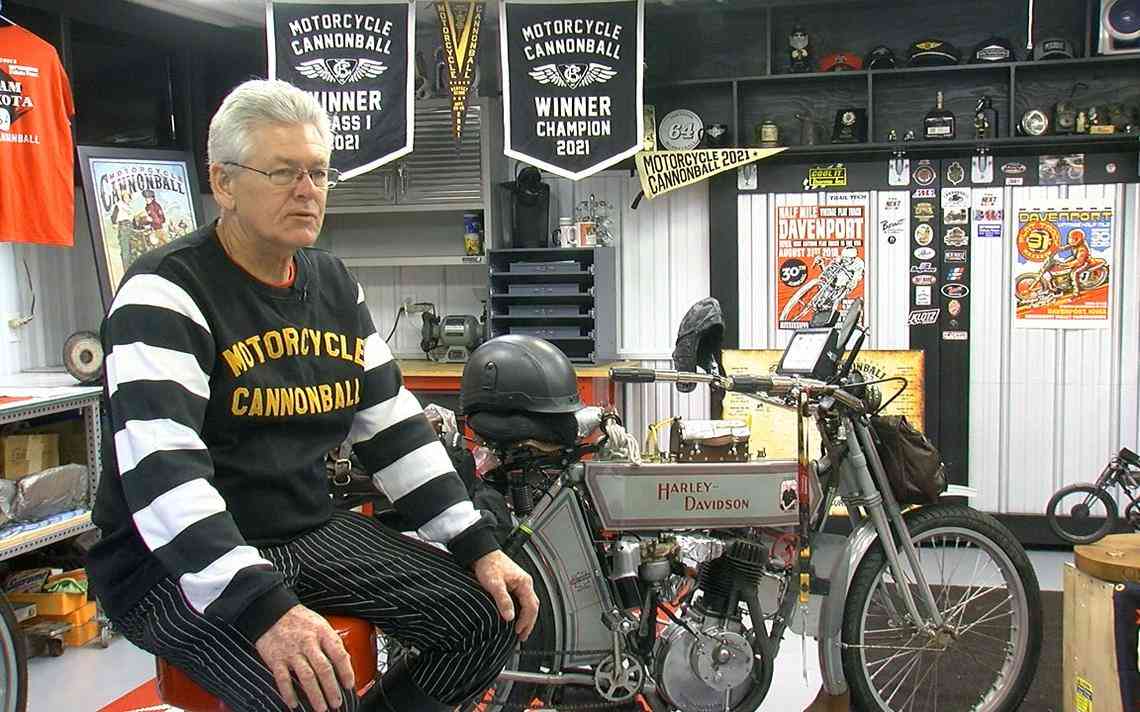 by Kevin Wallevand from https://www.inforum.com
Fargo man wins Motorcycle Cannonball with 1911 Harley Davidson
Dave Currier turned 68 years of age on the road while racing in the Motorcycle Cannonball
Earlier, Dave Currier had been a runner-up in 2018 Motorcycle Cannonball riding a 1915 Harley-Davidson
His father sold Indian and Harley motorcycles in the 1940s and 50s in Fargo and also raced them
Dave Currier credits John Rouland of Northern Crankshaft in Thief River Falls for doing a lot of the technical and engine work on his 1911 H-D
"To start it, you have to pedal to start it, it is a belt drive. To move it forward, you have a lever which tensions the belt and the bike moves forward." – Dave Currier
Fargo man wins Motorcycle Cannonball with 1911 Harley Davidson
A Fargo man has just won a cross country motorcycle run called The Motorcycle Cannonball.
Dave Currier is finally getting some feeling back in his rear-end. He is back in Fargo after competing in the most difficult, antique endurance race in the world: The Motorcycle Cannonball.
"I think this has been the toughest ride of my life," Currier said. "It is a real grind, I had about eight hours in the saddle every day."
Riding his 1911 belt-driven Harley Davidson, Currier and 88 competitors crossed 11 states over 16-days straight. From Michigan to South Padre Island, Texas, they racked up just over 3,700 miles.
"The bike is tall. I have short legs, so my feet don't touch the ground," Currier said. "To start it, you have to pedal to start it, it is a belt drive. To move it forward, you have a lever which tensions the belt and the bike moves forward."
But Currier, who had a team planning and tweaking this bike, not only competed; he won.
"I had a police escort, it was an absolute incredible deal," Currier said. "They closed the roads off."
He crossed the finish line with this checkered flag, bringing home the trophy.
"Before the finish, they handed me the checkered flag, and I rode in with the checkered flag," Currier said. "It was incredible. (It's) still hard to talk about it."
Currier credits John Rouland of Northern Crankshaft in Thief River Falls for doing a lot of the technical and engine work on the 1911 Harley.
He said his local sponsors; Milwaukee Tool, Acme Tools, Dakota Fence, and TechLine Coatings all played a role in the win.
Currier, who turned 68 during the race, thinks he had a little help from angels above. His dad, Dick Currier, sold Indian and Harley motorcycles in the 1940s and 50s in Fargo. He raced them as well, and Currier believes his dad would be pretty proud.
"He was a big part of my life," Currier said. "That's why I called it, 'The Last Ride.'"
For more info on the Motorcycle Cannonball visit their website by clicking here.
Earlier Dave Currier had been a runner-up in 2018 Motorcycle Cannonball riding a 1915 Harley-Davidson
From September 2018.
"I've already been doing a lot of thinking," Currier said, chuckling. "I have done the twin cylinder. The next challenge for me would be to take a single cylinder and make it across the U.S. But this was a trip of a lifetime. Going over the mountain in Kalispell, Montana, that's when I turned 65."
'Trip of a lifetime': Fargo resident named runner-up in world's hardest antique motorcycle run
Currier says his bike, a 1915 Harley-Davidson twin-cylinder boasting an 11-horsepower engine, took him two years to restore.
by Emma Vatnsdal from https://bismarcktribune.com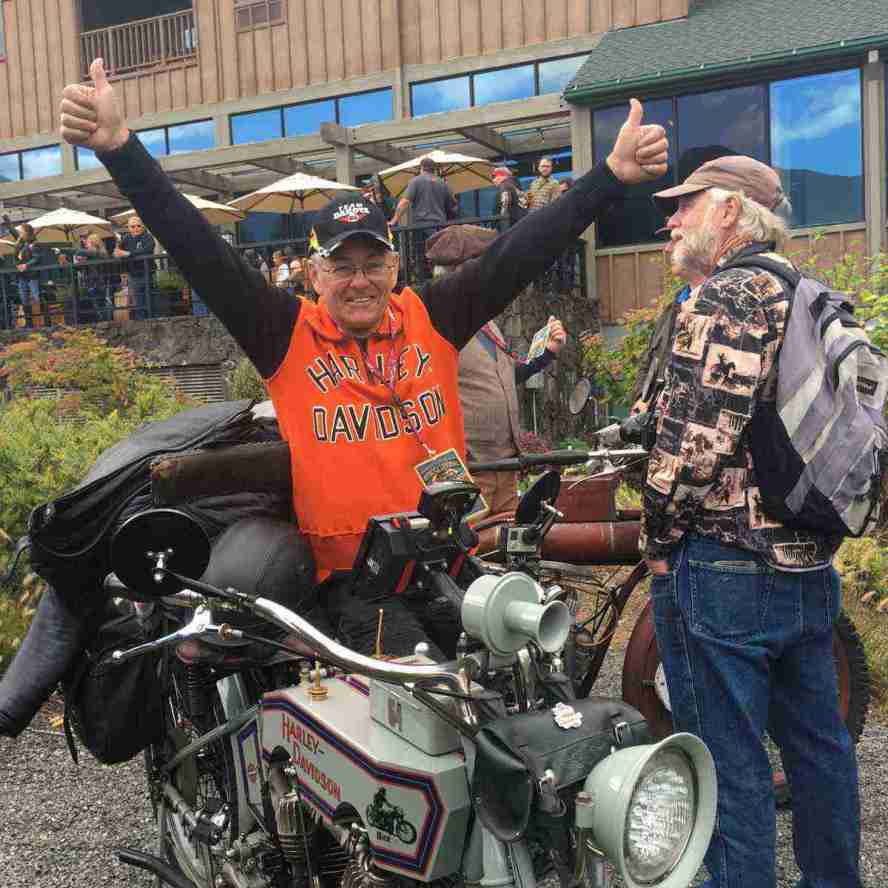 PORTLAND, Ore. — Enjoying a sunny 48-degree morning in The Dalles, Ore., Dave Currier and his entourage were getting ready late last week to point themselves east and head back home to Fargo.
While many go west to escape the cold of winter or spend time with family and friends, Currier had a different motivation — and to end up in Portland, he had to start in Portland, Maine.
In 2010, one man set out to become the first person to take a group of 45 like-minded antique motorcycle riders across the U.S. from Kitty Hawk, N.C., to Santa Monica, Calif. Sixteen days later, 10 of the original 45 riders rolled their roughly century-old bikes onto the Santa Monica Pier, completing the inaugural Motorcycle Cannonball Endurance Run.
Now in its fifth running, the 2018 installment of the run saw more than 100 people ride from Maine to Oregon, giving participants a chance to see much of the U.S. in a whole new way.
Three classes of motorcycles — single cylinder, twin cylinders with two-speed rear ends and bikes with three-speed transmissions — set out, racing to navigate the roads to each day's checkpoint before 5 p.m. Taking only the "back roads" across the whole country, Currier and the rest of the crew averaged around six hours of riding per day beginning at 7:30 a.m.
In true-to-history fashion, modern navigation systems like a GPS device were not allowed. Instead, riders were given maps each morning 30 minutes before they set out with directions consisting instructions like "drive north 3.2 miles, turn left at the blue house and head west."
Currier said it was a voyage to remember.
"It was incredible," Currier said. "It was a fantastic trip kind of re-enacting what the old-time people did when they had the opportunity to go across the U.S. What was really kind of special was I had my birthday (during the trip). Going over the mountain in Kalispell, Montana, that's when I turned 65. It was kind of a monumental trip in many ways for me."
Lifelong passion
There are few requirements about which motorcycles qualify for this cross-country road trip, but there are standards that must be met. For the 2018 run, all motorcycles had to be manufactured in 1928 or earlier, and must still appear original in nature.
While period-correct modifications were accepted, no modern replica bikes could be entered.
Electrical charging systems, auxiliary fuel tanks and modern wheels were OK, though GPS systems were specifically banned.
Currier says his bike, a 1915 Harley-Davidson twin-cylinder boasting an 11-horsepower engine, took him two years to restore.
"I started with the basic frame and completely refurbished it from the ground up," he said. "I've always enjoyed the motorcycles since I was 7 years old when I first rode one. Restoring this was pretty special."
Safety is the No. 1 concern during this race, especially because the bikes are sometimes older than riders' grandparents. Upon arriving in Portland, Maine, riders completed a half-day of safety classes consisting of rules of the road and safety features.
Each Cannonball rider is also allowed a support team to help them along the way. Currier chose his wife, Kay, two friends from Alaska and a co-worker to assist him with any repairs after each day was done.
"When you get done with the day and you check out, you can do any service work you want on your bike," he said. "You can change motors, you can overhaul it, whatever you can between 5 at night and 7 in the morning. The support team can't have anything to do with you during the day."
Even with the small issues he faced — losing bolts, tough winds and unsoldered ground wires — Currier says he wouldn't have placed runner-up in his class without the support of his wife and family.
"They've always been incredibly good," he said. "I couldn't have done this without them."
The Motorcycle Cannonball Endurance Run happens every two years, and Currier said he's started planning for 2020.
"I've already been doing a lot of thinking. Six to seven hours a day, you got plenty of time to think about a lot of stuff," Currier said, chuckling. "I have done the twin cylinder. The next challenge for me would be to take a single cylinder and make it across the U.S. But this was a trip of a lifetime."