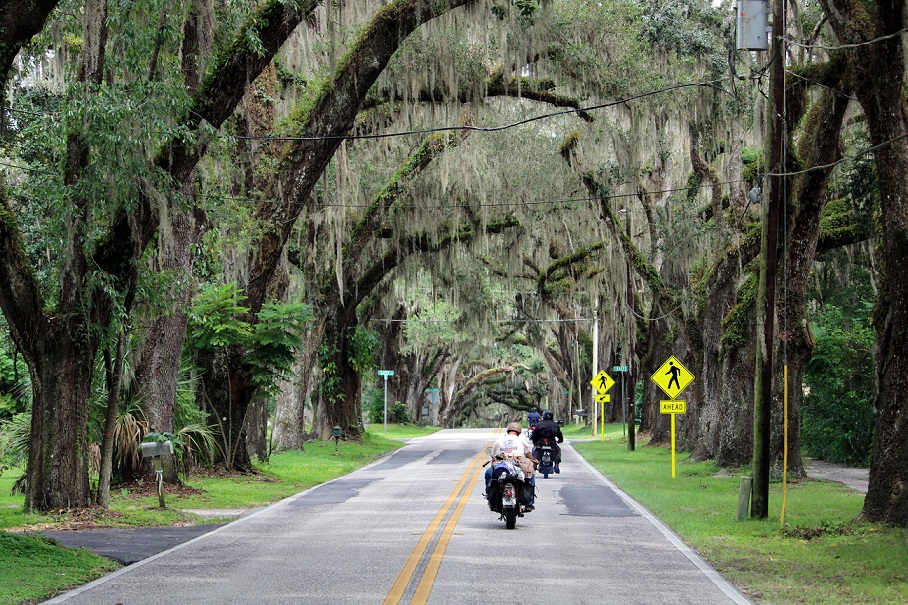 Excitement is building as we race toward the finish line with two more days of riding under predicted dark skies, wind and occasional rain in the forecast. Today's weather, however, afforded riders their first look at the ocean as they made their way toward Crystal Harley-Davidson for an elegant hot lunch served on the dealership veranda. Riders enjoyed the hospitality and lingered over lunch before hitting the road again with the hopes of staying dry, which didn't happen, but the sporadic rain served to cool things off enough to make the trip even more enjoyable. By the time the group pulled into Lakeland Harley-Davidson for the hosted dinner, the clouds gathered for another attack and sent riders off to the hotel with soggy duds. Again.
So, race fans, here are the scores from Stage 8. You'll notice the top five have been juggled again but the top two spots are a BSA ridden by Todd Cameron in first and a Harley-Davidson ridden by Jim Gilfoyle holding second, followed closely by a Triumph, then five Harleys, an Indian and a Norton to round out the top ten spots with a good showing from a variety of marques.
The list of bikes that have dropped out includes 1-BSA, 3-Indians, and 4-Harley-Davidsons and the list
#5 James Maloney
#17 Rick Salisbury
#42 Michael Bruso
#50 Rowdy Schenk
#62 Scott Funk
#70 Will Lusignan
#77 Brent Mayfield
#91 Jeff Fredette
There are an additional 5 riders with various issues that have taken them out of the competition in terms of contending, but they continue to ride to finish out the trip and that list includes 2-Harleys, 2-Indians, and the only Zundapp entered:
#51 Shane Masters
#36 Bill Reese
#96 Richard Campbell
#22 Don Gilmore
#65 Mike Butts
As of tonight's tally, there are still 35 riders who have made all 1,980 miles with no penalty points, though another 8 have actually made the miles but were docked points for various reasons.
SO, what does all this mean? Basically, that the number of bikes that will actually be motoring across the finish line on Sunday afternoon is still very unpredictable! The public is welcome to come on out to Key West to cheer riders on as they're waved in with the checker flag and to join us for the celebration at the awards banquet afterwards. Tickets are available for purchase by going to https://www.cannonballstore.com
See ya there!