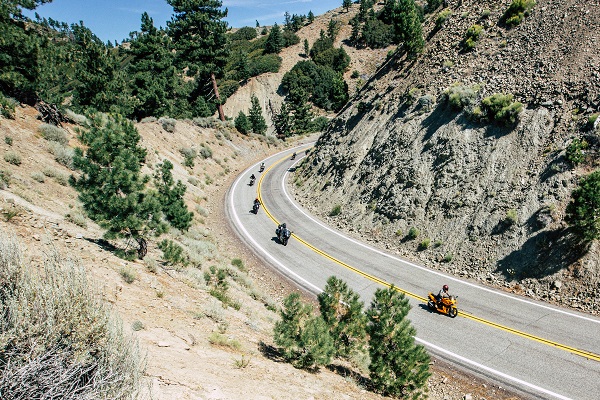 The Fourth Annual HighPipe Motorcycle Festival will move up the hill to Table Mountain at Mountain High North Resort in Wrightwood, Calif., with riders hitting the trails, July 17-20. Wrightwood sits in San Bernardino County, about 75 miles northeast of Los Angeles.
Table Mountain reaches an elevation of nearly 7,000 feet and is situated in a hilly, oak and pine forest with large meadows and breathtaking views. Average daytime temperatures in the summer reach the low 80s, with very pleasant cooler evening temps. The Table Mountain Nature Trail encompasses the Angeles Crest Scenic Byway, which provides a picturesque route for riders along some of the highest and most scenic ridges of the San Gabriel mountain range.
The HighPipe Motorcycle Festival showcases all makes and models of bikes. Basically, if it has two wheels and an engine, it is welcome. HighPipe provides opportunities for riders to hone their skills at base camp and take on the challenges of the expertly-created skills course to test their riding mettle. Riders can check out back roads on their way to discovering amazing new destinations. Base camp will also feature a vendor row, with leading brands providing demo opportunities and shopping for the latest gear.
"The HighPipe Motorcycle Festival is one that we always have circled on our calendar," said Tim Collins, Moto Vertical Leader, Bonnier Events. "The event has continued to grow and evolve over the last three years and Mountain High North this year will add even more excitement. HighPipe provides an outstanding experience for riders of all skill levels and the camaraderie among participants is second to none. We can't for everyone to put the kickstand up and hit the trails."
Always a highlight of the HighPipe Motorcycle Festival is the Scramble Ramble Scavenger Hunt, which takes participants to some of the most breathtaking locales, nearly a mile-high in the San Gabriel Mountains to discover unbelievable points of interest.
All HighPipe participants are invited to take part in the Scramble Ramble Scavenger Hunt. When participants find locations, they will share via Instagram and mark their scorecards. Each point found, enters participants into Saturday evening's drawing for amazing prizes.
Event Features Include:
Test Ride – Try out new motorcycles from top industry manufacturers
Mob Runs – A challenging loop though the beautiful San Gabriel Mountains, which includes both dirt and paved roads.
Scavenger Hunt  – Use your riding skills along with sense of curiosity to discover amazing stops along the trails.
Vendor Row with leading brands showcasing their latest products
LIVE Music from local acts, sharing their grooves
Delicious Food from a local establishment
Ride In Bike Show – Featuring People's choice awards
Scramblekhana Skills Course – Ride a scrambler-style gymkhana course and show your skills with fun low-speed challenges such as riding the plank, crossing the log and sand turns.
Quenching Brews – From Local Craft Breweries
Professional Lead/Follow Rides – Various rides for different skill levels
Bar Games – Axe throwing, Cornhole and Giant Beer Pong
The HighPipe Motorcycle Festival is presented by GEICO Motorcycle, with media coverage from Cycle World Magazine.
To register and for more information on camping/lodging, visit HighPipeMoto.com