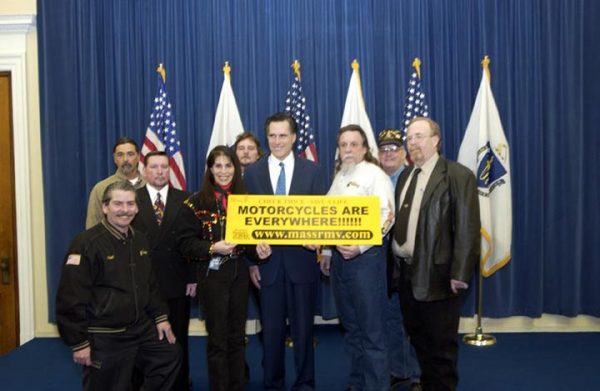 The Commonwealth's
2020
"Motorcycle Awareness Period" Proclamation has been issued by Governor Baker, proclaiming March 2
3rd
through April 30th as the period urging all citizens to take cognizance of the more than 16
2
,000 motorcycles soon to be coming back onto its roads
, and to "Check Twice – Save a Life, Motorcycles are EVERYWHERE !!!!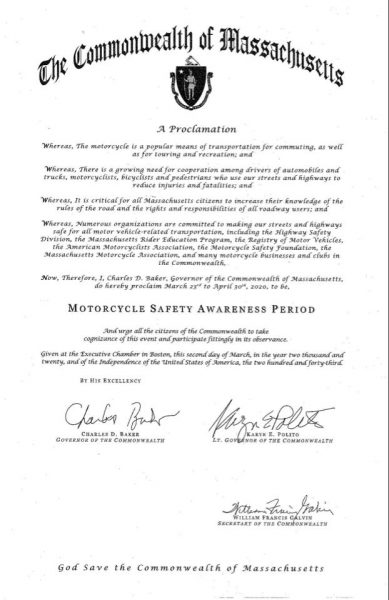 E
nacted as Chapter 128 of the Acts of 2002, signed by acting Governor Jane Swift on June 4, 2002
, t
he Proclamation is now Massachusetts General Laws, Chapter 6, Section 15NNNN.
"
The governor shall annually issue a proclamation setting apart the period beginning the last week of March to the last week of April, inclusive, as Motorcycle Safety and Awareness Time, to promote motorcycle safety, education and awareness, and recommending that this time be observed in an appropriate manner by various agencies, associations, groups, clubs and businesses."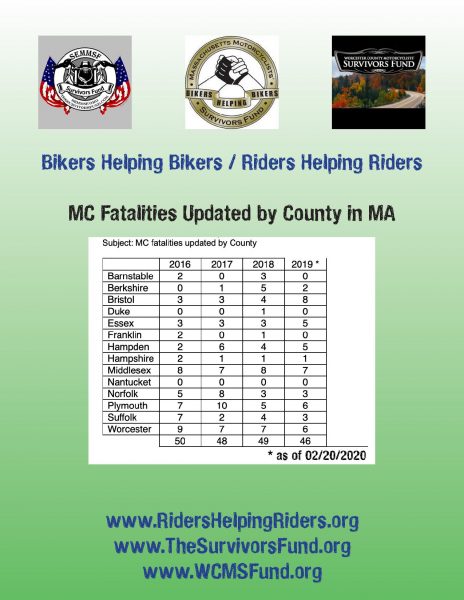 Last season, the Registry reported 46 motorcyclist fatalities, down from the 49 in 2018.

Several events planned by motorcyclists to "kick-start" the season have been postponed to later in April and May.

Most other States' governments proclaim "May" as their Motorcycle Safety Awareness Period, and "MAY" being an acronym for "Motorcycles And You," coined by the national American Motorcyclists Association.

Massachusetts citizen-biker activist originally filed the Proclamation Bill for "May" but a study done in 2001 showed more than 26% of motorcycle fatalities occurred in March, April and May. They amended their Bill for the period to begin the last week of March, with its acronym being "Motorcycle Awareness Really Can Help . . . save lives."

–Paul Cote
Stats on graph provided by the Registry of Motor Vehicles  / Motorcycle Rider Education Program Coordinator Eugene Carabine.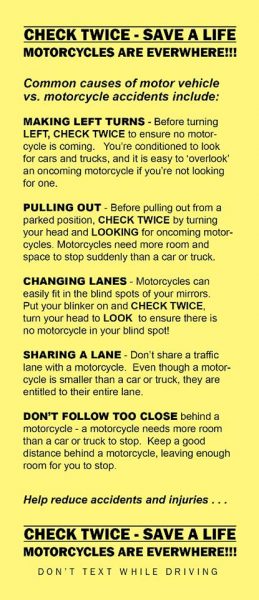 "Check Twice" motto since 1982, created by Bob Dorion,
adopted as the RMV / Commonwealth's Motorcycle Awareness message by then Registrar Dan Grabauskas in 2001; Bob transferred rights to Paul W. Cote in 2008.  Servicemark registered in 2010 with the Secretary of the Commonwealth.  Bob passed in 2016.