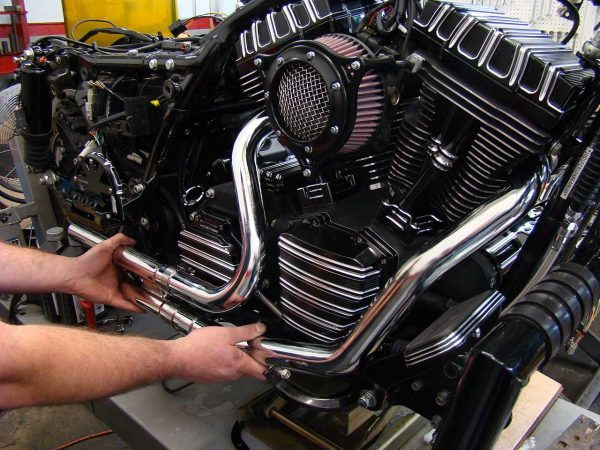 If there's a silver lining to this social isolation, self-quarantine mess, since you've got to hunker down at home for a couple of weeks, why not wrench on your motorcycle? It's a prime opportunity to get out in the garage and throw on that new exhaust or intake you've been eye-balling. If you need help along the way, J&P Cycles YouTube channel is loaded with great install videos full of tips and the tools you'll need to get the job done in the sanctity of your own home. Now go work on those motorcycles!
S&S Cycle Stealth Intake / Mini Teardrop Installation: Milwaukee-Eight Install
Doesn't get much more classic than an S&S Teardrop intake. Here's step-by-step instructions on how to install an S&S Cycle Stealth Intake on a Milwaukee 8 Softail.
Custom Dynamics Pro Beam Tail Light Installation: Weekend Wrenching
In our continued efforts to clean up our Road King rear fender we installed a Custom Dynamics Pro beam LED taillight. Not only does the taillight clean up the look of the bike but it's much brighter.
FTR1200 S&S Cycle Grand National Slip On Exhaust Install: Weekend Wrenching
S&S Cycle has become the premier exhaust brand on and off the track. The same level of performance, fit and sound that rules the podium in American Flat Track is now available for the Indian FTR1200. The Grand National Slip-On is a stainless body, aluminum tip and is wrapped in a carbon fiber shield. Reduced weight, cleaner shape and adjustable sound via their removable dB reducer are just some of the highlights in this well-engineered exhaust. Emissions legal in all 50 states, the Grand National slip-on is the perfect fit for your Indian FTR1200.
Biltwell Alumicore Grips Install: 2020 Low Rider S
The folks at Biltwell are always coming through with rad parts that not only look good but are built for the road. The Alumicore grips are their top-of-the-line grip set available in chrome and black for cable and throttle-by-wire bikes. We walk you through the step-by-step install on our Low Rider S Milwaukee 8 powered Softail.
–See more at J&P Cycles.com