FIM Land Speed World Records ~ AMA Land Speed Grand Championship cancelled due to adverse conditions on the Bonneville Salt Flats.
Cancellation of BMST 2022
Bonneville Motorcycle Speed Trials 2022, FIM Land Speed World Records and AMA Land Speed Grand Championship is Cancelled. Our assessment team has reviewed current Bonneville Salt Flat conditions by air and on the ground. Unfortunately, all BMST track locations and alternatives are still flooded from the initial storm and multiple subsequent storm systems. There is no possibility that the water will recede and salt will dry out sufficiently in the week remaining to support track preparations and operations.
"We are all disappointed that we are forced to cancel," said Event Director/Owner Delvene Reber. "Like you we have spent a year plus preparing for this event and investing in improvements. This year we were implementing racer driven improvements that include new flagging, course line improvements, and other racer driven updates."
"As a racer," said Sodium Distortion Racing's Bill Woods, "it's hard to accept that mother nature called our event but at the end of the day all that hard work will just make next year that much better. I'm especially looking forward to a 2023 with all of the racer-driven improvements"
How Bad Is It?
They say a picture tells a thousand words, but nothing beats seeing it for yourself. Last night, on Aug. 12, we were able to perform an aerial assessment and determine that the entire length of our tracks and beyond are flooded. Today, Aug. 13, we put boots on the ground and waded into the flood waters at BMST Intermediate start locations for our International and Mountain tracks. It is flooded 10 in. (254mm) to 4 in. (102mm) deep across the length of our tracks. We know many folks were hopeful looking at the University of Utah webcam (1mi / 1.6km) from our tracks) that there was drying. After reviewing arial photos there is still 23mi2 / 57km2 equating to 11.5million ft3 / 327,000m3 of flooding directly over our racing surface and no viable alternative locations. What all those numbers mean is that there has been less than a .75 in.(19mm) decrease in water depth since the initial storms.
What Happens Next?
We appreciate your patience while we implement our cancellation procedures. We will be in touch directly with participants this week with further information and will provide information on our website to answer any questions that you have. This will provide further details on options to support the continuation of the event with donation opportunities, rollovers to 2023, and refund options.
We appreciate and understand all of the hours that you have dedicated to reach your goals throughout this year, and for our international friends, the additional logistics that you encounter to reach us.
We are working alongside you as we extend ourselves to help you achieve you racing goals and support a premier Land Speed Racing event. We thank the volunteers for their contributions, the AMA and FIM organizations and support staff and our sponsors for their continued support of our sport.
Delvene Reber
Event Manager/Owner
Deliciate Promotions LLC
Bonneville Motorcycle Speed Trials
* * * * * * * * * * * * * * * *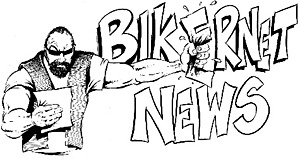 To Stay updated on all Motorcycle News and Events …
– simply Click & Subscribe to Bikernet's FREE Weekly Newsletter