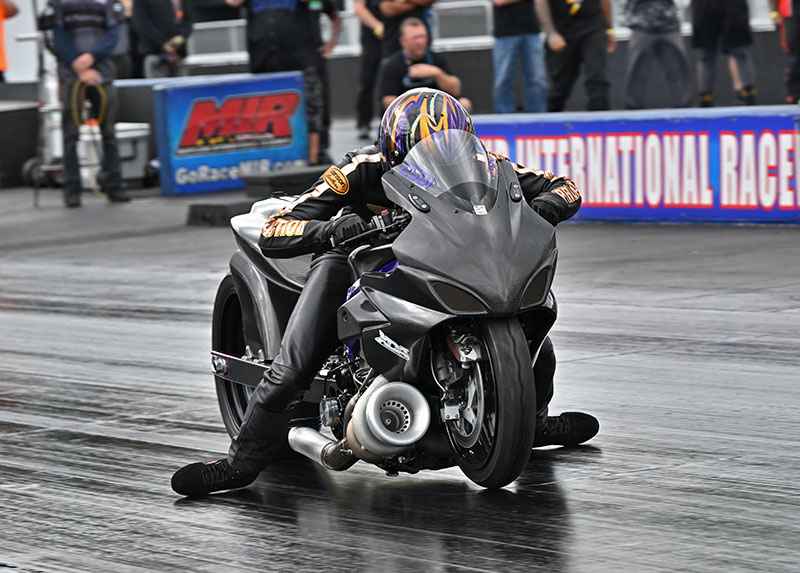 XDA's sixth season was a success, with fourteen champions crowned at the 31st annual DME Racing Fall Nationals at Maryland International Raceway.
This season showcased an electrifying display of speed and power with unmatched on-track action. XDA racers competed for over $450,000 in total payout, including a staggering $121,600 contingency offerings over the 2023 season.
XDA has released its 2024 motorcycle drag racing schedule featuring six events. The 2024 XDA season begins at the world-renowned Maryland International Raceway on April 19-21 for the Platinum General Services Spring Nationals. Mark your 2024 calendars now for the six events featuring the quickest and fastest sanction in the country! #RacewithXDA
April 19-21 / PFR Spring Nationals / MDIR
May 17-19 / MTC Engineering Summer Nationals / VMP
June 28-30 / Superbike Showdown / MDIR
July 26-28 / WPGC Bike Fest / MDIR
August 23-25 / FuelTech Bike Bash / VMP
October 4-6 / DME Racing Fall Nationals / MDIR
The Orient Express Pro Street class is the most exciting class to watch in motorcycle drag racing. With no wheelie bars, these 6-second, 230+mph motorcycles launch like missiles as their riders fight to keep them straight through the quarter mile. This past weekend delivered two winners and numerous personal improvements in the class.
Orient Express Racing Pro Street – FuelTech Bike Bash Event
Everyone waited a month to see reigning Champion Rodney Williford and Jason Dunigan slug it out again this season. Since 2021, these two have met in three final rounds. And Williford has taken wins in two of those rounds. Everyone in the Pro Street class will attest that beating Rodney is no small feat. And if you manage to accomplish it, you won't soon forget it. During round two of qualifying Saturday afternoon, Dunigan and Williford lined up to complete the final from the FuelTech Bike Bash event initially held at Virginia Motorsports Park.
Williford took the starting line advantage on Dunigan with a .017 to a .027 reaction time. Williford was out in front of Dunigan from the start, but as they came to half-track, Dunigan's Hayabusa started building that top-end power. Williford's front end started coming up on him, and he skillfully battled it back under control. But this gave Dunigan a small window of opportunity that he did not waste as he pulled ahead of him. Williford recovered and was catching back up to Dunigan, but the finish line came up on them too quick for Williford to gain the lead, and Dunigan's win light came on, flashing a 6.592 on the board to Williford's 6.652. Despite the win, Rodney held a firm grip on the Championship chase as he still led over Dunigan and the class with an eighty-four-point lead.Orient Express Racing Pro Street – DME Racing Fall Nationals
Pro Street rookie Mark Rendeluk continued his incredible year by qualifying number one with a 6.436, with Williford behind him in the second position with a 6.444.
Kenny Brewer did the unthinkable and turned on a win light against Williford in round one. Williford had to abort his pass as he approached the 1000′ mark to avoid taking out the center line sensor blocks. Brewer won the round, but his bike didn't make it into high gear, and he trashed the transmission in the shutdown.
Dunigan took out Justin Shakir in round one with a 6.636 on what would be Shakir's best run of the weekend with a 6.499. However, the win would come at a cost, as you could hear his backup motor blow up as he crossed the finish line. This ended his weekend and chances to put himself closer to Williford in season-ending points.
With Dunigan and Brewer broke for round two, Jayson Geerman and Jordan Haase took bye-run passes to head to the semi-final. Rendeluk took out Bonitatis with a 6.547 to his 6.603. But this round would also reset Bonitatis' MPH record to 224.88. Darion Payne ran a 6.627 to take out Tony Ficher on a 6.725 run. However, Payne would blow his motor on this run, putting his team into a scramble mode trying to get him back in action for the semi-final.
Payne would not make it to the semi-final, sending Haase to his second final of the season. Rendeluk took a win over teammate Jayson Geerman with a personal-best run of 6.390 to his 7.521.
This would be both rider's second time seeing a final this season. Haase took the starting line advantage over Rendeluk with a .034 to his .081. Haase would be out in front of Rendeluk until the eighth mile when both riders' front wheels started coming up. Haase recovered his first wheelie, and then the front end started to come up right back up again, but it was too late; Rendeluk was powering around him to the finish line. Rendeluk crossed first, running a 6.402 to Haase's 6.594, taking his first Pro Street win.
With the XDA season complete, the top ten XDA Pro Street racers will now focus on their $5,000 bonus race on November 1-5, 2023. The 27th annual Haltech World Cup Finals presented by Wiseco Import vs. Domestic event at Maryland International Raceway will host the sixth annual Pro Street Shootout sponsored by Platinum General Services.
This will be the largest event that Pro Street has ever raced at, competing in front of 50,000+ fans.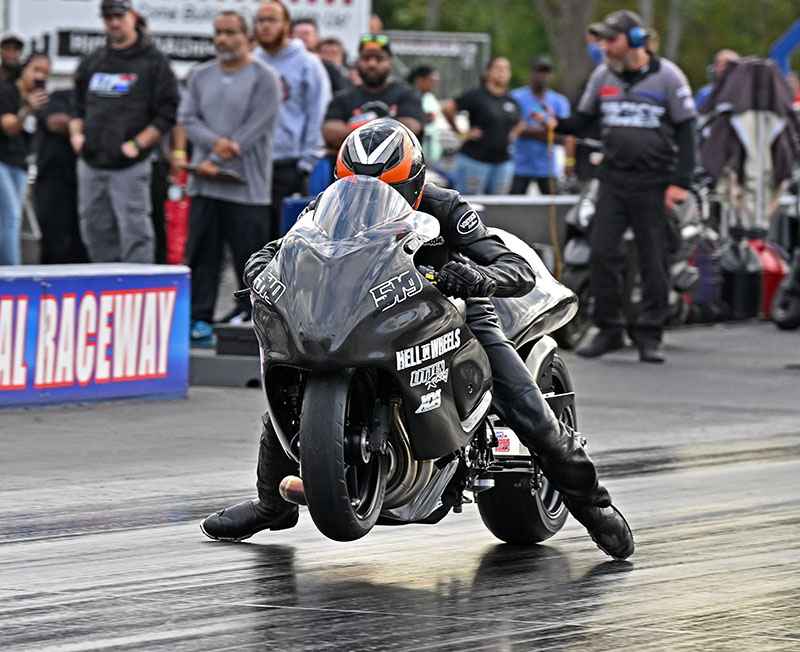 DME Racing Real Street – FuelTech Bike Bash Event
The DME Racing Real Street action started on Saturday when the final round from the August FuelTech Bike Bash was run between Rickey Gadson and Spencer Claycomb.
Electricity was in the air as fans and racers made their way to the grandstands to watch this battle go down. Claycomb led the points coming into this event, and with this one round, it could all be turned upside down. Claycomb came hungry for the win, which showed when the bulbs dropped. With nearly identical reaction times, Gadson's .099 and Claycomb .095, both racers shot off the starting line on a mission.
Gadson had a small wheelie that he could keep under control, while Claycomb fought two wheelies and blew his motor before crossing the finishing line. Claycomb gave everything he could but came up short with a 7.797 to Gadson's 7.755 winning run. And just like that, Gadson became the points leader.
DME Racing Real Street – DME Racing Fall Nationals
Mark Hylton took the number one qualifying position in DME Racing Real Street with a 7.468 on his all-motor Hayabusa. David Stewart followed with a 7.470, making them the only riders to enter the seven-forties over the weekend. Gadson might have taken the lead in points on Saturday, but Claycomb, Hylton, and Stewart were all within a mathematical shot of the championship.
On Sunday, Claycomb took a round-one loss to Anibal Merced, taking him out of the running for the championship. In round two, Merced took out Stewart, giving Gadson one less obstacle for the championship.
In the semi-final, Gadson came head-to-head with Hylton. Hylton ran a quicker 7.492, but Gadson's better reaction time of .032 to .119 sealed his fate for his first XDA championship as Gadson won. Merced took out Caleb Holt in the semi-final before heading to the final to battle Gadson.
In the final, Merced would outrun Gadson with a 7.515 to a 7.536, but once again, Gadson's superior reaction time of .057 to Merced's .096 would get him another hole shot victor. Gadson secured his first XDA championship with a comfortable lead of forty-five points over his competitors in the class.
MaxxECU Pro Xtreme
Congratulations to Chris Cutsinger on this first MaxxECU Pro Xtreme Championship. Cutsinger came into the final with a forty-point lead and left with a ninety-eight point, cementing his championship run.
George Whitaker qualified number one with the only three-second pass in qualifying at 3.999 at 183.24 mph. He would make it to the semi-final on Sunday but could not run due to a faulty cam sensor.
XDA MaxxECU Pro Xtreme first-timer Brunson Grothus arrived race-ready after a two-year hiatus. Grothus took down the competition one round at a time, with teammate Jean Gosselin in round one and Tommy Saxon in round two, running a 3.982, and then had a bye to the final to face class champion Chris Cutsinger.
In the final, Grothus had a slight advantage on the tree with a .064 reaction to Cutsinger's .070. Cutsinger's power plant didn't have enough to catch Grothus, who was on the quickest pass of the weekend, running a 3.965 at 188.28 mph to his 4.043. And just like that, Grothus Racing is back and poised to dominate the competition.
HTP Performance Super Stock
It was a dream weekend for Mark Blake in HTP Performance Super Stock as he entered the season finale third in points and left with a win and the 2023 Championship!
Tim Cottrell came into the final second in points and qualified number one with an 8.871, but his hopes for the championship were dashed in round one when he went red against Blake Johnson.
Points leader Mike Davis picked the wrong event to have a bad weekend, qualifying sixth and running off his number to lose in round two to Mark Blake, ending his championship contention.
With Cottrell and Davis out, Blake simply had to make it to the final round to clinch the championship. In the semi-final, he took out Curtis McDougald's 9.008 with an 8.876.
On the other side of the ladder, Brian Johnson took out Marcus Queen, his son Blake, and Jamie Lopes to meet Blake in the final.
In the final, Johnson cut a better .065 on Blake's .213 reaction; luckily, Blake had the horsepower to make up for that with an 8.904 to Johnson's slower 9.055. After this win, Blake also went on to win the Brock's Performance Street ET class.
Boosted Bulls
Geoff Godfrey came in the DME Racing Fall Nationals, leading by seven points over Malcolm Phillips. However, when it came down to the final round, Godfrey couldn't keep his minions in line at the tree, while Malcolm Phillips on 'Billy Mays' rocketed to the finish line with the win before Godfrey could make it to half-track. Congratulations to Malcolm Phillips on his first Boosted Bulls Championship.
APE Nitrous Bulls
Congratulations to Desmond Spaulding on defending his APE Nitrous Bulls championship for the second year. Spaulding took 'Sho Nuff' to the semi-final Saturday night, but a choppy wheelie forced him to abort the pass and allow Caleb Holt on 'Fort Nite' to head to the final.
Brandon Litten, who has been a force to reckon with this year in Orient Express Racing Pro Street and Tommie's Motorsports DMV Bulls, entered his latest addition to his fleet in APE Nitrous Bulls. 'Hell on Wheels' lived up to its name when the young Litten took out veterans David Fondon on 'Storm Shadow' and Jeremy Teasley on 'Unhinged'.
In the final, Litten faced 'Fort Nite'. And while Holt took a good fortnite to get down the track, Ehren Litten had his son's bike tuned up like a missile to take the win and put his team in the winner's circle.
3 Sixty 5 Monster Bulls
Congratulations to Ken Alston on earning his first XDA Championship in 3 Sixty 5 Monster Bulls. He finished the season, leading the class by sixteen points.
The weekend competition was action-packed, 2022 class champion Spencer Claycomb had 'One Trip' on kill and was unbeatable every round as he made quick, straight eighth-mile passes round after round.
John James on 'Dope Sick' got lucky in round one when 'Son of Sam' piloted by Howard Gerken turned on a red light while James struggled on the starting line. The Narcan never took effect for James as he repeated the process every round and suprisingly made it to the final.
When he met Claycomb in the final, his luck ran out as 'One Trip' was fine-tuned to the track and took a quick win while James stumbled down his lane.
Tommie's Motorsports DMV Bulls
Desmond Spaulding won his second grudge Champion this season in Tommie's Motorsports DMV Bulls. Spaulding took wins this season aboard 'Mob Ties,' but he didn't have the same luck this past weekend as Abrian Myers on 'Carbon Gates' took the win over him in round two.
In Saturday's competition Cody Lowe on 'Lil Baby' and Rickey Grayson on 'Red Bull' had the track figured out as they took three wins before meeting each other in the final. In the final, Lowe flew down the track while Grayson threw out sparks and sputtered off the starting line. This was Lowe's first class win of the season.
All Motor Bulls
David Fondon wrapped up another XDA season with Championship in All Motor Bulls with eighty-six-point lead over the class.
In Saturday night competition under the light, Fondon on 'Bad Bitch' and Jaques Gaskins on 'Cranky' had the best tune-ups in the class as their bikes stuck to the track and turned on the win lights every round.
In the final, it was a side-by-side heart-pounding race to the finish line. And just like the season started, it was 'Bad Bitch' for their third win this season.
Vance & Hines 4.60 – FuelTech Bike Bash Event
The Vance & Hines 4.60 action started during Saturday's qualify when the final three rounds were completed from the August FuelTech Bike Bash event. With five competitors left in the field, Ronald Procopio, Jimmy Shifflett, and Boo Brown took wins in the first round.
In the next round, Shifflett had a bye to the final, and Procopio took the win over Brown on a double breakout run. That round win would clinch the 2023 Vance & Hines 4.60 Championship for Procopio, making him the class champion for the fourth straight year.
In the final, Shifflett would break out running a 4.594 to give the win to the reigning champ.
Vance & Hines 4.60 – DME Racing Fall Nationals
In the Vance & Hines 4.60 main event for the DME Racing Fall Nationals, Shifflett led the field of forty-seven competitors as the number one qualifier, running the only 4.600. Unfortunately for Shifflett, he would go red in round two against Terry Tompkins to end his season third in points.
Earning their way to the final were Mantez Thompson and Michael Thyen. This was Thompson's first XDA event of the year and Michael Thyen's third. Both competitors won five tough rounds of racing before coming head-to-head.
Thompson and Thyen were cutting equally good lights every round, with Thompson averaging .028 and Thyen .038. They were set to give us an action-packed final matchup in the eight-mile. When the bulbs dropped, Thompson took the starting line advantage with a .033 to Thyen's .071 reaction. Thyen didn't have the power to catch Thompson, and Thompson turned on the win light, running a 4.614 to send himself to his first XDA Vance & Hines 4.60 winner's circle!
1 Stop Speed 5.60
Duane Jackson has been fighting hard for the 1 Stop Speed 5.60 champion, finishing in the top five of points the previous two years. He rolled into the season finale, again sitting fifth in the points. But this year, he was leaving with the hardware. In round two, he took out the points leader, Dustin Lee, and kept knocking down the competition on his way to the final.
After winning five rounds and making it to the final, he had earned enough points to clinch the 2023 championship despite the outcome of the final round. In the final, he faced Jimmie Miller, who also had an addiction to the winner's circle. Miller won the tree with a .005 reaction time to Jackson's .024, and as the pair raced to the eight-mile, Jackson would get their first winning with a 5.623 to Miller's slower 5.656. Jackson finished the event with a win and a championship!
Mickey Thompson Tires Top Sportsman
In Mickey Thompson Tires Top Sportsman, the 2020 class Champion Dustin Lee once again fought his way to the top to win another championship this season. Lee went into the DME Racing Fall Nationals fourth in points. However, his weekend win propelled him to the top of the class, winning by twenty-two points over Gary Clontz.
In the weekend competition, Ryan Burnell qualified number one with a 7.302, followed by Ryan Bonitatis with a 7.552. This was Bonitatis' second Top Sportsman event this season, and he has already earned his way to a final round. In the final, Lee left first with a .024 reaction on a 7.94 dial. Bonitatis was the chaser with a quicker dial of 7.55 and a .087 reaction. Bonitatis chased Lee to the finish line, but Dustin took the stripe by 5 feet, lifting off the throttle to turn on the win light with an 8.007 to Bonitatis' 7.574.
MPS Racing Pro ET
No championship battle was closer than MPS Racing Pro ET. Reigning class Champion Dustin Lee and 2018 class Champion Dale Hamilton both took wins this season, and both finished with 301 points for a tie, requiring the tiebreaker protocol to be enacted to determine the winner. The tiebreaker was ultimately determined by the rider that won the most rounds on the last day of the season to award the 2023 MPS Pro ET Championship to Lee with 301.1 points.
In weekend competition, Nick Christmas, who entered his first race of the XDA season, made his mark by turning on seven-win lights to make it to the final to take on Ronnie Reece Jr.
Reece had cut several double-O lights in previous rounds and won. The final would be no exception to him pushing the tree. However, for the final, Reece would push a little too hard and go in the wrong direction to turn on a -.005 red light, giving Christmas a gift before he even left on the tree. Congratulations to Christmas on his first XDA Winner's Circle finish.
Brock's Performance Street ET
Congratulations to Louis Green Jr. on winning the 2023 Brock's Performance Street ET championship. Green took one win this season, which gave him the one extra point he needed to win the championship over Laray Proctor.
On Sunday, the 2022 class champion, Mark Blake, took his effort all the way to the final round. Russell Dennison Jr. and Blake both took six-round wins to meet each other for the final round.
Dennison dialed an 8.66 and a cut .114 reaction time on his Suzuki GSX-R1000, while Blake dialed 8.35 and cut a leaner .056 light. As both riders approached the stripe, neither looked to be lifting, and Dennison broke out running an 8.645, giving the win to Blake, who ran an 8.355.
Hard Times Parts & Service Gambler's Race
The Hard Times Parts & Service Gambler's race on Friday night was at total capacity, with sixty-four sportsman competitors vying for a $4,000 payout. Heavy hitters Stanley Russell and class sponsor Dustin Lee took five wins before facing each other in the final. Lee dialed an 8.72 to Russell's 9.43. Russell left the tree first, cutting a .044 light, with Lee chasing him down after turning a .063 reaction time. Lee had no problem catching Russell and staying with him until the finish line.
Both riders were running almost perfectly on their dial-ins in their previous won rounds, so they were a well-matched pair to take the fight to the finish line. As they crossed the finish line, both riders ran off their dial, but Russell was significantly off with a 9.520 to Lee's winning 8.769. This was Lee's first Gambler's race win since he started sponsoring the class.
VooDoo Components Bracket Bash
The VooDoo Components Bracket Bash was stuffed with 119 sportsman competitors on Saturday, fighting for the $3,000 payday. Dustin Lee took his Friday night win momentum and was ready to steamroll through the competition. However, in the first round of competition, both Lee and Montrell Johnson took a first-round loss. But they both made the smart choice to buy back in for round two to take another crack at the field.
Both competitors then turned on six-win lights to meet under the Saturday night lights, ready to take one more win for the night. Johnson dialed an 8.93 and left the starting line first with a .064 reaction time. Lee dialed an 8.64 and followed with a .018 reaction. Lee dragged Johnson to the finish line, and as both competitors lifted a little bit right before the stripe, Lee got the win light. Johnson ran closer to his dial with an 8.947, but Lee's better reaction time got him there first despite the 8.683 run.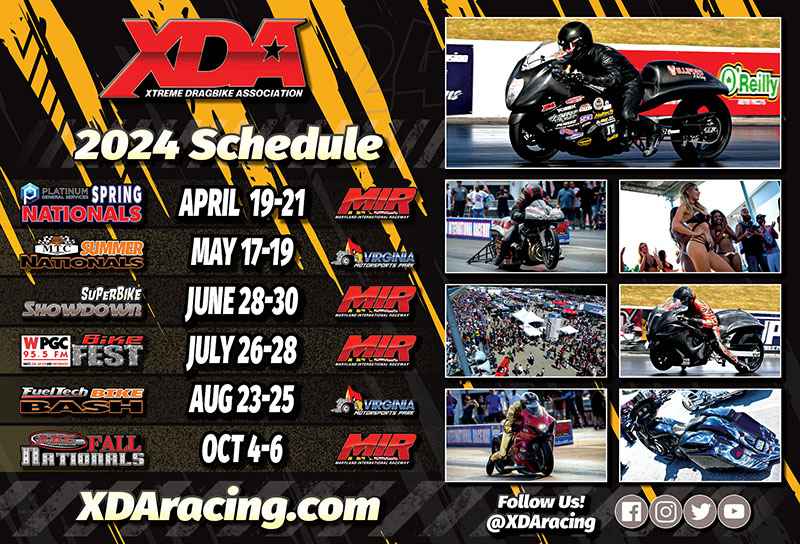 Congratulations to all the racers, champions, record-breakers, and winners of this season's events. We also extend our gratitude to all the friends and family who came out to support them. We look forward to your support in 2024 as the series evolves.
Don't miss a weekend of racing with the quickest and fastest motorcycle drag racing sanction in the country; put XDA on your 2024 calendar now!
Visit xdaracing.com for event information, class rules, schedule, and more.
About XDA Racing
The Xtreme Dragbike Association (XDA) is an east coast motorcycle drag racing series with 700+ motorcycle racers competing at each event. Every XDA event hosts professional classes, sportsman classes, grudge racing, and a vendor midway. Lifestyle activities such as bike shows, bikini contests, DJs, and live bands are also held at select events. For more information on the XDA, please visit www.xdaracing.com or connect with us on Facebook, Instagram, Twitter and YouTube @xdaracing