From: The Daytona Beach News Journal
Despite businesses still patching up damaged roofs and awnings, some people still sweltering in their homes on day five with no power, and mountains of downed tree limbs flanking streets countywide, preparations for this weekend's Biketoberfest are in top gear.
Some see visiting bikers as a return to normal, and a chance to boost the economy. Others question the wisdom of inviting 100,000 bikers to roll into town a week after Hurricane Matthew blew through. Biketoberfest is all about two-wheeled fun on the roads, and some intersections still don't have functioning lights.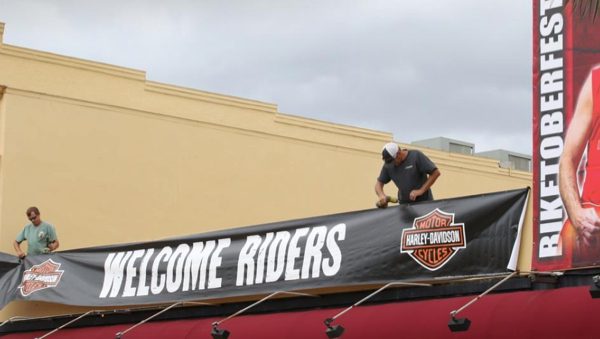 "Really, adding bikers to this mess?" former County Councilwoman Pat Northey wrote on Facebook this week. "I (guess) you can't stop them from coming, but to encourage guests to come into our community when residents are still digging out and trying to recover?"
In an interview, Northey said she and others in Deltona still didn't have power, and she wondered if residents were being pushed aside for business interests.
"Who comes first?" Northey asked. "It isn't as if by Thursday everyone will be OK."
Lori Campbell Baker, executive director of the Daytona Beach Area Convention & Visitors Bureau, said half of the people she's hearing from argue storm-ravaged businesses need the four-day biker party more than ever, while the other half think it's the last thing the county needs.
"We're hearing it from both sides," said Campbell Baker, whose organization started Biketoberfest 24 years ago largely to help businesses at a slow time for tourism.
Nancy Keefer, president and CEO of the Daytona Regional Chamber of Commerce, said she's also getting "many calls and emails" regarding Biketoberfest.
"The general consensus is that we need all the business we can get at this time so our economy doesn't take a prolonged hit from the hurricane," Keefer wrote in an email this week to chamber members.
The biker event that will run from Thursday through Sunday. By Monday afternoon, tents were already up on several Main Street properties and two large vendor vehicles were parked on the grass between Beach Street and the Halifax River despite a large flooded out area.
Across the street, notices were taped to the front door of the Indian Motorcycle shop letting customers know the party was on.
"We are open, but we are under construction and still catching up from the hurricane," the fliers said. "Our Biketoberfest activities, vendors, rides, etc. (are) all still on!"
Dozens of shiny new motorcycles with price tags prominently displayed were lined up in front of the shop.
Bikers: There's a detour on A1A
Motorcycle riders and all other motorists are asked to be mindful of a traffic detour on State Road A1A in Flagler Beach, which has an area 10 blocks long that's severely damaged from Hurricane Matthew.
A1A is closed in that area and a detour now takes traffic onto South Central Avenue at 8th Street South and 22nd Street South.
Flagler Beach Police Chief Matt Doughney said South Central Avenue is "a quiet, quaint, two-lane roadway that runs through a residential neighborhood" and he's asking visitors to keep their speed at 25 mph along the detour and be mindful of noise.
"We had a little roof damage, but everything's solid. We're good to go," Pete Strebbing, the store's parts manager, said as workers tackled a flooring replacement project in the middle of the shop. "The power came back on Sunday at 6 p.m. It puts you back a little."
A little to the south on Beach Street, Rhokkoh's Frozen Yogurt owner Tom Myers was marveling how his business sailed through the storm unscathed. He only briefly lost power, dodging the need to trash $3,500 worth of food that could have spoiled. Myers supports Biketoberfest going on as planned.
"It's horrible and bad for some people, but you can't just stop everything," Myers said. "I've seen a lot of bikers here already."
Paul Zappitelli, owner of Zappi's Italian Garden Restaurant on Beach Street, said he wished all the street lights were back on, wooden boards would come off storefront windows and the tree branches would be cleaned up better to greet the incoming bikers.
"It's like we're in a third-world country," Zappitelli said. "I'll open, but I'm not expecting any business."
Tammy Kozinski, owner of downtown coffee shop Sweet Marlays', still didn't have power Monday and she needed to replace food she had to throw out, but she was hoping for the best this weekend.
"We need these people to come down and help us recover our losses," Kozinski said. "We'll be open and ready to keep them caffeinated and eating chocolate chip cookies."
On Main Street, Froggy's Saloon owner Denny Honeycutt acknowledged the storm that packed ferocious winds has businesses scrambling to get ready for visitors.
"It won't be easy," Honeycutt conceded, noting he was lucky to escape with minimal damage. "A lot of stores are a mess."
Shelly Pepe, general manager of Bruce Rossmeyer's Harley-Davidson at Destination Daytona in Ormond Beach, said she already has tents up and she and the other businesses in the complex are ready for bikers. The Harley-Davidson stores on Main Street and in New Smyrna Beach will also be ready, she said.
"All of our vendors are rolling up and setting up," Pepe said earlier this week. "The storm pushed us back a few days, but we'll be ready."
At the Broken Spoke on U.S. 1 in Ormond Beach, co-owner Melissa Penland said so many of the huge oak trees on the property came down or dropped limbs that the bar won't be able to open this weekend. Her other bar on U.S. 1, the Iron Horse Saloon, will be ready for Biketoberfest despite some challenges finding enough ice, fixing a roof and confirming with bands thrown into limbo by the storm, she said.
Daytona Beach City Manager Jim Chisholm said a good portion of debris should be picked up by Thursday and power should be restored more widely.
"We'll be OK," Chisholm said. "I think we'll be ready."
Daytona Beach Police Deputy Chief Craig Capri they're ready to handle Biketoberfest on the heels of Hurricane Matthew.
"We're used to this," said Capri, who noted he'll have 220 full-time officers at his disposal along with 30 part-time officers and 50-60 special event officers. "This is what we do. Every year we go from Race Weeks to Bike Week to Spring Break."
Volusia County Sheriff Ben Johnson concurred. "It's one of our big economic drivers," he said. "So my take on it is we're going to make it happen. I don't see any great big deal. We're in good shape."