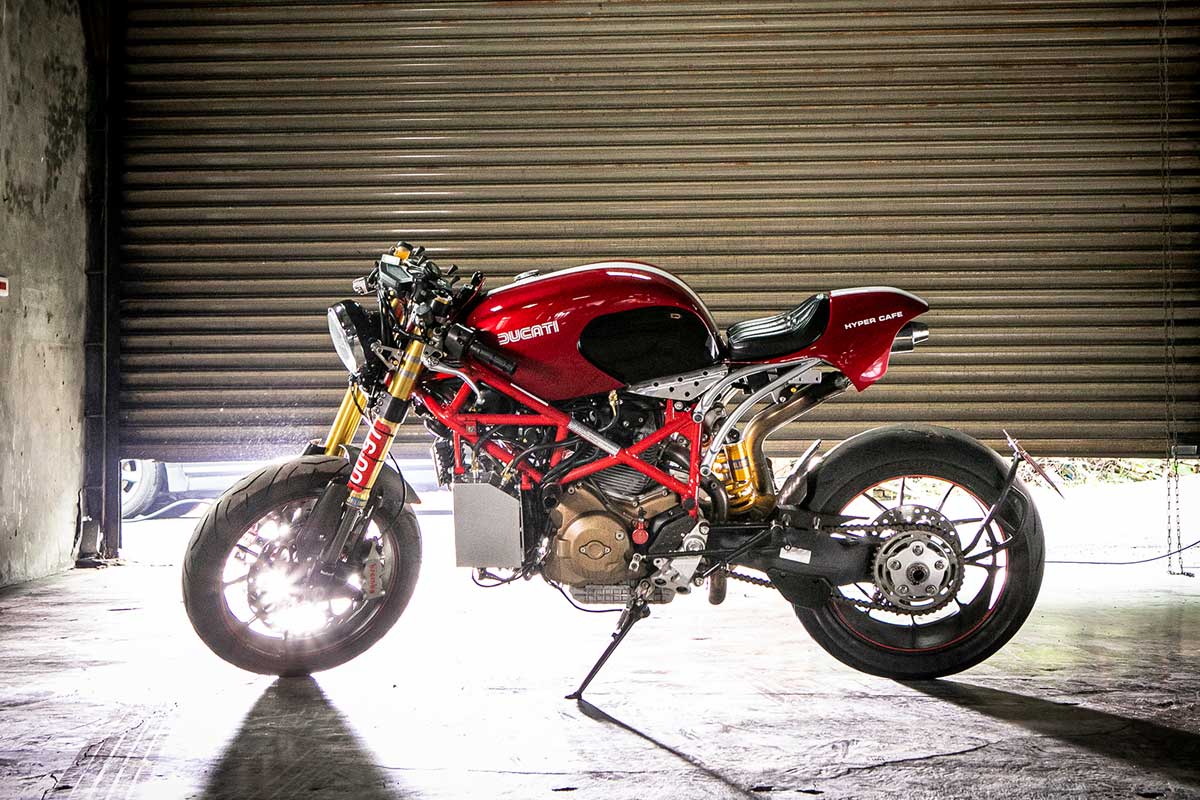 by Silvian Secara from https://www.autoevolution.com
Despite the name, Cowboy's Chopper will happily modify any type of motorcycle.
Ducati is a manufacturer with no shortage of splendid works of mechanical art, including their monstrous Diavel, the glorious Panigale and a stunning display of innovative engineering, by the name of Multistrada 1200.
Among their masterpieces, we'll also come across the stunning 2009 Hypermotard 1100. This mean machine was provided with a mighty four-stroke V-twin, capable of delivering as much as 90 hp at 7,750 rpm and 76 pound-feet (103 Nm) of torque output at 4,750 rpm. The air-cooled beast was equipped with a six-speed transmission and had an enormous displacement of 1078cc.
It sits inside a tubular steel trellis frame, which is then supported by Marzocchi 50 mm (1.97 inches) upside-down forks with 165 mm (6.5 inches) of travel at the front and a fully adjustable Sachs monoshock with 141 mm (5.6 inches) of travel at the rear, joined by an aluminum single-sided swingarm.
The front wheel is wrapped in 120/70-ZR17 tires and has been provided with two 305 mm (12.0 inches) brake discs, while this baby's rear wheel wears 180/55-ZR17 rubber and a single 245 mm (9.6 inches) disc.
Ducati's 2009 model of the ferocious Hypermotard 1100 weighed as little as 395 lbs (180 kg), meaning that this bad boy would be more than happy to reach a top speed of 123 mph (198 kph) and run the quarter mile in just 12.4 seconds!
Cowboy's Chopper is a Taiwanese workshop owned by Alex Gao. Although the name might mislead you into thinking he only deals with choppers, Gao specializes in customizing just about anything that sits on two wheels and has an engine. He never ceases to amaze us with some truly sensational builds, which can all be seen on his Facebook and Instagram pages.
While scrolling through his portfolio, I discovered a gorgeous transformation of Ducati's 2009 Hypermotard 1100 into a muscular café racer. This project was completed over the course of three months and its roots as a Hypermotard are almost unrecognizable.
Whereas the stock model was a collection of triangles and edges, Gao's reinterpretation is surprisingly curvy. The bike's bodywork received a complete makeover, giving it a more muscular, yet much smoother appearance.
Its hard-crafted fuel tank vaguely resembles that of a Norton Manx and blends surprisingly well with the triangular frame. At the rear, you will notice a new tail that rests on a custom subframe.
To increase its range, an auxiliary fuel tank and electric fuel pump have been attached on the left side of the engine. For a considerable performance boost, the exhaust system features Zard headers and mid-pipes, as well as a custom-built muffler.
Furthermore, we notice a classic 7" (17.8 cm) headlight, new clip-on handlebars and even aftermarket pegs. All things considered, Alex Gao's reimagined '09 Ducati Hypermotard 1100 is a spectacular machine, somehow managing to look seriously aggressive and unbelievably elegant at the same time.
The man behind this project is said to be pretty accustomed to thinking outside the box when customizing his customers' motorcycles. This Hypermotard, by the name of Hyper Café, definitely accounts for that solid reputation.
We are excited to find out what the creative mastermind at Cowboy's Chopper will come up with in the future!