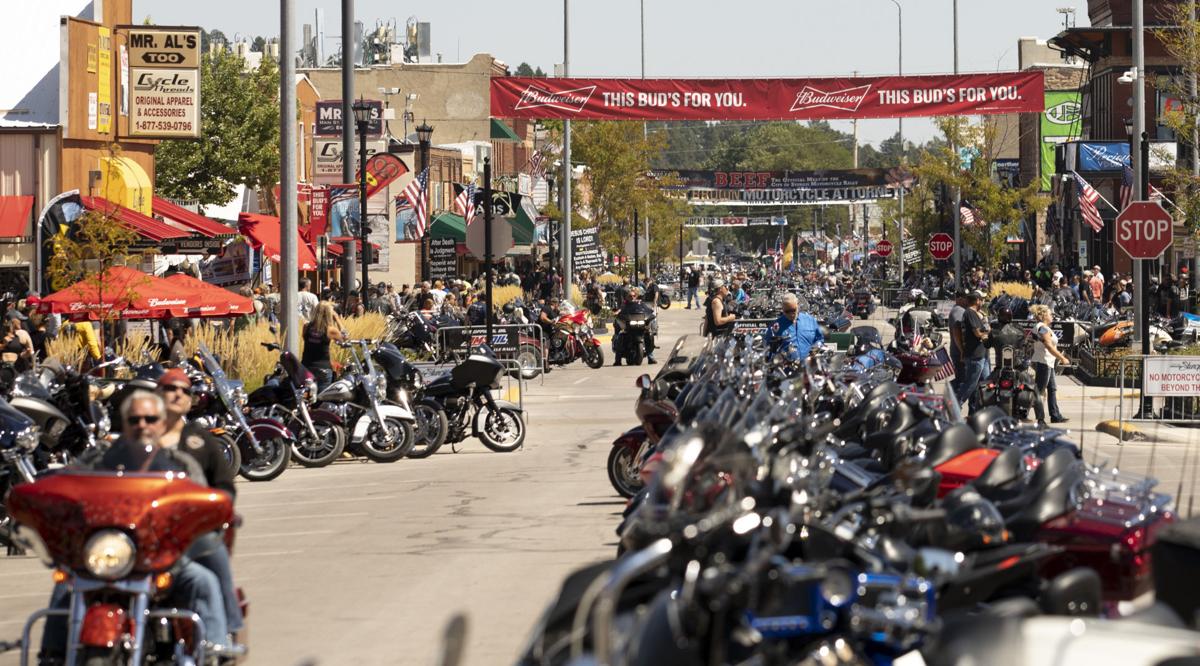 by Siandhara Bonnet from https://rapidcityjournal.com
Leading up to the 80th Sturgis Motorcycle Rally, the city and attendees expected changes in cleaning, events and sales due to the COVID-19 pandemic, but they didn't expect to see historically high numbers in first-time attendees, vendors and spending.
City Manager Daniel Ainslie said it was also a surprise to see the number of people that came to the city a week or two before the rally began.
"Everyone kind of thought the rally was going to be incredibly small because people are coming the week and two weeks before," he said Friday. "We heard from vendors, too. Vendors haven't been able to work since March … and were looking for an opportunity to do something."
According to the Department of Transportation, the seven-day total for the rally from Aug. 7 was 365,979 people, which is down just by 7.5% compared to last year at the same time.
Ainslie said based on surveys the city has done, the demographic is slightly shifting for the rally, although the data isn't finalized and won't be until after the rally is completely over.
He said the city is seeing a drop off in the attendance of those in the 60-70 age range, which is understandable especially during the pandemic. He said there's been an increase in those in their late 20s to early 30s.
"They say they're coming because they're looking for something to do," he said. "The rally continues to grow and attracts a wider and wider audience that over the past 10 years, we've seen a larger and larger international presence."
With the exception of this year, due to travel restrictions from the COVID-19 pandemic.
Ainslie said, though, that it shows the rally is becoming a "slice of Americana" that's appealing to an international audience.
Robin Baldwin, owner of Black Hills Rally & Gold, said she's missing some of that international presence since many, particularly from Canada, are returning customers and friends.
Baldwin said she's seen more tourists and customers before the rally than what's typical. She also said her kiosks are receiving more business than locations inside a building.
"I don't know what that means, but otherwise, we're pleased with where things are because I could've not been doing anything," she said.
There has, though, been an increase in online purchases, and Friday morning was the first day they weren't "slammed" with orders.
Baldwin said she has sold out of a few items, like glassware, hats and flags, and may have to reorder some things.
Ainslie said final revenue numbers won't be in until September, which is the deadline for year-round businesses to file their numbers, and won't have final spending numbers until October.
However, he said the city tracks about 10 different long-time vendors and established businesses and is confident the total spending will be higher despite fewer guests.
Ainslie said the city's liquor store sales increased by 26.5% compared to last year, selling a total of $429,125. He said he couldn't release the kinds of liquor, beer or spirits sold at the store.
Both Ainslie and Rally and Events Director Jerry Cole said they think the city saw more turnover downtown than previous years.
"People would come downtown, walk though, buy their shirts, go and someone would pull in right behind them," Cole said. "I think a lot of people didn't go to bars or do the things they would've before. … Most of the people that came downtown really looked at that social distancing and stayed out in the open air."
That social distancing and open air mentality is one the city hoped people would adapt this year due to the pandemic when it canceled some of the classic events like the opening ceremony, B-1 Bomber flyover, photo towers and more.
The city also made hand sanitizer dispensers available throughout downtown, which Ainslie said were filled up every night. He said the city had more on hand than used but is glad it was available for people.
Vendors also had hand sanitizer in many of their tents or buildings.
The city also spent more time on washing sidewalks than in the past, as well as cleaning the porta-potties.
Ainslie said the city hauled off 339.25 tons of garbage from downtown as of Thursday, which is down 3.5% from last year in addition to the 124 tons of residential garbage it has collected during rally week.
"That's almost three times as much," he said. "We're not done yet. We'll still be hauling for the next seven days."
The garbage is taken to the landfill in Belle Fourche, which is about 30 miles away.
Ainslie said the city measures the success of the rally based on the health, safety and security of the community.
This year, there have only been three fatalities during the rally compared to four last year as of Friday, according to the Department of Public Safety.
William Cooper, 22, of College Station, Texas, and Ronald Ratzel, 55, of Ceres, New York, both died in a collision on U.S. Highway 14A Monday east of Sturgis. Steven Peterson, 60, of Cuba, New York was injured.
A 55-year-old woman, whose name has not been released as of Friday afternoon, died of her injuries from a one-vehicle crash Wednesday seven miles east of Hill City.
Tony Mangan, public information officer for DPS, said the reporting period ends at 6 a.m. Sunday.
"The fewer the better," he said. "The fewer we have, the better for everybody."
Mangan said the state Highway Patrol's operations have been pretty consistent with previous years, although officers were given some personal protective equipment, like gloves and masks, due to the pandemic.
According to data, DPS has seen higher misdemeanor and felony drug arrests compared to the same time last year, as of 6 a.m. Friday.
It also saw more vehicle seizures for drug possession, which is typically done for felonies, and more cash seizures, although they're still under investigation.
Sturgis Police Chief Geody VanDewater and Meade County Sheriff Ron Merwin said they've also seen a rise in misdemeanor and felony drug arrests.
The city police department had 90 misdemeanor arrests this year compared to 33 last year and 34 felony arrests compared to 19 last year.
"It's becoming more prevalent of the violations," VanDewater said. "We end up stopping people for crimes and we're finding misdemeanor drugs as well as felony drugs. I don't want to say it's a common occurrence, but you're seeing more and more violations."
Merwin said his department stayed busy with calls from the campgrounds and many were alcohol-related.
"The campgrounds aren't bad themselves," he said Friday. "It's like a city out there, too."
Ainslie said it's great to see so few incidents, especially when many were concerned about a number of people coming into the community.
Cole said the real success, though, will be determined in the following months as revenue numbers come in along with COVID-19 cases.