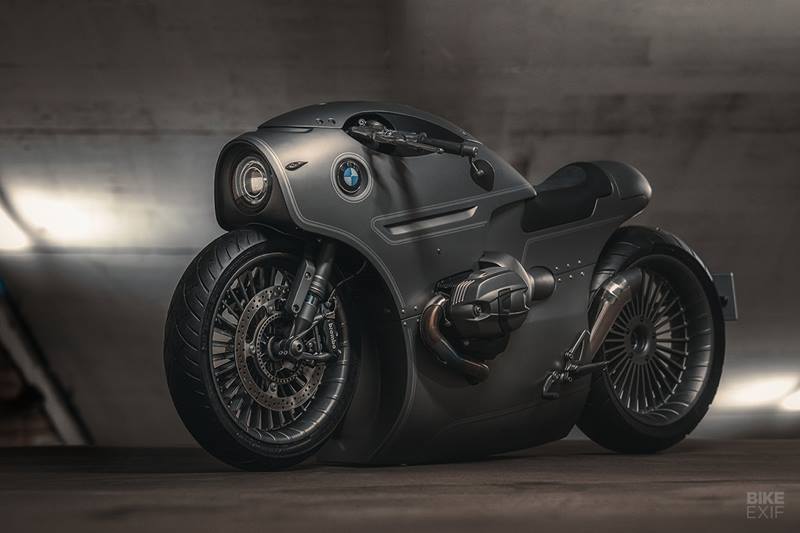 by Abhilasha Singh from https://www.financialexpress.com
Today's custom-build feature comes from Zillers Garage in Russia and there are more than one reasons why it needs everybody's attention. For one, it looks rather otherworldly with a mix of retro but futuristic bodywork. Dmitry Golubchikov of Zillers Garage was commissioned by BMW Motorrad Russia and the inspiration from aviation. (Source: Bikeexif)
It's based on a 2016-model R nineT, but all that remains from the original motorcycle is the engine, final drive arm and part of the frame. Everything else has been created in-house and it took a total of 10 months to put together. The entire motorcycle is wrapped in hand-formed aluminium with the boxer's cylinder heads still poking out the bodywork.
The big arch is the highlight of the design and it also is a functional cockpit complete with a Motogadget Motoscope Mini Speedo and a set of push buttons. The head and tail lamps have been integrated in the bodywork and there's even slide-out storage compartment in the tail which has a phone charging port and a socket to plug a battery charger into.
Now, about what we were on about in the beginning how this bike doesn't need a stand of any kind to stay upright. It is designed to rest on its bellypan. A couple of buttons on top control the pneumatic system that raises to the bike when its time to set off.
The 18" wheels are fully custom and have been machined of aluminum to resemble turbines. Dmitry also fabricated a stainless steel two-into-one exhaust system, which snakes into the bodywork before emerging in a single muffler on the left. The bulges on each side of the main fuselage hide twin 3D-printed air boxes, kitted out with car air filters.
The extreme motorcycle design is complemented by a mute monochrome paint job. Everything wears the same shade of grey and accented only by subtle pin striping in light grey. Sure, a side stand is simple and cheaper mechanism to work out but that's the point. This build is meant to be outlandish. Frankly speaking these are all the shades of grey we're interested in.