We are pleased to present David Uhl's latest masterpiece, titled "American Royalty".  This piece features Gloria Struck, a true American icon whom David painted once before in her younger years (see below).
"American Royalty"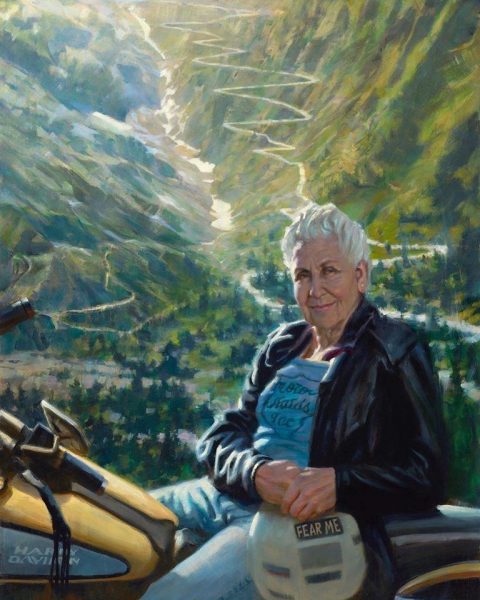 This new piece shows Gloria a few years ago, after she conquered Stelvio Pass in Italy.
We have had the pleasure of knowing Gloria for quite some time now.  She has graced us with her presence at several motorcycle shows, promoting her book and delighting visitors with her colorful stories.
If you'd like to purchase "Gloria", you will receive the unframed 18×24 "American Royalty" FREE (or the 24×32 unframed for $400.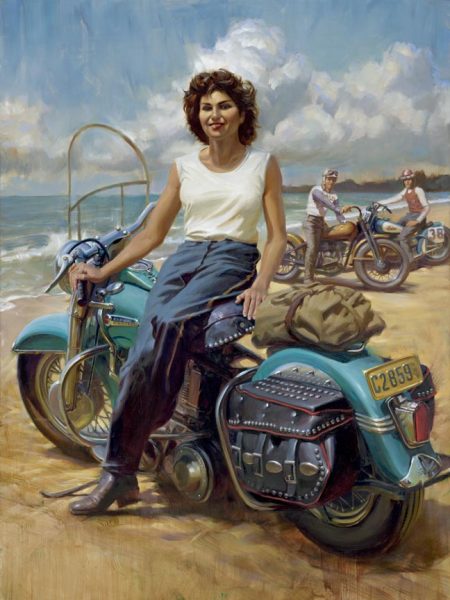 If you already have "Gloria", you will receive a 15% discount on your purchase of "American Royalty".
You can place your order by return email, or by calling me at 303-913-4840.
Thanks,
Greg Rhodes
International Sales Director
Uhl Studios
15801 W. Colfax Avenue
Golden, CO 80401
Signed, numbered canvas prints are now available.
** Image size 18×24, 30 prints offered, $895 framed
** Image size 24×32, 30 prints offered,  $1,295 framed
David's 2012 piece, titled "Gloria" is still available in limited quantities (at $1,895 framed).