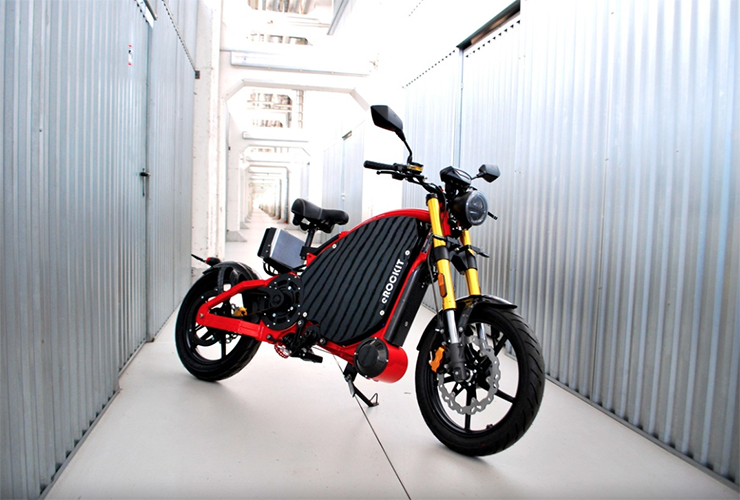 by Elena Gorgan from https://www.autoevolution.com
Who said you have to choose between an electric bicycle and a motorcycle? A German startup is offering a solid and very fun compromise they like to call "the human hybrid:" eRockit.
The eRockit is part bicycle, part motorcycle and all fun. It's an electric motorcycle that promises good performance and decent range but also uses the pedals found on the regular bicycle instead of throttle. To put in much simpler terms, this bike requires some leg work in order to move around: the more the faster you want to go.
Falling under the 125cc motorcycles classification, the eRockit has already been tested on the Autobahn by stunt rider Sebastian "Satu" Kopke, and he says the fun of having to do light exercise while overtaking cars is something he's never experienced before. "I have never experienced such a mixture of physical activity similar to cycling and this incredibly good acceleration. It's doubling the fun!" he says.
The makers are equally generous in showering this little thing with praise: "the most extraordinary electric motorcycle of today" is able to deliver an "indescribable, magical driving experience" and, at the same time, top German quality in terms of the materials used, performance and safety. It's almost enough to make you want to go out and buy one right away.
Speaking strictly numbers, though, the eRockit is basically a faster commuter electric bicycle at a much higher price. It has a top speed of 90 kph (56 mph) and a range of 120 kilometers (75 miles), with the latter largely dependent on weight of the rider and weather / road conditions. Peak power is at 22 HP from a permanent magnet synchronous motor, while the 6,6 kWh Lithium-Ion battery achieves a full charge in 5 hours.
The eRockit may be all sorts of fun, but it's also not cheap. It will retail for 11,850 euro ($13,100), with a 250 euro ($277) deposit needed to place a pre-order.