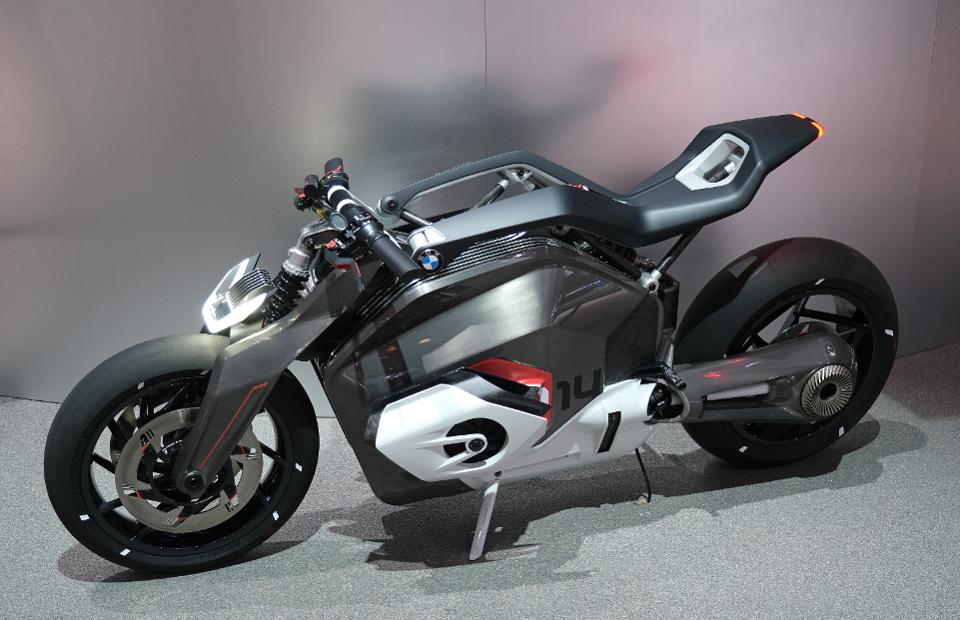 by Sarwant Singh from https://www.forbes.com
In 2023, BMW Motorrad will be celebrating a landmark event: its centenary as a motorcycle manufacturer. But it wasn't really the past that interested me in my interview with BMW Motorrad CEO, Dr. Markus Schramm. It was more about understanding how this venerated German brand is engaging with the future. How is it approaching the connected, autonomous, shared and electric (CASE) revolution? What plans does this standard-bearer of all things innovative have in store to negotiate the next 100 years?
While the experiments of four wheeler manufacturers with CASE technologies have been well documented, there's not been as much buzz about the progress made by their two wheeler counterparts. It was quite revealing, therefore, to get a perspective on how CASE is making motorcycles smarter, safer and (dare I say it?) sexier. In essence, we are talking of a whole new generation of bikes that weld performance, comfort and safety to take driving experiences to a completely different level.
To shed light on all this and much more, I turned to the consummate industry insider: Dr. Schramm, a BMW veteran of almost three decades standing whose passion for motorbikes is evident in the way he speaks (and the number of bikes he owns!). Here are some highlights from the interview:
Staying Connected
"The aim of our intelligent connected motorbikes is to make motorcycling more experience-oriented, more comfortable and also safer."
Connected technologies have exploded among passenger and commercial four wheelers, enabling undreamed of new services, novel ways of engaging with the customer, hyper personalized experiences and lucrative monetization opportunities. But how are they playing out among two wheelers?
"Connectivity, assistance systems and the digital services are becoming increasingly important in motorcycling," said Dr. Schramm. "Features like emergency call (e-Call) or our other connectivity offers are already an integral part of many BMW models today. The fundamental goal is to offer the intelligent e-Call function to as many customers as possible."
And it's clear that this objective resonates with customers. For instance, in Germany today, around 80% of BMW Motorrad's customers opt for e-Call when purchasing a motorcycle. What is particularly interesting in this context is that such high take rates are unfolding against a backdrop where e-Call systems are legally mandated for cars in many countries but not for two wheelers. It also perhaps explains why BMW Motorrad is currently the only motorcycle manufacturer that offers an e-Call system ex-factory.
However, safety such as that offered by e-Call is only one aspect of connectivity. "As the company expands its range of intelligent connected motorcycles, the aim is to make motorcycling not only safer but also more experience-oriented and more comfortable," added Dr. Schramm. "With the typical motorcycle customer in mind, BMW Motorrad's connected app focuses on enhancing motorcycle-related experiences, including optimizing route planning, displaying navigation information directly in the bike's thin-film-transistor (TFT) display, recording tours and riding performance statistics such as lean angles, acceleration and deceleration forces or altitude profiles."
Connected helmets are another major theme in the industry and only getting bigger. Connecting the rider and the motorcycle via the helmet is already standard equipment in many of BMW's current models. And if it's any indication of how important connected helmets will be, BMW delivered almost 17,000 of its helmet communication systems to customers in 2019.
Being Autonomous
"We will use autonomous driving technologies not only to raise safety levels but also to take riding fun to a new level."
BMW has been a pioneer in driving innovation in autonomous technology with concepts like self-balancing, self-park and summon features. All very well for cars. But it's that familiar conundrum of how autonomous driving and features will work in the motorcycle industry which is defined by motor-muscle connection? "Motorcycles will never ride autonomously; it doesn't make sense. However, in a future world of autonomously driving cars, being connected will be an urgent requirement for all motorcycle segments," said Dr. Schramm. "This will enhance safety and ensure that motorcycling remains future-proof."
It is this idea of operating safely and seamlessly in future connected and autonomous environments that informed BMW Motorrad becoming a founder member, along with Honda and Yamaha, of the Connected Motorbike Consortium (CMC). One of the key motivations here has been to push forward on safety agendas—whether in terms of collision avoidance or warning drivers of dangerous situations—through the use of connected technologies. But this being BMW Motorrad, it's also about having fun… safely. "We will use autonomous driving technologies in a concrete way," noted Dr. Schramm. "Our mission will be to raise safety levels, on the one hand and, on the other, to take riding fun to a new level."
Advancing Shared
"The biggest challenge in the shared space is that people don't always handle other people's property as carefully as their own."
Barring a recent partnership with eCooltra in Barcelona, BMW Motorrad has not specifically focused on the shared mobility space. Given that growth is expected in bike sharing and other last mile mobility options post-COVID, what plans, if any, does the company have for expanding its presence in this space?
"When it comes to sharing we, as a society, don't always handle other people's property as carefully we do our own. This is the biggest challenge in this area," observed Dr. Schramm. "However, BMW Motorrad is committed to the BMW Group's vision of becoming a customer-focused mobility company. These two disparate threads are reconciled through our short-term bike rental service—Rent A Ride—that allows people the opportunity to ride almost any BMW motorcycle in many countries."
Going Electric
"Electro-mobility on two wheels will be very significant for the future of motorcycling… it needs to be really fun and adventurous."
With the C evolution, BMW Motorrad stamped its credentials as a forerunner in electric mobility. It has since made steady gains. A planned concept offering for the high growth urban mobility sector is in the works while the Vision DC Roadster represents a unique take on an e-Power Roadster.
"For me it's quite clear: electro-mobility will be very significant for the future of motorcycling. We foresee a slew of upcoming products with a focus on electric propulsion, particularly in the field of urban mobility," noted Dr. Schramm. "And I'm not only thinking of classic scooters here, but also of alternative modern, emotional products. Electro-mobility on two wheels needs to be really fun and adventurous and BMW is committed to developing corresponding products."
BMW Motorrad is targeting an array of new all-electric products in the near-term. From an initial focus on electric mobility solutions for urban environments, the company plans to move to other segments as well. "And here our claim is to play a leading role in the motorcycle industry not only on the topic of range but also on the subject of speeding up the battery charging time and design. Our Vision DC Roadster shows how we see emotional, inspiring and authentic e-mobility in the motorcycle sector."
Winning Customers
"Make Life a Ride' is not limited to a particular product but puts people and emotions squarely in focus."
And finally, of course, it's all about the customer. "The overall aim of our brand approach – Make Life a Ride – is to attract new customers, irrespective of age, and to generate enthusiasm for motorcycling," emphasized Dr. Schramm. "The point is to address not only real bikers but, equally importantly, people who currently don't ride a motorcycle but maybe will one day. 'Make Life a Ride' is not limited to a particular product but puts people and emotions squarely in focus."
Post Script
I have known Markus for almost a decade now. I first met him when he headed BMW's Mobility Services division. It was his vision that saw the company transform from being a car manufacturer to becoming a mobility services provider. All these years later, I see his future-focused imprint on BMW's two wheeler business as well. Highly driven, he thrives on challenges and is passionate about the things he does – his extreme marathons and 100 km ultra marathon in the Antarctic are now part of company lore. The perfect choice, really, to take on the challenge of cementing BMW's legacy in the years ahead.