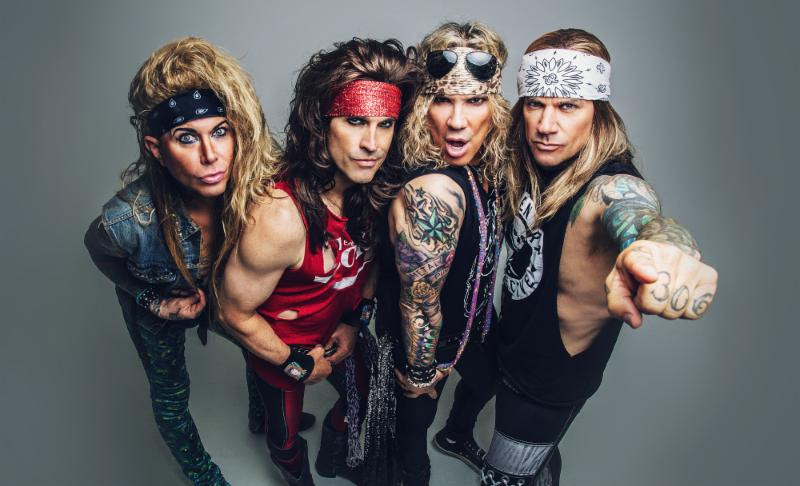 Steel Panther and Moonshine Bandits to headline Vegas BikeFest
Las Vegas, NV, August 8, 2019 – Vegas BikeFest, The Premier West Coast Motorcycle Rally, is excited to announce that Steel Panther and Moonshine Bandits will be rocking the stage this year.
On Saturday, October 5, Steel Panther will take the stage and perform hits such as: "Gloryhole", "Community Property", and "Death To All But Metal". Since emerging into the heavy metal scene in the early 2000s, Steel Panther continues to embody sex, drugs, and metal in all of the music they release. Their latest single, "All I Wanna Do Is F*ck (Myself Tonight)" was released in July as a prelude to their new album, Heavy Metal Rules, dropping on September 27.
Moonshine Bandits will perform on Friday, October 4. The duo best known for mixing country, rap and rock together will perform hits such as: "Dead Man's Hand", "For The Outlawz", and their latest single, "Get Loose". Currently venturing across the country performing at various motorcycle and music events to promote their latest album, The Whiskey Never Dries, the Moonshine Bandits continues to produce backwoods bravado, patriot's pride, country soul, and keg-thumping beats.
The Southland Party Band along with Bullets and Octane will also appear during the rally. All performances will take place at the Downtown Las Vegas Events Center and are included with all Vegas BikeFest passes.
The Vegas BikeFest is also holding a Fly-Away Sweepstakes that coincides with this announcement. All registrants who purchase passes by September 2 will be entered into a drawing that includes: flight to Las Vegas, a VIP experience at the Vegas BikeFest, a hotel stay for two at the Golden Nugget, dinner for two, tickets to the Hooligan Dirt Dash, and motorcycle rental. The winner will be chosen and announced the week of September 2.
The 19th Annual Vegas BikeFest will be held on, October 3-6. This year, live music returns to the rally allowing attendees to enjoy music all day and night along with a custom motorcycle giveaway and $5,000 in shopping spree giveaways. For more information, visit www.lasvegasbikfest.com or call 1-866-BIKEFEST.
Website: www.LasVegsaBikeFest.com
Facebook: www.facebook.com/lasvegasbikefest
Instagram: @VegasBikeFest
Twitter: @VegasBikeFest