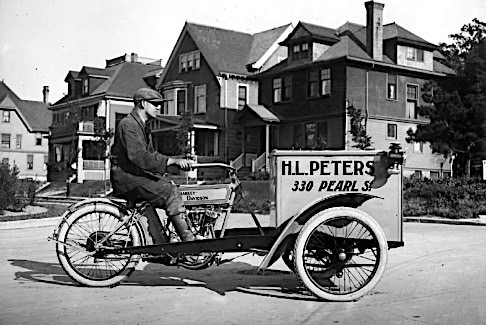 by Daniel Patrascu from https://www.autoevolution.com
For decades, one of the heavyweights of the motorcycle industry has been Harley-Davidson. The behemoth established itself as one of the leaders in motorcycling manufacturing, and is now planning an expansion more ambitious than ever before. Over the years though, it tried its luck in other industries as well.
Established in 1903, the company fought to make a name for itself including in areas like commercial transportation and military hardware. Most of these attempts are now long-dead, but this week Harley decided its time for a brief history lesson into five of the products few still know it used to make.
In its second decade, from 1913 to 1915, Harley went for the commercial delivery sector with a vehicle called Forecar. Powered by a twin-cylinder chain drive motorcycle engine, the vehicle was a three-wheeler that featured a delivery box over two front wheels. It was capable of carrying a load weighing up to 600 pounds, mostly mail and groceries.
From 1929, people began mowing their lawns with Worthington machines powered by Harley engines. This collaboration went bust too soon after the Great Depression.
At the beginning of the 1960s, Harley bought Tomahawk Boats because it needed access to the company's fiberglass manufacturing capability. For a short time, it also made boats, then decided to shut this side business down.
In 1969, a three-wheeled vehicle named Utilicar was introduced to act as support for manufacturing processes in factories. It was made with two powertrains, one electric and one running on gasoline, that were to be used inside and outside factory buildings, respectively.
By far the most exciting product made decades ago by Harley is a small rocket engine that was deployed by the U.S. Army on target drones. These drones were used to simulate incoming intercontinental ballistic missiles and were generally shot down by fighter jets in training exercises. The engines were made from 1969 to 1981.