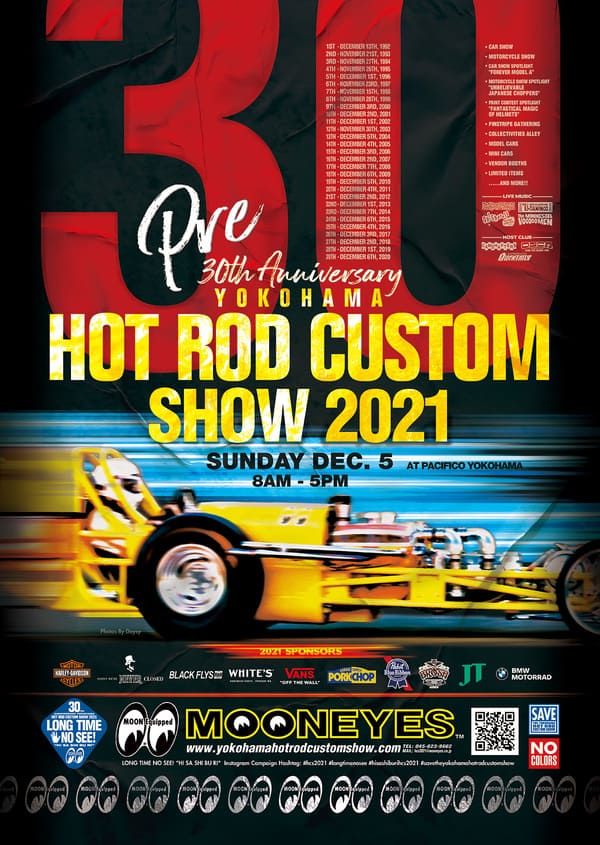 Pre 30th Anniversary YOKOHAMA HOT ROD CUSTOM SHOW 2021
Dec. 5, 2021 at Pacifico Yokohama
YOKOHAMA HOT ROD CUSTOM SHOW OFFICIAL WEBSITE
Pre 30th Anniversary YOKOHAMA HOT ROD CUSTOM SHOW 2021
Date: Sunday December 5, 2021
Location: Pacifico Yokohama
Nearest Hotel : Yokohama Intercontinental Hotel
MQQNEYES Official Website (English Edition)
https://www.mooneyes.co.jp/en/
YOKOHAMA HOT ROD CUSTOM SHOW, organized by MOONEYES, is the largest indoor custom car and motorcycle show in Japan. The event features vendor spaces, custom paint contest, pinstripers and so much more wrapped up in a one-day show.
In order to prevent the spread of the Novel Coronavirus (COVID-19), the Yokohama Hot Rod Custom Show 2021(HCS) will be taking sufficient measures in accordance with the Guideline for COVID-19 by Pacifico Yokohama. In addition, in accordance with the guideline of restrictions on holding the event, the event will be held with the social distancing necessary to prevent the spread of infection.
Before coming to the event, we would like to ask for your understanding and cooperation to hold a safe event. Please read through it carefully and purchase the ticket and come to the event, after understanding the content enough.
ADMISSION TICKET
Advance Ticket 3,800yen (12 & under Free)
General Advance Ticket for Yokohama Hot Rod Custom Show 2021 (HCS).
General Admission Ticket (Dec, 5) 4,800yen (12 & under Free)
General admission tickets will not sell out so, you will be able to purchase tickets in advance from our physical store in Honmoku, Yokohama MOONEYES Area-1 and MQQN Cafe till the day before the event December 4th (Saturday), closing time of our store.
Due to the prevention of the spread of the COVID-19, please purchase the Advance Ticket.
To keep the safety management for all participants and visitors we will ask you to fill out your Name, Address (Address or Phone Number or Email Address), Attendance Number on the back of the tickets. This is a rule to prevent COVID-19 which is issued by the venue.
If you are able to purchase or pick up the ticket before the event please, fill out the back of the ticket in advance to prevent taking time before entering the event.
If you already have the ticket please fill out the backside in Advance. If you are purchasing the ticket at the gate on the day of the event Dec. 5th(Sun), please bring your writing tools. We will prepare some writing tools, but to prevent the spread of the virus, we recoomend you to bring your own.
If you already purchased the tickets online, we strongly recommend you to pick up your ticket at MOONEYES Area-1 prior to the show.
TIME SCHEDULE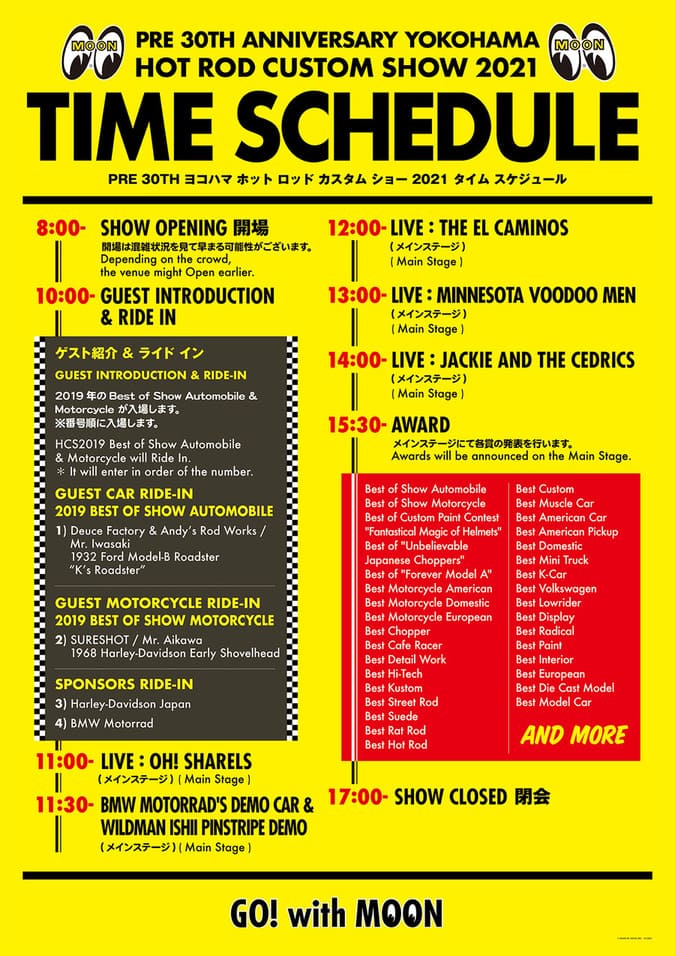 At the Pre 30th Anniversary YOKOHAMA HOT ROD CUSTOM SHOW, we are preparing exciting programs for every one to enjoy from OPEN to CLOSE.
This year's YOKOHAMA HOT ROD CUSTOM SHOW has many Limited Items!
Beginning with Hot Item of VANS X MOONEYES Shoes, this year celebrating the BLACK FLYS 30th Anniversary we have special collaboration sunglasses and there will be zip hoodie T-shirt and other Clothing and Rat Fink Item. Limited quantity, Special Items will sold out soon so, don't miss it!
Event Information ※ Date may change without notice.
2021 Dec. 5th(Sun)
Pre 30th Anniversary
YOKOHAMA HOT ROD CUSTOM SHOW 2021 (Scheduled)
Pacifico Yokohama (YOKOHAMA)
Contact:Official Website
http://yokohamahotrodcustomshow.com/
2021 Dec. 31st(Fri)
MOONEYES Area-1, MOON Cafe
working usually till Dec. 31st(Fri)
2022 Jan. 1st(Sat), 2nd(Sun)
MOONEYES Area-1, MOON Cafe New Year's Holiday
2022 Jan. 3rd(Mon)
New Year Sale
Business Hours
MOONEYES Area-1 : 12:00 -19:00
MOON Cafe : 12:00 – 20:00
2022 Jan. 9th(Sun)
Sidewalk Sale
MOONEYES Area-1 (Yokohama)
Contact:Official Website
https://www.mooneyes.co.jp/
2022 Mar. 26th(Sat)
3rd Surf City Market Place by the Sea
Harbor City Soga (Chiba)
Contact:Official Website
https://www.mooneyes.co.jp/scmp2021/
2022 May 15th(Sun)
34th MOONEYES Street Car Nationals ®
Odaiba N.O.P Area (Tokyo)
Contact:Official Website
https://www.streetcarnationals.com/
Other Upcoming Event Schedule are HERE
https://www.mooneyes.co.jp/en/2017-event-schedule/