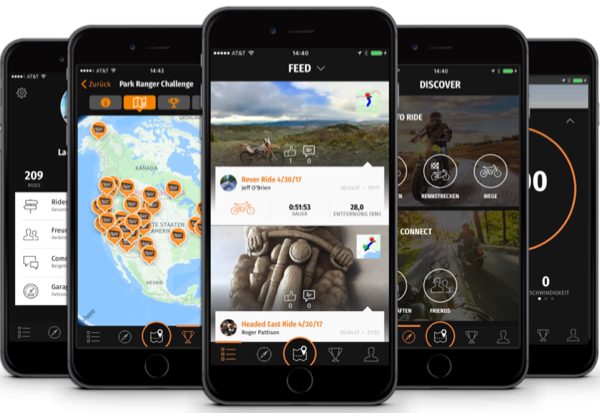 REVER has released Version 3.0 of its motorcycle navigation and community app. This latest update represents a major-step forward in the user experience and feature offerings of the REVER iOS application (Android users can expect the same update within a few weeks of the iOS release). With a quickly expanding community of riders from around the world, REVER V3 also has language support for Italian and French, in addition to German, Spanish, and Portuguese.
Major new functionality and features include:
Ride Discovery: REVER has partnered with content providers such as Butler Maps, RoadRUNNER Magazine, Backcountry Discovery Routes, Remote Moto New Zealand, Bigtrails Brazil, and Motorcyclist Magazine to provide verified, hand-curated routes from around the world. REVER has also created a library of free route content for users to explore. Also available, is a listing of roadrace tracks, motocross tracks and OHV trail systems to help riders of all disciplines find places to ride.
New Ride Feed: A newly designed ride feed makes photos the top priority, while comments and likes are also prominent. Additional content such as featured communities and challenges are also visible as part of the ride feed.
Geo-location Based Riding Challenges: REVER now offers challenges that automatically give riders credit for visiting certain points of interest (POIs). Examples include; popular roads, national parks, dealerships, and more. Certain challenges also unlock swag and deals as riders visit places on the map.
Friend-Tracker: Users can now see all of their REVER friends anywhere in the world as they track rides in the app.
Communities: REVER users, dealerships, events, brands, and local clubs can now create a REVER community to share rides.
Sharing and Connecting: Finding riders including Facebook friends who are also REVER users as well as friends from your contact list just got a lot easier.