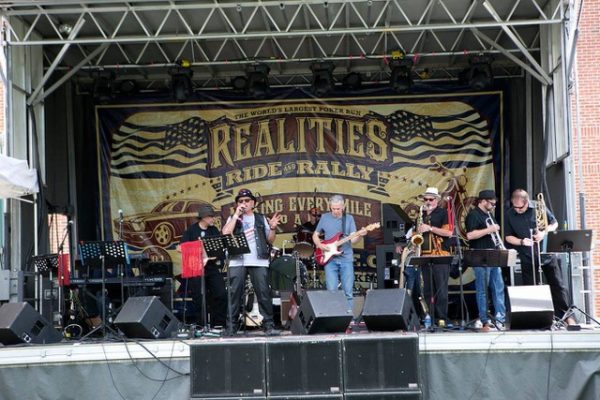 Fort Collins, CO (February 4, 2019) – Realities Ride, the world's largest poker run and fundraising vehicle for Realities For Children charity, will host it's annual rally and ride for the kids on Memorial Day Weekend, May 25th and 26th, 2019. Advance tickets are now on sale. Celebrating those who've served in our armed forces and helping Northern Colorado children in need, Realities Ride has been bringing people together on Memorial Day weekend for the past 18 years.
This year's event kicks off Saturday, May 25, at 11 a.m., with the Presentation of the Colors and the singing of the National Anthem. Featuring motorcycle stunt shows, Schrader's Grand Prix adult trike races, Cycle Source Magazine Bike Show and Motorcycle Rodeo, the Patriotic Pin-up Girl Contest, Hooters Bikini Bike Wash, live music and vendors offering everything from BBQ to tattoos, the Realities Ride rally is not to be missed. Advance tickets are available here.
On Sunday, May 26, thousands of riders will join together in Fort Collins for the World's Largest Poker Run. Held to benefit children who have been abused, neglected or are otherwise at risk, Realities Ride provides a fun and patriotic way to honor our service men and women and help a population who really needs it. Participants can make their ride even more meaningful by choosing to Ride for a Fallen Hero—these riders receive a card with a photo and service description of a fallen soldier. Registration opens at 8 a.m., and the spectacular parade starts at 9:30.
Thanks to the generosity of the event's sponsors, 100% of participants' $30 ride donation goes to benefit children in need in Northern Colorado. Special VIP tickets are also available for $100, which includes food and drinks at the Rally all weekend long. Last year's event raised nearly $120,000 for this worthy, charitable cause. So come out and enjoy great entertainment, great camaraderie and great riding, all while providing vulnerable kids with meaningful support.
Realities For Children is a 501(c)3 nonprofit that provides for the unmet and ongoing support needs of children in Northern Colorado who have been abused, neglected or are at-risk by uniting local businesses, youth agencies and the community in collaborative and mutually beneficial service.
Contact:
Ken Conte