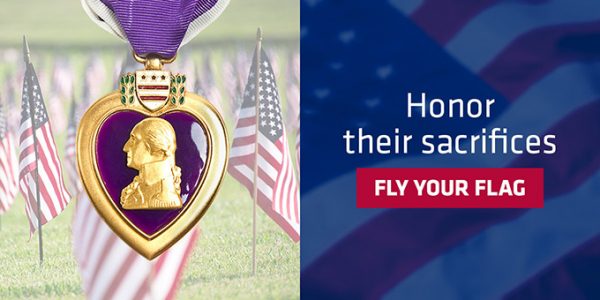 Today marks the day of the Purple Heart — an award bestowed upon those who've sustained injuries in combat.
As a U.S. Army veteran, triple amputee and Purple Heart recipient myself, I understand that, for many of us, the pain and wounds caused while serving our country will never completely heal. Yet in ways, we are still the lucky ones, as so many of our comrades made the ultimate sacrifice.
Thankfully, we don't have to go it alone. DAV is a critical lifeline for our nation's ill and injured veterans. As a member of DAV, you provide life-changing support for these veterans who have made great sacrifices for our freedoms.
And, today, on Purple Heart Day, you can do even more to honor their patriotism, dedication and sacrifices by adding a flag to DAV's Field of Flags.
Please make a special donation today to fly an American flag at DAV National Headquarters in honor of the service members who sacrificed so much.
Dennis Joyner
U.S. Army Veteran and Past National Commander