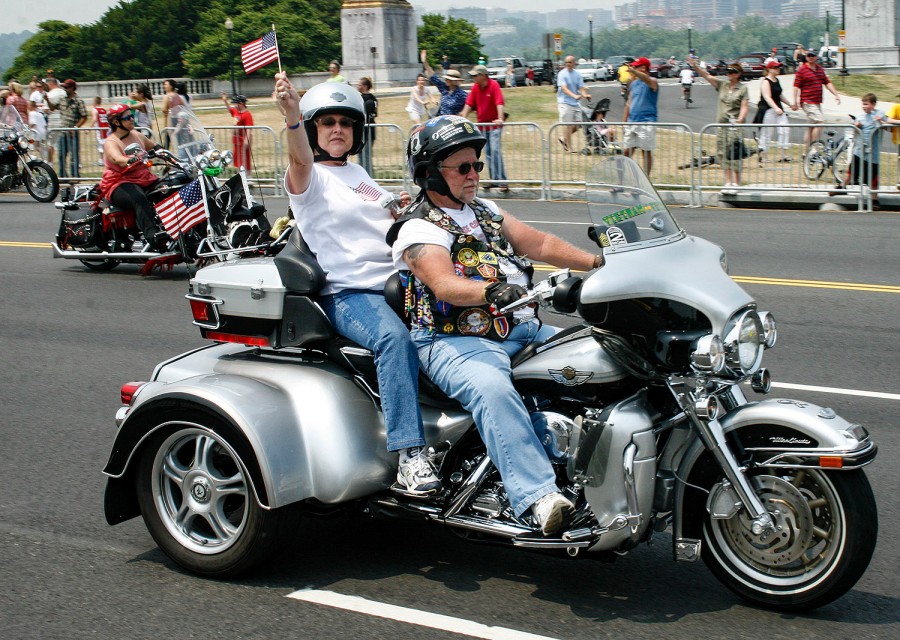 By NIKKI WENTLING from https://www.stripes.com
WASHINGTON – A motorcycle rally in the nation's capital, designed to replace the popular Rolling Thunder event, won't happen on Memorial Day weekend because of the coronavirus pandemic, organizers announced Tuesday night.
AMVETS took over plans for a motorcycle ride through Washington after Rolling Thunder organizers announced that 2019 would be their last event. Rolling Thunder, a 32-year-old tradition, attracted hundreds of thousands of participants every Memorial Day weekend.
AMVETS planned a similar event, Rolling to Remember, for the weekend of May 23.
"As always, the health and safety of our riders and the veteran community is our top priority," AMVETS said in a statement. "Due to the federal and state restrictions on public gathers and the guidance of the public health officials amid the Covid-19 pandemic, the Rolling to Remember motorcycle demonstration will not take place in Washington, D.C."
The goal of the three-day event was to focus on raising awareness for prisoners of war and troops still missing in action, as well as the issue of veterans suicide.
Instead of the in-person ride and rally, AMVETS asked motorcyclists to ride 22 miles on May 24 in their local communities, while following social distancing guidelines. The 22 miles recognizes an often-cited statistic that 22 veterans die by suicide every day. Participants can download a phone app titled "REVER" to track and share their ride.
The weekend Rolling to Remember activities were expected to kick off May 22 with "Blessing of the Bikes" at the Washington National Cathedral. AMVETS was working with the National Park Service to have a stage on the steps of the Lincoln Memorial with speakers and other programming. Then, on May 24, motorcyclists were scheduled to ride past the White House, the Capitol Building, around the National Mall and stop at the Vietnam Veterans Memorial Wall.
The estimated cost of the weekend event, which was free for participants, was $400,000.
AMVETS said they would continue planning an event in Washington for 2021.
"We appreciate your support and flexibility during an unprecedented time in our nation's history," AMVETS said. "We look forward to coming together, even stronger than before, to continue this important tradition in person in 2021."