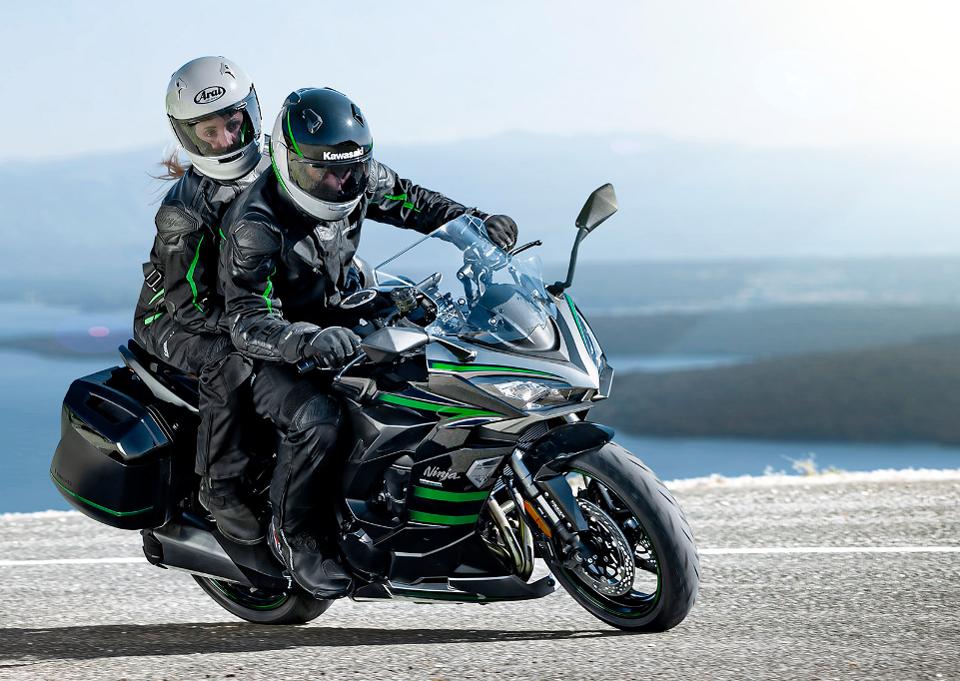 by Bill Roberson from https://www.forbes.com
It's raining and I'm sheltering in place with my family, which sadly means no motorcycle riding as spring weather imminently arrives in the Northwest. Thankfully, Kawasaki just broke the boredom by holding a model reveal online, as is the sudden new norm, and the new bike is the 2020 Ninja 1000SX. It looks to be another fine machine from the always capable Kawasaki. But after the presentation, I found myself wandering down memory lane (and through digitized photos) to the first and only Ninja I personally owned. In the early 1990's, I happened across a pristine first-gen Top Gun era 1986 GPz 900 Ninja in bone-stock, unblemished like-new condition (below). Resplendent in original red, white and blue livery, it was by that time somewhat of a performance relic, but I bought it anyway because, well, I had always wanted one and the price was right. Compared to the back-road-strafing Suzuki GSX-R 750 I was riding at the time, it was heavy, a bit wobbly when pressed in the curves, and big. But still, it was just so cool. It still is.
One weekend, a riding buddy and I saddled up our respective bikes with some soft bags and headed out to parts unknown in the wide-open (and very lightly patrolled) reaches of eastern Oregon. Midway into a long leg of the trip, my cohort was complaining about the uncomfortable riding position of his mount and tried everything from using the rear pegs to sitting on towels to soothe the pain. But I had made an unexpected discovery: That big, heavy GPz Ninja was a near-perfect sport-touring machine, with a supple yet sporty suspension, a comfortable seat, a near-perfect bar-seat-peg triangle (for myself at least), and a willing, powerful engine. That was the first of many long trips on the Ninja.
Over 30 years later, Kawasaki's now-venerable Ninja nameplate has gone through numerous iterations and generations, ranging from sword-sharp track attack weapons to the beyond-bonkers 300+hp H2R supercharged exotic. But sitting in the sweet spot in the lineup is the great, great grandchild of that first GPz machine, the 2020 Ninja 1000SX. It still looks fast, with rakish, geometric bodywork and a mean, purposeful stance. And it is Ninja fast, with a new 1,043cc inline-four that puts out triple-digit horsepower and is tuned for more torque than your typical sportbike screamer. But best of all, this modern Ninja calls out to me like my old friend, with more focused capabilities that weren't readily apparent in my sturdy GPz.
The $12,399 2020 Ninja 1000SX is both a sport-riding and a sport-touring platform with a definite emphasis on sport, but Kawasaki has also embraced and expanded its touring acumen. Hard bags that use a slick low-profile mounting system are an OEM option, the quick-release windscreen adjusts across four settings, there are four seat options, and the SX has been retooled digitally for open-road riding including, at long last, electronic cruise control (the real kind, not the plastic throttle lock I used on my '86 Ninja). But it's also designed to be a competent back-roads tool, including a new clutchless quick shifter and slipper clutch, giving riders the ability to scratch an itch in both worlds.
For 2020, Kawasaki has also upped the tech quotient to a large degree over the 2019 model. The KIBS ABS smart braking system is now standard, and a new Bosch inertial module adds more safety options to the braking and acceleration parts of the ride, including a novel new cornering management system. For pilots wanting less tech intervention, certain aspects of the system, such as the three-level traction control, can be set to "off." Incredibly, the Bosch IMU doing all that thinking for you only weighs a scant 40 grams, or about as much as a handful of paperclips. There are also expanded ride modes including Sport, Rain and Road, as well as a custom Rider mode where you can set up your own favorite profile. Parameters within riding modes can be adjusted as well and everything can be set up on the bike's new 4.3-inch TFT color cockpit display, or through the Kawasaki Rideology smartyphone app. As I recall, my Top Gun Ninja had a gas gauge, which I thought was pretty damn trick at the time. I taped an LCD clock from the dollar store to the tach to really take things to the next level. Ah, the carbureted days…
To be sure, the 2020 NinjaSX is a smart-looking bike, and Kawasaki's engineers have tweaked the fairing for better airflow, as well as moving from a two-pipe muffler layout to a more sporty (and lighter weight) single-sided affair more in tune with its pure sportbike brethren.
Probably my only complaint is the color scheme, which is a natty grey and black scheme with Kawi-green accent stripes (as above) as the only option, at least so far. Come on, Kawasaki, find some old cans of Ninja red, white and blue paint already!
Once the world starts turning again, the new Ninja 1000SX should be available in Kawasaki showrooms, and it's only a $200 bump over the old model.