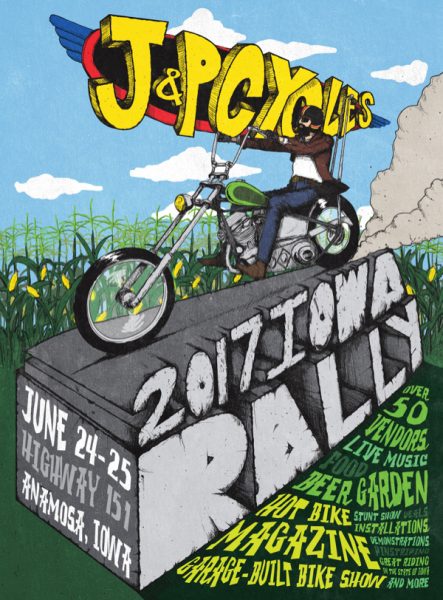 Some of the best looking bikes in the country will be on display at J&P Cycles in Anamosa, Iowa and that's only part of the excitement. Celebrating its 38th anniversary, the free rally includes motocross stunt shows, live music, food, beer and opportunities to support Camp Courageous, a camp for kids and adults with disabilities.
The Iowa Rally will also be the site of Hot Bike Magazine's National Garage Build-Off for custom motorcycles. The competition is expected to draw the nation's top garage-built custom bikes competing for $3,000 and an invitation to the annual Hot Bike Tour. To learn more about the 2017 Iowa Rally, visit www.jpcycles.com.
On Friday, June 23 Anamosa city officials will rename a street near the rally site in honor of J&P founder John Parham.
FRIDAY (JUNE 23)
10:30 am: Parham Drive Dedication Ceremony
Intersection of Harley Avenue and Circle Drive
SATURDAY (JUNE 24)
8:00 am – 6:00 pm: Bike show, live music, stunt shows & silent auction
SUNDAY (JUNE 25)
7:30am: John Parham Memorial Ride: The ride departs at 7:30am and returns at approximately 9:00am.
8:00 am – 5:00 pm: Bike show, live music, stunt shows & silent auction