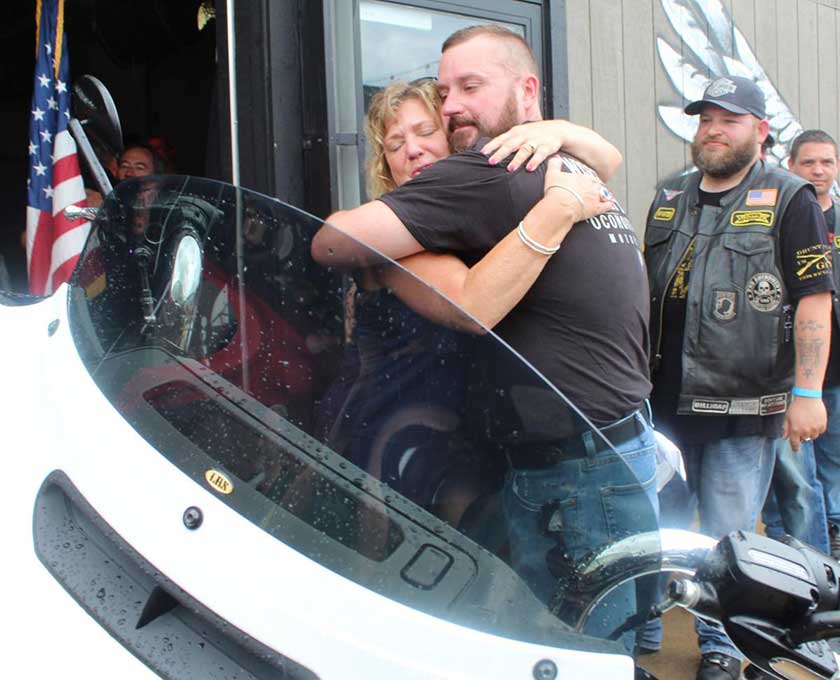 by Erica Dynes from https://www.wiscnews.com
A Wisconsin Dells man became the 18th veteran to receive a motorcycle from a Wisconsin organization that gifts motorcycles to veterans to help them cope with mental and physical wounds from their time in active duty.
Marine Sgt. Rick Erickson was gifted a Harley-Davidson motorcycle from Hogs for Heroes at The Keg and Patio in Wisconsin Dells May 23. The presentation included a color guard ceremony by Wisconsin Dells American Legion Post 187. Eleven of the veterans who had receive motorcycles from the non-profit organization were there to hand keys to Erickson to start his new motorcycle.
Erickson hand-picked his motorcycle after going to three different dealerships with the co-founders of Hogs for Heroes before finding his perfect one at an Oconomowoc dealership.
To Erickson, the presentation was much more than receiving a motorcycle. It was sharing the emotional moment with the family he had become a part of, forming bonds with others who understand the pain and struggle of coming home from war. He struggled to fight back tears as he told the crowd what it meant to him.
"As awesome as the bike is, it's about getting back in touch with people who understand you, living life again, people who know me and who have shared experiences that I had and welcoming me into the family," Erickson said.
Erickson planned to follow in the footsteps of his father, who served in Vietnam as a Marine. He decided to enlist in the Marines after high school but was diagnosed with cancer, according to his biography on the Hogs for Heroes website. After being cancer free for five years, he enlisted in the Marines in 2003.
One year later he did a six-month tour of Iraq and served as an artillery scout and gunfire controller. Erickson was also in the center of Operation Phantom Fury, the highest point of conflict during the Iraq War against the Iraqi insurgents as the Marines invaded Fallujah. He was awarded a Navy and Marine Corps Commendation Medal with Valor and a Navy and Marine Corps Achievement Medal with Valor. He served in the Marines until 2007.
Upon returning home, Erickson fought a different battle as he struggled to cope with the transition to civilian life and post-traumatic stress disorder. He underwent surgery to treat several injuries from his time in the Marines and also struggled in his personal life. He later sought help for his PTSD and obtained two associate degrees. He currently works what he calls his "dream job" as assistant county veterans service officer for Sauk County. According to his biography on Sauk County's website, he's held the position since 2018.
Erickson tried to cope with his struggles riding his motorcycle, which he purchased when he returned from service 14 years ago. However, he sold it two years ago to save money for a necessary remodel to his house.
During Sunday's ceremony, Kevin Thompson, one of the co-founders of Hogs for Heroes, told Erickson not to hold back his feelings. Thompson said he deserves to have some time to release energy as "wind therapy," along with the support of the Hogs for Heroes family. Thompson also hopes the moment changes Erickson and makes him realize he isn't struggling alone.
"My hope (is) to take Rick's words; he said his experience in the military and Iraq changed him," Thompson said. "My goal is Rick looks back at today as the moment this experience changed him."
Hogs for Heroes started in 2015 by Kevin and Audra Thompson and Craig and Michelle Thompson. Audra Thompson said the non-profit will give away six bikes by the end of this year, a record for the organization that started with a goal of giving away one bike annually to an injured veteran. All proceeds raised goes directly to fund a motorcycle for veterans who apply to receive a motorcycle. For more information on Hogs for Heroes, go to hogsforheroeswi.org.