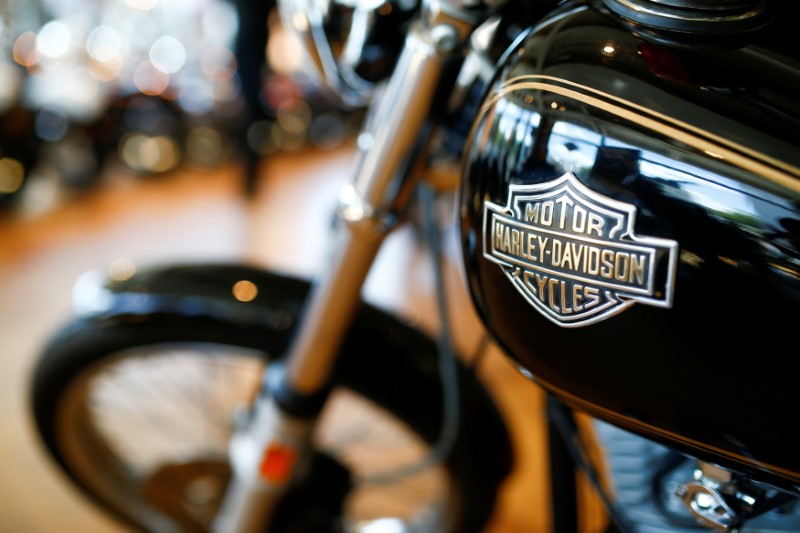 by Christiana Sciaudone from https://www.investing.com/
Harley-Davidson (NYSE:HOG) has swayed yet another analyst that a turnaround will bear fruit.
Shares are up 4.5% on Wednesday after UBS followed BMO Capital in upgrading the motorcycle maker. UBS bumped its rating to buy from neutral and gave Harley-Davidson a price target of $31, Seeking Alpha reported. The average price target of analysts tracked by Investing.com is $26.75. The stock has seven buys, 10 holds and one sell. It was trading around $28.60 during the morning session.
On Tuesday, BMO raised HOG to outperform from market perform and boosted its price target to $33 from $23, MarketWatch reported.
New Chief Executive Officer Jochen Zeitz, named in May, is expected to drive much-needed change at the company.
Shares are trading at a price-to-earnings ratio of 11, versus 16 for the average long-term ratio of the Dow Jones, according to data compiled by Investing.com and Zacks Investment Research.
Last week, Harley-Davidson said it would cut 700 positions across global operations, with about 500 expected to exit in 2020. The chief financial officer also exited the company at the time. Harley-Davidson said it is overhauling its global operating model to become a "leaner, more nimble" organization.
Harley-Davidson's stock surges toward a 4-month high after Morgan Stanley raises rating, price target
by Tomi Kilgore from https://www.marketwatch.com
Shares of Harley-Davidson Inc. HOG, +5.51% shot up 4.8% toward a four-month high in morning trading Wednesday, after UBS analyst Robin Farley turned bullish on the motorcycle maker, citing an upbeat outlook on margins over the next couple years. Farley raised his rating to buy, after being neutral for at least the past three years, and raised his stock price target to $31 from $24. He said he believes Harley could help boost margins by eliminating growth initiatives, as they were losing money, even if demand problems continue. "We believe [Harley] has room to reduce its shipment base and actually raise earnings, because of bike sales that currently detract from the bottom line," Farley wrote in a note to clients. "Harley was losing money pursuing those [growth] initiatives because we believe they don't have clear avenues for growth," Farley wrote. The stock's rally comes a day after it surged 5.6%, after BMO Capital's Gerrick Johnson turned bullish, and lifted his price target to a Street high $33. Harley's stock, which is headed toward the highest close since March 4, has soared 55.7% over the past three months, while the S&P 500 SPX, +0.90% has advanced 15.7%.