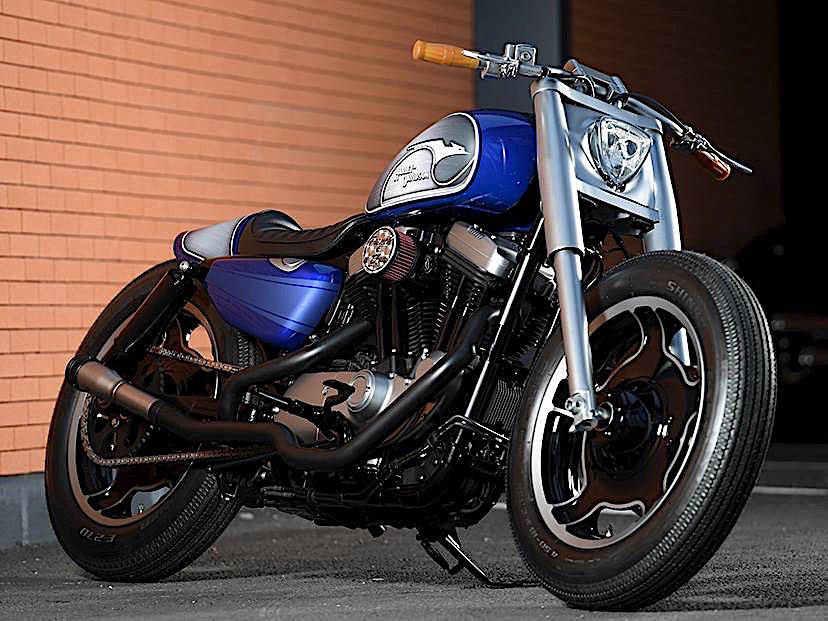 by Daniel Patrascu from https://www.autoevolution.com
The Harley-Davidson King of Kings competition revealed once more just how talented the people working for the bike maker's dealers are. 15 incredible entries have been judged and voted back in April, and at the end just one emerged victorious: the Mexican Apex Predator.
But each of the builds that took part in the competition had something unique to bring to the table. In the case of this French-made machine, that something is the sharpness of it all.
The base model for the build, which is called French'n Cheap, was a 2019 Sportster XL 1200T that was lowered front and rear by means of an extended swingarm and a lowering kit on the fork. The 18-inch wheels on the bike are actually both front wheels, taken from an FLHX Street Glide, and modified in the case of the one fitted at the rear to be better suited for its new purpose.
The people behind the project, Harley's dealer in La Rochelle, France, also tampered with the engine of the base motorcycle, something that was not all that common for the entries in the King of Kings competition: the powerplant was given Stage 2 Screamin' Eagle camshafts, harder valve springs, and a new air filter.
The choice of paint and the way in which it was sprayed on the body, the sleek tires on the wheels, and the fact that all the cables are hidden inside the handlebars make the French'n Cheap look anything but cheap.
King of Kings was the culmination of the years-long Battle of the Kings. The rules of the competition called for the base motorcycle to be a Harley-Davidson, the modifications to be in the €6,000 ($6,500) budget, and the end result be street legal.
Just like the other bikes we talked about over the past week, the French and Cheap checks all those boxes too.