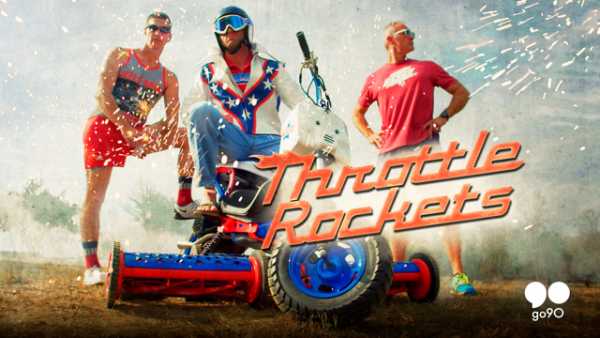 Complex Networks' Rated Red shifts gears with its new unscripted series, Throttle Rockets, starting Tuesday, May 16, 2017, on go90. Throttle Rockets adds flare to the traditional DIY mechanic project as Greg Hatcher, owner of Man in the Box, a custom build shop in the Smoky Mountains of Tennessee, and his crew bring customers' wildest auto dreams to life. A trailer can be seen here.
Each episode, the team meets a unique customer with big asks for their little bike and creates an extraordinary vehicle designed to spark conversation.
"We transform everyday scooters, motorcycles, golf carts, go-carts, shopping carts—whatever—in to mechanical miracles," Hatcher says.
Whether it's an all-terrain hunting rig, a sand-assault vehicle for the beach, or a fire breathing "Call of Duty" themed scooter, the team has no limits when it comes to making a customer's dreams a reality. And if they aren't satisfied with the job, they don't have to pay for it.
"We'll sell it to somebody who has some taste," Hatcher says.
Episodes of Throttle Rockets are available for free only on go90.com or the go90 app, available for iOS or Android.