For 5 Days (Wed June 29th to July 3rd ) download the Kindle Book for FREE!  LINK TO FREE BOOK DOWNLOAD   http://www.amazon.com/dp/B00ETEBRNM
Kismet inextricably entwined Moto-journalist Koz and Lisette Duran while both were on assignment. Koz was writing a story: Midnight Rider on a Graveyard Run. Lisette, a Central Security Service Agent was investigating the Corridor of Death murders linked to an international organ harvesting conspiracy.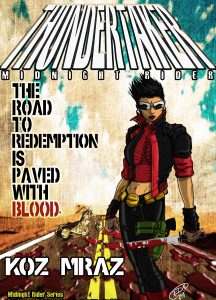 THUNDERTAKER: In the second exciting story Koz and his sultry sidekick, Liz are on a motorcycle travel adventure in the Himalayas and warned by Tibetan monks of an impending global pandemic altering the course of human history. This tale of power, sex and conspiracy exposes the lies we live by and the truths we die by, revealing the dark heart of human nature.