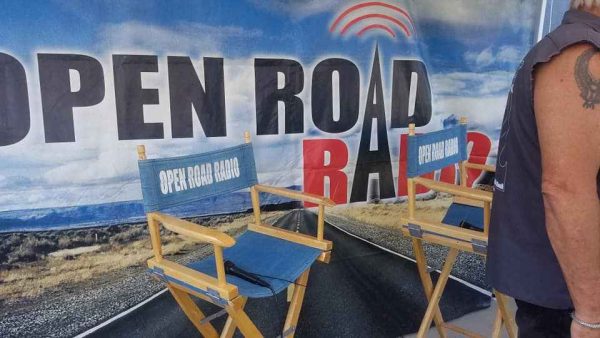 A little peak at what we'll be talking about on the show Monday 21st @ 8 pm CDT
Thank You for joining us for the Fastest Hour in Motorcycling….Open Road Radio
America's Standard in Motorcycle Talk RADIO Show -celebrating 25 years & streamed live weekly!
LIVE Mon Nite 9:00 pm-10:00 pm est: Coast to Coast & Worldwide!
1400 AM 107.1 FM KSHP- Las Vegas
Share the Promo Video: https://animoto.com/play/igcRrrmo6PkkxdPTf9exiw
Join our host Gina Woods & whaaaa…yep that's right …Tice is here from the frozen tundra & with Dazzlin & Penny FXR LIVE from Las Vegas KSHP 1400 AM & streaming coast to coast & Worldwide!
Moto Monday's for November 21st includes The Godfather of Choppers in the house!! With special appearance by the Tattooed Songbird!
Mondo & Jennifer Santolucito share years of a strong & dedicated friendship through motorcycling & have been guests & advocates of Chopperfest! They share with us stories of the past & present.
The WAIT is over… We're bringing back Gerbing's Heated Clothing interview with Joe Parr cool cat motorcyclist, – check out the new technology in heated motorcycle wear – it'll warm your heart…and your bum, hands, feet – you get the picture! If you've been waiting to hear about it…it will be well worth the wait!
Our "2-Wheeled Happenins" Presented by Andrews Cams – celebrating 50 years…a rundown of motorcycle events Local & Coast to Coast ….you won't want to miss it!
Share with friends & family #Like, #Share & #Comment. Our show is fueled by Kass & Moses, Andrews Products, Sea Foam Products, J&P Cycles, Full Throttle Law, Eagle Rider Motorcycle Rentals, MegWear Custom Apparel, Cottage 24, Chicagoland Toys For Tots & The Adventures of Mimi & Moto The Motorcycle Monkeys
Hold on tight it's going to be a thrilling ride!
https://www.youtube.com/channel/UCgY9e0X2D_z7pywy7d1QuLg
* * * * * * * * * * * * * * * * * * * *