Here's something a little different for today. At Bikernet, we can appreciate all kinds of motorcycles. Here's one project that got out attention.
Pirelli and MV Agusta have been working together for several decades, including since 2011 when the historic Italian motorcycle manufacturer decided to rely on the brand of the elongated "P" symbol to equip all of its models. Pirelli and MV Agusta are both well known brands that combine maximum sportiveness and innovation.
On one hand, the last technological evolution of the DIABLO™ range, the DIABLO ROSSO™ III, which is Pirelli's newest supersport tire, born from the track to the road, redefining the concept of sports riding and taking it to a new level. Its strong points are sports handling, a high level of grip in the wet and with long lasting performance.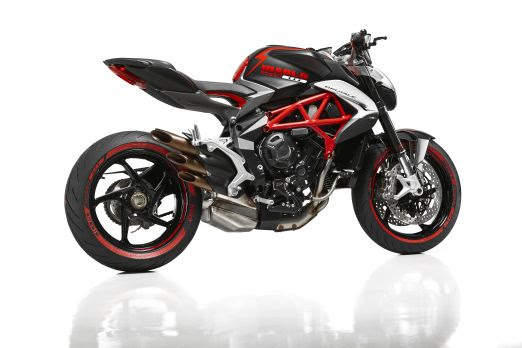 On the other hand, the Brutale 800, a motorcycle whose original project dates back to 2001 and year-after-year has been renovated in its style and spirit, to remain loyal to itself, and to its ability to amaze and conquer new generations of enthusiasts. The new Brutale 800 is an example of "Made in Italy" technology that has dictated new design guidelines in its segment.
The Diablo Brutale is a single unit of the new MV Agusta Brutale 800, which was born as a tribute to design, sportiveness and high technology of the last supersport tire of the Pirelli DIABLO™ family, which was chosen as original equipment for this machine. It also celebrates the historical partnership between Pirelli and MV Agusta, two companies that have long and worldwide-appreciated traditions in the motorcycling world.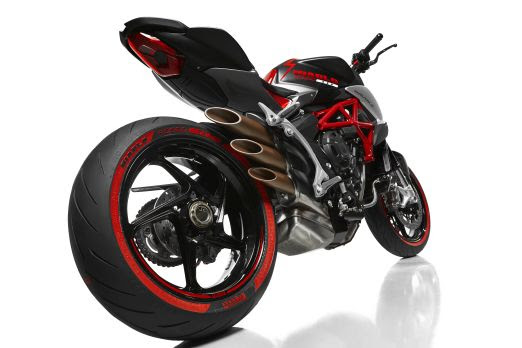 With the new Brutale 800, MV Agusta questioned the style, engine, equipment and chassis of the brutale pirelli diablo rossoiii_0181.jpgprevious model with a unique goal: giving birth to the best Brutale ever. The same goal achieved by Pirelli with the development of the DIABLO ROSSO™ III, the direct descendent of the renowned and highly rated DIABLO ROSSO™ II, which raises the bar of sport riding even higher than the previous model and extends the qualities of its predecessor, strengthening its features in terms of handling and grip, with long lasting performance.
The Brutale 800 has DIABLO ROSSO™ III tires as original equipment with the following sizes: 120/70 ZR17 M/C (58W) TL front, 180/55 ZR17 M/C (73W) TL rear.