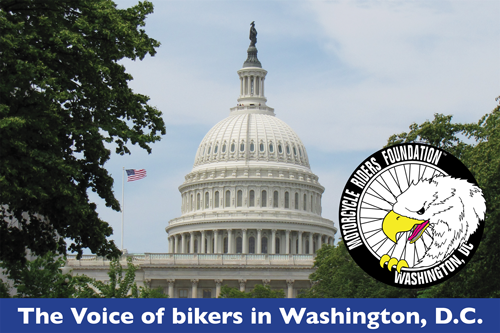 With false starts, uncertainties and a host of doubters put aside by a legion of freedom fighters, the Motorcycle Riders Foundation is once again bringing our legislative endeavors to Washington, D.C., and Capitol Hill.  Bikers Inside the Beltway — Making it Happen!!
As Willie Nelson sung… "It's been rough and rocky travelin' but I'm finally standin' upright on the ground…" The MRF has never stood any way but upright in the advocacy for motorcyclists' rights.  Thanks to you, the MRF is making Bikers Inside the Beltway happen! Thank you for your contribution to making our voices heard.
FYI and add the following to your travel itinerary to make things smoother when you get to the hotel:  703-684-5900 — Embassy Suites by Hilton Alexandria, 1900 Diagonal Road, Alexandria, Virginia 22314
Briefing Session: Monday, May 17, 5:00 – 8:00 p.m., Mason Room.
Briefing packets & handout material for your members of Congress will be available before the briefing session.
Special appearance:  Congressman Troy Balderson from Ohio is scheduled for a short appearance from 4:45 -5:45 p.m. for a Q&A with attendees.
Zoom meeting locations:  To be announced at the briefing session.
De-Briefing Session – a recap of the day's successes:  Tuesday, May 18, 5:00 – 8:00 p.m., snacks and cash bar available, Mason Room.
"… After takin' several readings I'm surprised to find my mind's still fairly sound…"  The briefing session on Monday evening will reinforce what you've always known about the nation's premier bikers' rights organization – the MRF is sound, strong, and focused.  The de-briefing session will demonstrate just how well we are taking our message to members of Congress.
Thank you for your attendance.  Thank you for your support.  And thank you for helping the Motorcycle Riders Foundation protect the rights of all motorcyclists!
Yours in Freedom,
Fredric Harrell
Director, Conferences & Events
Motorcycle Riders Foundation