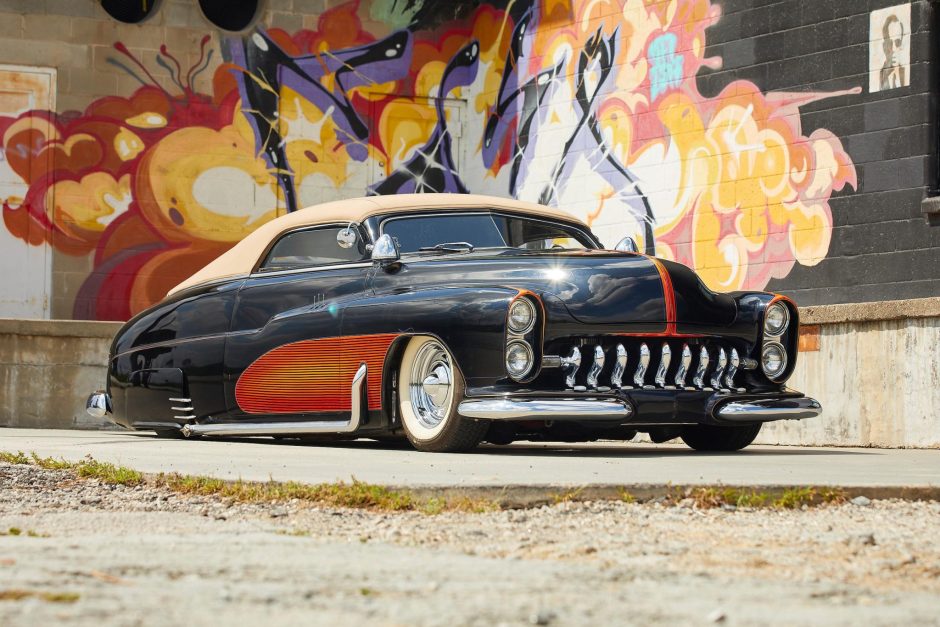 This 1950 Mercury Eight coupe was modified under previous ownership by Bo Huff Customs of Carbon County, Utah. The car is finished in black with orange accents over black leather upholstery, and power is from a replacement 396ci V8 paired with a replacement four-speed automatic transmission. Additional modifications include a chopped roof with a tan canvas cover, a replacement grille and bumpers, shaved trim and door handles, and stacked headlights as well as a hydraulically adjustable suspension system, four-wheel powered disc brakes, and Vintage Air climate control. The current owner acquired the car in 2012, and subsequent service involved replacing the spark plugs and changing the oil. This modified Mercury Eight is offered by the seller on behalf of the owner with a South Carolina title in the current owner's name listing the car as a Mercury 505.

BID ON IT NOW: Less than 4 hours left
Tell 'em Bikernt.com sent ya !!
BaT Essentials:

Location: Taylors, South Carolina 29687
Listing Details
Chassis: 50SL86985
272 Miles Shown, TMU
Replacement 396ci V8
Replacement Four-Speed Automatic Transmission
Black Paint w/Orange Stripes
Tan Canvas Roof Cover
Black Leather Upholstery
Chrome-Finished Steel Wheels
Disc Brakes
Hydraulically Adjustable Suspension
Chopped Roof
Frenched Taillights
Shaved Trim & Handles
Replacement Bumpers & Grille
Vintage Air Climate Control
Power Window & Locks
Jensen Cassette Stereo
Private Party or Dealer: Private Party
Lot #124468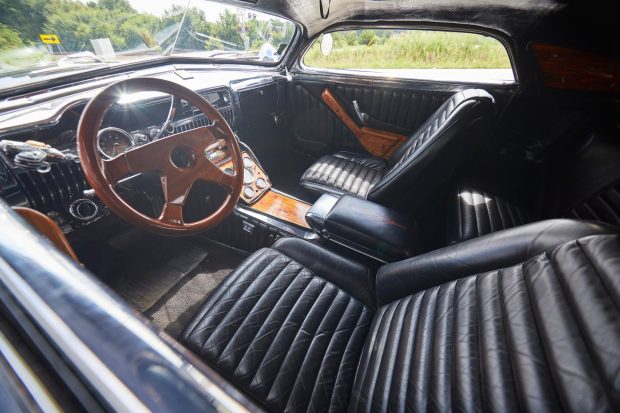 The body was shaved and tunneled with a chopped roof, stacked headlights, and frenched taillights before being refinished in black with orange side stripes under prior ownership. Additional modifications include a tan canvas roof cover, spotlights, and decorative side pipes. The grille was reportedly sourced from a 1953 DeSoto, while the split bumpers are from a 1956 Pontiac. The left rocker panel is dented, crazing is visible in the paint, and scratches are present on the body panels.
Chrome-finished steel wheels wear polished hub caps and are wrapped in Coker classic wide whitewall tires that show age. Stopping power is from four-wheel powered disc brakes with red-finished calipers. The car has been channeled over the chassis, and equipment includes front and rear suspension components that were reportedly sourced from a Chevrolet Monte Carlo and are hydraulically adjustable.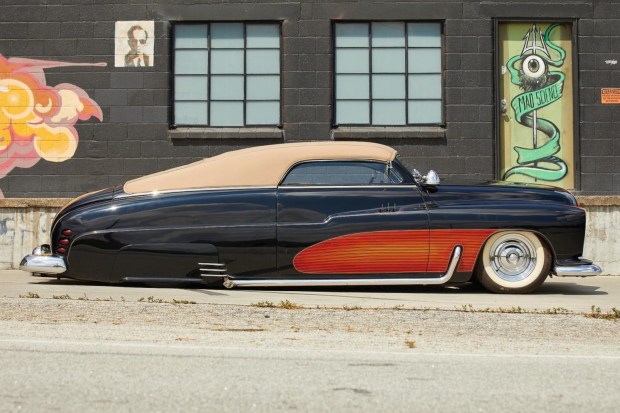 The cabin houses swiveling front bucket seats and a rear bench that were reupholstered in black leather under prior ownership. A color-coordinated headliner, door panels, and carpets have been fitted, and cedar wood trim accents the center console and armrests. Additional features include Vintage Air climate control, power windows and locks, a glove box, sound-damping material, and a Jensen cassette stereo. The dome lamp lens is stained.
The four-spoke woodgrain steering wheel is mounted on a tilt-adjustable powered steering column, and center-mounted instrumentation includes a 120-mph speedometer as well as gauges for oil pressure, coolant temperature, voltage, and fuel level. The six-digit odometer shows 272 miles, approximately 25 of which were added by the seller. Total mileage is unknown.
The 396ci V8 was installed under prior ownership and is equipped with a finned Hilborn-style air intake, a Holley carburetor, Mickey Thompson valve covers, and an aluminum radiator. Service under current ownership included changing the oil and replacing the spark plugs.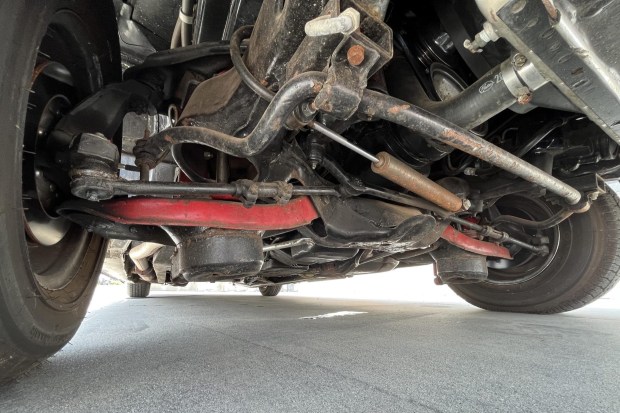 Power is sent to the rear wheels through a replacement four-speed automatic transmission. Corrosion is visible on the underside, and additional underbody photos are presented in the gallery below.
Magazine articles featuring the car are included in the sale.
The South Carolina title carries an Exempt brand, and a reproduction VIN tag is affixed to the firewall.
* * * * * * * * * * * *
Get the gear– get riding— its still sunny in your heart and soul.
Have a look at 5-Ball Racing Shop: https://5-ballgarage.com/