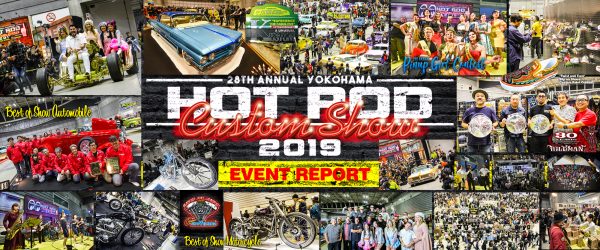 On 2019 December 1st (Sun) at Pacifico Yokohama, YOKOHAMA HOT ROD CUSTOM SHOW was held. This year is the 6th year for the campaign. 5 years have passed from the start of this campaign and as an organizer awareness is getting low that the YOKOHAMA HOT ROD CUSTOM SHOW facing difficulty surviving so, we returned to the origin and worked for "Shi Zu Kani" / "Keep Calm and Stay CQQL". On the day of the show, we have prohibited the enter by 2-wheels again this year. Thanks to everyone from all over the world who want to save this culture and spread the information by posting on Instagram. Because of everyone's cooperation, this year was also quiet like the recent years and we were able to hold this wonderful show by everyone's great support and cooperation. Thank you very much.
To enjoy this Kulture together for next year, we would appreciate your continued support.
There were 19,000 spectators (from overseas 1,900 people) who came from all over the world and, this year's 28th Annual YOKOHAMA HOT ROD CUSTOM SHOW 2019 was filled with tremendous enthusiasm. Event Report is now released so, please enjoy it for both those who came and unfortunately could not come.
–MOONEYES Staff
They need to explain the prohibit by 2-wheels. –Bandit