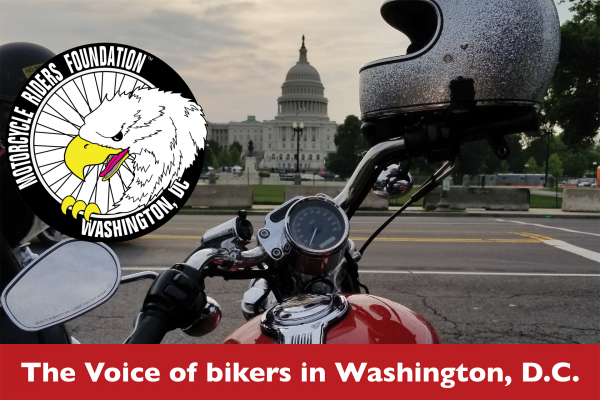 RIDING FREE FROM DC:
Your Motorcycle Riders Foundation team in Washington, D.C. is pleased to provide our members with the latest information and updates on issues that impact the freedom and safety of American street motorcyclists. Count on your MRF to keep you informed about a range of matters that are critical to the advancement of motorcycling and its associated lifestyle. Published weekly when the U.S. Congress is in session.
Autonomous Vehicle Hearing Follow Up:
At nearly every Congressional hearing, lawmakers are allowed to submit additional questions for the record to the witnesses. This enables lawmakers to ask specific and detailed questions, and it forces witnesses to respond in writing to these questions.
Following the Senate hearing on autonomous vehicles (AVs) two weeks ago, Senator Roy Blunt (R-MO) submitted two official questions for the record directed to the National Highway Traffic Safety Administration (NHTSA).

Many stakeholders have requested that AVs meet a "vision test" safety standard to ensure driverless vehicles are able to effectively identify and respond to all roadway users including motorcyclists, pedestrians, and cyclists. What is NHTSA's position on prescribing such standards?  Would third party verification of such standards be an approach that NHTSA would recommend?

As AV technology and testing continues to increase, does NHTSA support transparent reporting by manufacturers of test results so that members of the public can review the data? Specifically, would searchable data about how these new products interact with non-AV roadway users like motorcyclists, pedestrians and cyclists be an important tool for the public?
We at the MRF are eager to see the responses from NHTSA. Thank you, Senator Blunt, for pressing NHTSA to think about basic safety standards and the need for transparent reporting by AV manufacturers. We'd also like to thank the riders in Missouri for helping build a strong relationship with Senator Blunt's office and educating him on the priorities of motorcyclists.
Show Leather Lobbying
This week, the MRF D.C. team hit something of a milestone. We completed our 227th in-person meeting this year with House of Representative offices on H. Res 255, the motorcyclist profiling resolution. There are 435 Members of the House of Representatives, meaning that we have now physically been in the office of over half of the House offices on Capitol Hill (technically we are at 52%).
What have we learned during those 200 plus meetings? First, there is no substitute for an in-person meeting. Sitting across the table from staff talking about motorcycles is just more powerful than sending an email or making a phone call.
Second, to paraphrase Forrest Gump, "You never know what you are going to get." We have walked into meetings confident we will find an ally only to be disappointed. Conversely, we've started a meeting thinking we had no chance for success only to be pleasantly surprised. That's why it's important to show up and ask because you really never know!
Third, our members make an impression. We can't tell you how many times we've mentioned our relationship with the SMRO's and the Congressional staffer says, "Oh yeah I remember them, they were here in May." Your work during Bikers Inside the Beltway and at local events back home matters! The staff remembers how passionate and committed you are, and it helps lay a solid foundation for the D.C. team.
We will continue to pound the Halls of Congress, but we made sure to ask Santa for more business cards and comfortable shoes so we can maintain the fight in 2020.
Standing Update:
We are currently at 120 cosponsors from 42 states and one territory for H. Res 255, the motorcyclist profiling resolution. An additional 2 new cosponsors from 2 new states (Connecticut & Kansas) have joined since our last update. The map below shows which states have at least one lawmaker signed on as a cosponsor.   Is your state not filled in yet?  Check with the D.C.  team about how we can work together to secure cosponsors from your state.

About Motorcycle Riders Foundation
The Motorcycle Riders Foundation (MRF) provides leadership at the federal level for states' motorcyclists' rights organizations as well as motorcycle clubs and individual riders. The MRF is chiefly concerned with issues at the national and international levels that impact the freedom and safety of American street motorcyclists. The MRF is committed to being a national advocate for the advancement of motorcycling and its associated lifestyle and works in conjunction with its partners to help educate elected officials and policymakers in Washington and beyond.