2020 Legislators of the Year
Last month, at the 36th annual Meeting of the Minds in Indiana, Senator Gary Peters of Michigan and Representative Troy Balderson of Ohio were awarded the 2020 Motorcycle Riders Foundation (MRF) Legislator of the Year Award.
The Legislator of the Year Award annually recognizes lawmakers for their commitment to advancing policies that support motorcycle riders across the nation. This year, both honorees are avid motorcyclists and have spent numerous hours on their bikes sharing the roads with fellow bikers and constituents.
U.S. Senator Gary Peters of Michigan is a founding member of the Senate Motorcycle Caucus and leads the caucus as it's co-chairman. In his role on the Senate Commerce, Science and Transportation Committee Senator Peters has consistently fought to protect the rights and freedoms of motorcyclists. Senator Peters has played a leading role on legislation regarding autonomous vehicles. In public statements, meetings and during committee hearings, Senator Peters has made it a point that motorcyclists need to be protected during the deployment of this new technology.
"I'm honored to receive this award. There is no better way to see Michigan's gorgeous scenery than by motorcycle. Through riding across Michigan, I've met people from all walks of life and had the opportunity to form a bond through a mutual love of riding," said Senator Peters. "I've been proud to work with ABATE over the years to ensure riders always have a seat at the table. I'll continue fighting for motorcyclist safety and ensure that we can keep riding as technologies on the road adapt in the coming years."

ABATE of Michigan President Vince Consiglio said, "ABATE is proud to have its members ride with Gary on his annual ride across Michigan – and I can say firsthand Gary handles his bike well!" MRF President Kirk Willard added, "Autonomous vehicles continue to be a growing concern for motorcyclists. We are fortunate to have a motorcyclist, like Senator Peters protecting our interests."
Also honored as Legislator of the Year in the House of Representative was Congressman Troy Balderson. Congressman Balderson represents Ohio's 12th district, is a member of the House Transportation & Infrastructure Committee and was instrumental in adding motorcycle friendly amendments to the surface transportation reauthorization legislation passed by the House in 2020. As a motorcyclist himself, Congressman Balderson has displayed a keen understanding of the unique role that motorcycles play in our transportation network.
Upon learning of his award, Congressman Balderson said, "I'm proud to be one of the few motorcycle riders in Congress, as I personally understand the needs of riders across the country, including the thousands who live in my district. I'm honored to be named the Champion Legislator of the Year by the Motorcycle Riders Foundation; I'll never stop working for the needs of Ohio's fellow riders."
"Congressman Balderson has been a true champion for our nation's motorcyclists," said MRF President Willard. "His work on the Transportation and Infrastructure Committee has been invaluable to the protection of the rights and freedoms of the more than 8 million riders nationwide. We are honored to present him with our Champion Legislator Award for 2020."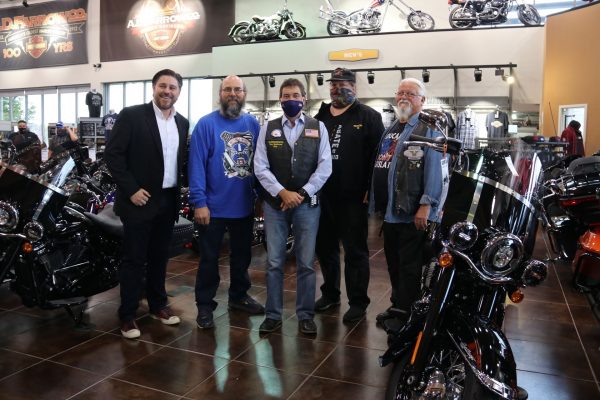 Since 2017 an award has been presented to one member of the U.S. Senate and one member of the U.S. House. Both award winners are presented, by their state motorcycle rights organizations, with personalized leather motorcycle vests. Below is a list of past vest winners. Congratulations to this year's winners and thank you to all past winners for their efforts on behalf of motorcyclists.

2017 – Sen. Ron Johnson (Wisconsin), Rep. Tim Walberg (Michigan)

2018 – Sen. John Thune (South Dakota), Rep. Michael Burgess (Texas)

2019 – Sen. Joni Ernst (Iowa), Rep. Collin Peters (Minnesota)

2020 – Sen. Gary Peters (Michigan), Rep. Troy Balderson (Ohio)
About Motorcycle Riders Foundation
The Motorcycle Riders Foundation (MRF) provides leadership at the federal level for states' motorcyclists' rights organizations as well as motorcycle clubs and individual riders. The MRF is chiefly concerned with issues at the national and international levels that impact the freedom and safety of American street motorcyclists. The MRF is committed to being a national advocate for the advancement of motorcycling and its associated lifestyle and works in conjunction with its partners to help educate elected officials and policymakers in Washington and beyond.
All Information contained in this release is copyrighted. Reproduction permitted with attribution. Motorcycle Riders Foundation. All rights reserved. Ride With The Leaders ™ by joining the MRF at http://mrf.org/ or call (202) 546-0983
You are receiving this message because you opted in at http://mrf.org/alerts/. ; If you choose to not receive these alerts moving forward, please click the unsubscribe button or contact the office at: MRFoffice@mrf.org
PLEASE NOTE: If you intend to forward this email, please remove the unsubscribe link at the bottom of the page.