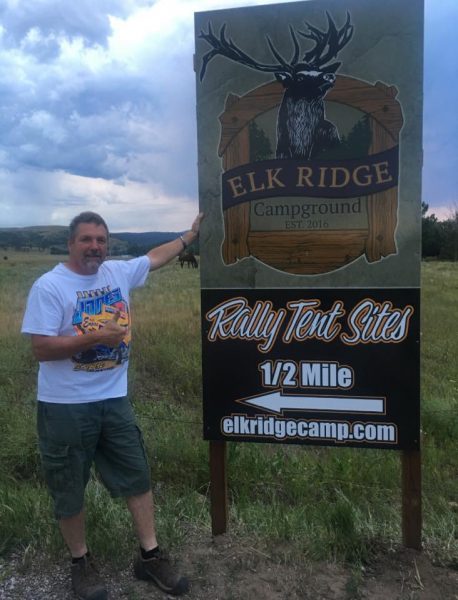 Folks, there's still time to find that sweet, quiet camping spot for you and your ride this summer. Recently renovated, the Elk Ridge Campground (formerly 'Uncle Don's') is strategically located on I90 between Sturgis and Rapid City, around the sleepy town of Piedmont.
Now, under new ownership, Elk Ridge Campground boasts the most scenic and breathtaking views a top a beautiful mountain ridge setting, this quiet majestic area is your getaway during the Sturgis Rally.
Now available at the Elk Ridge Campgroung are men's and women's shower houses with clean, well maintained facilities and laundry available for your convenience. They are under construction in completing a new bath house for next years Rally. Until then they have clean, maintained port a lets throughout the entire Campground for your convenience.
WiFi Internet is also a newly added feature throughout the Campground at no additional charge to guests. Each morning Elk Ridge offers the absolute best tasting Black Hills Brewed Coffee Complementary to our registered guests.
Elk Ridge offers a full snack shop with pizzas, rich malts and an array of night time munchies as you gather around a large fire pit and newly installed covered pavilion. Also they are currently installing a scenic half million gallon natural pond to be complete by 2018.
Choose from basic tent sites or select a limited tent site with 20 amp electric.
There are also a limited amount of larger RV sites with 30 amp electric only(no sewer or water hook ups)
Make your Reservation today online at www.elkridgecamp.com or call (605) 390-9642
Comments
comments