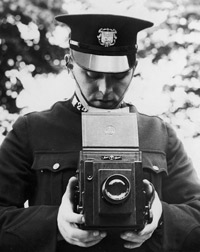 A December 2016 traffic stop in Austin, Texas, is getting lots of views on social media lately. In a video posted on the Motorcycle Profiling Project's Facebook page1 a motorcycle club member is detained after a police officer observed him neglecting to use a turn signal on his motorcycle. That traffic violation amounted to probable cause to pull the motorcycle rider over. Once detained, the traffic stop took on a whole new perspective.
A traffic stop in essence is a seizure because the driver is not allowed to leave after committing a traffic violation. Once detained, certain Fourth Amendment rights apply to the rider regarding search and seizure. Almost at the top of the video the officer explains that the rider is not under arrest and he is not going to receive a citation. At that point, unless the officer observed any other criminal activity, had reasonable suspicion that the rider had committed a crime or was about to commit a crime, the rider should have been free to leave.
Instead, the law enforcement officer insisted on taking photographs of the rider, including asking him to remove his vest and shirt so any chest or back tattoos could be photographed. When this video appeared, there was instant outrage at the police activity, accusations of profiling, and many questions about the legality of this traffic stop and the photographing of the rider.