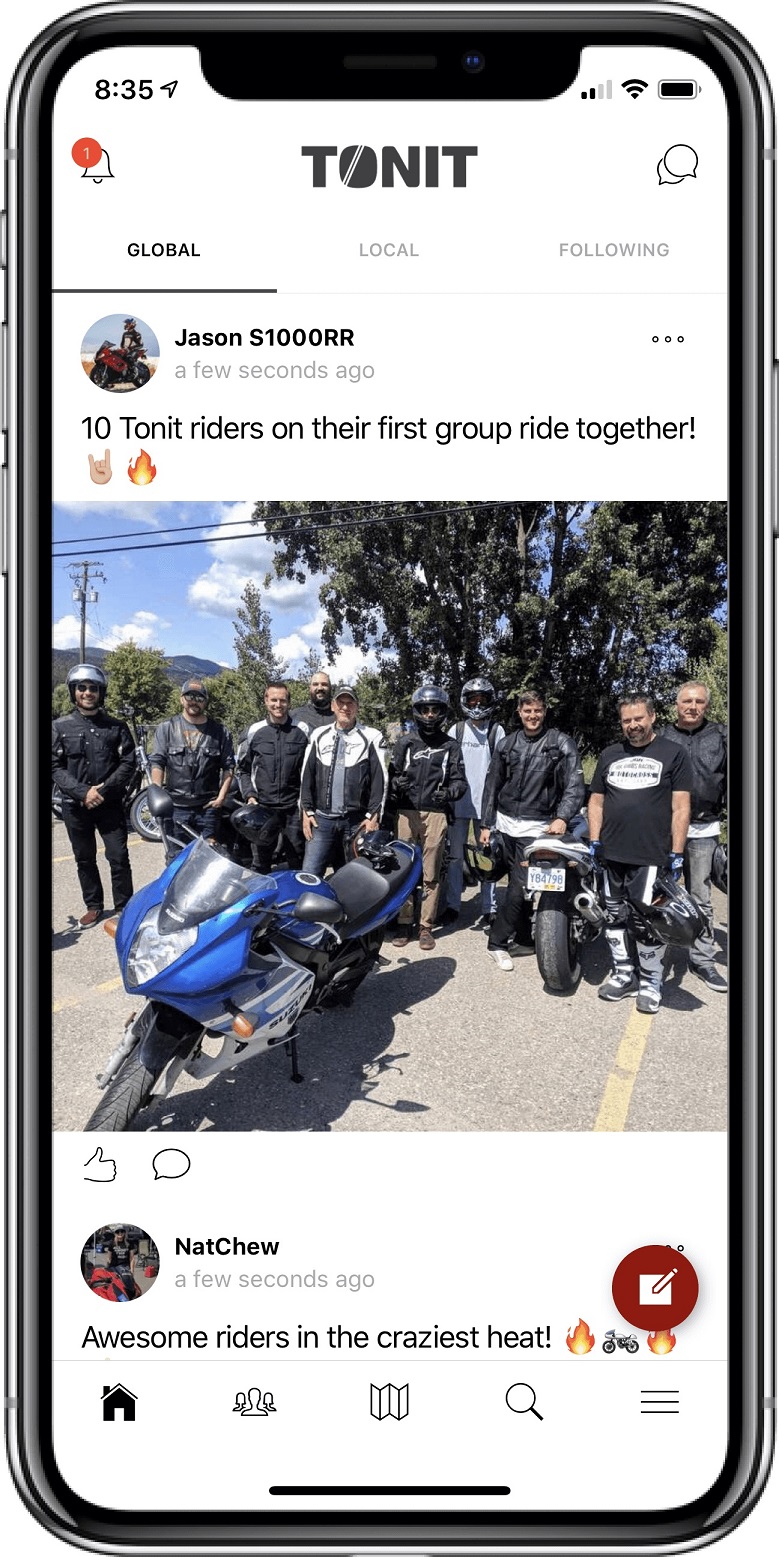 Tonit Announces Slick New Video Feature
Video Feature Enhances User Experience & Makes Tonit a True Social Media Platform
Kelowna, BC – August 9, 2019 – Tonit, the motorcycle community app built by riders for riders, today announced the release of their new Video Feature, which makes sharing motorcycle content more versatile and engaging. Members will now be able to snap and feature up to 60 seconds worth of video on their profiles, and view the latest clips posted on their feeds.
The Tonit app was developed to be a social hub for motorcycle riders to connect with one another and foster a strong community. On the app, riders can meet, post photos and videos, share tips and tricks, track and share riding experiences, and stay safer on the road.
"Our members asked for it, and we listened," said Jason Lotoski, Founder and CEO, Tonit. "Tonit is 100% developed from the community's voice. The new video feature is cementing Tonit's place as a must have social-media platform for riders across North America. We will continue to roll out new app features and improvements quickly to keep meeting member requests that help build a better experience for the community."
Tonit can be downloaded for free on Google Play or the App Store. 
Motorcycle social media app Tonit has devoted itself to uniting and growing a global network of motorcycle riders. With over 200k users in less than 8 months, the app allows people to create profiles, connect with other motorcyclists, join group rides, and attend motorbike-centric events.
A near fatal accident didn't stop Natalie from getting back on the open road.
When she was young, Natalie yearned to one day have her own motorcycle. She made her dream a reality when she purchased her own Yamaha, and could finally experience the thrill of riding solo and getting involved in the local motorcycle community.
Things took a turn for the worse and she was involved in a near fatal accident that left her dreams – and bones – broken. Natalie was told that she wouldn't be able to walk for up to a year. Five surgeries, organs removed, and one titanium pelvis later, Natalie's passion for riding drove her to get back up again. Three months after her accident, she was back on wheels– and not the wheelchair kind.
One of the things that helped Natalie stay positive throughout her traumatic ordeal was the Tonit community that would be there to welcome her return to the road.
For motorcyclists riding in groups or flying solo, no resource offers a more authentic way to connect with other passionate riders than the Tonit app.
About Tonit https://www.tonit.com/

Tonit, the motorcycle app built for riders by riders was developed to bring motorcyclists together both online and on-the-road through an interactive and inclusive social community. Motorcyclists across the globe use Tonit to connect with other riders, share bike-related content, map and track riding experiences, and stay safer on the road. Riders can find new people to hit the road with based on location and riding style, and, once in touch, easily plan group rides. Routes and stats can be shared with the Tonit community so that riders can discover new locations, share intel about best routes, provide maintenance tips and tricks and post photos and experiences. Launched late November 2018, Tonit has over 60,000 downloads and 50,000 active users and four months later was the #1 trending lifestyle app on Google Play. Tonit is a free download on both the Google Play and App Store. Visit tonit.com to learn more.