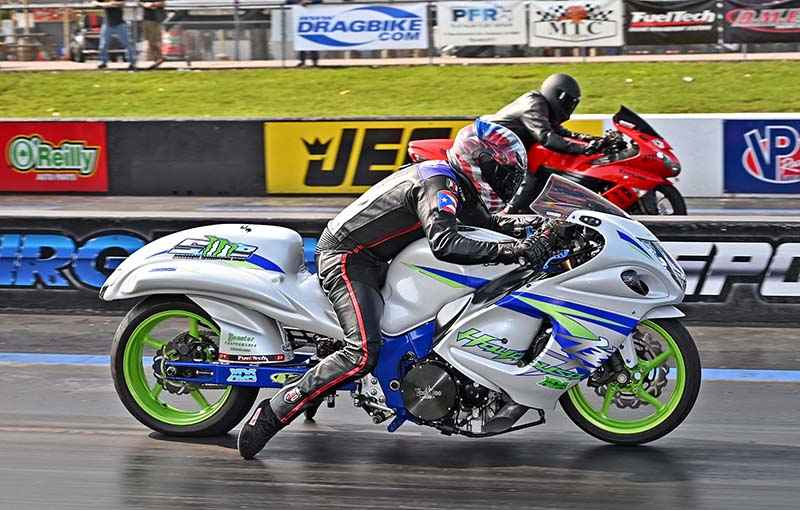 For the third time this year, the XDA brought the best show in motorcycle drag racing to Virginia Motorsports Park for the Inaugural Bike Brawl.
The weekend featured cooler temperatures, and racers were able to show off some serious performance gains as they fought for points as the 2021 championship chase is quickly coming to an end.
Orient Express Racing Pro Street
Winner – Rodney Williford / Runner-up – Darion Payne
Jordan Haase is back! After missing the August Bike Bash event, Haase came out of the gate hot, running a career-best 6.549 / 228.50 mph to put him in the number four qualifying spot of Orient Express Racing Pro Street.
Many racers improved on their personal best in the cool September air at VMP. Improvements made were; Curtis Brown officially in the sixes with a 6.973, Ryan Bonitatis 6.676, Ricky Wood 6.700 at 226.24 mph, Darion Payne 6.488, Greg Wallace 6.500, and Rodney Williford 6.438.
The Bike Bash Pro finals from August were also contested on Saturday during qualifying and delivered a first-time winner. Justin Shakir has been making ET and MPH performance gains all season and Saturday; his hard work paid off with his first Pro Street win, including stopping Rodney Williford's 5-race winning streak. Shakir went dangerously close to red lighting in the final with a .002 light, giving him the starting line advantage over Williford's .036 light. With these two titans side-by-side down the quarter-mile, Shakir would get to the finish line first with a 6.463 at 227.08 mph to Williford's quick but losing 6.496 at 229.51 mph.
With Shakir qualifying number one and Williford number two, there was potential for a repeat final on Sunday from these two racers. However, Shakir would fall to Darion Payne in the semi-final when he couldn't produce enough power to outrun Payne's stellar 6.491 pass.
Darion Payne ran his career-best in round two against Jordan Haase with 6.488, then after taking out Shakir, he would meet the champion Rodney Williford in the final.
Williford took out racers Curtis Brown, Ricky Wood, and Greg Wallace on his way to his sixth straight final this season. In the semi-final, Williford ran his career-best 6.438 against Wallace.
Both Williford and Payne were on track for a showdown in the final. Williford got out of the gate first with a marginally better reaction time of .071 over Payne's .078. Payne was right on Williford, but he was not as stable as they both blasted down the quarter-mile. Williford's Turbo Hayabusa was firmly planted on the track and ran perfectly straight to another win with 6.462 over Payne's 6.506.
DME Racing Real Street
Winner – David Stewart / Runner-up – Ralphie Navarro
Points leader Mark Hylton took the number one qualifying position in DME Racing Real Street with a 7.515.
After David Stewart was dethroned from the points lead by Hylton, he also suffered a blow of a first-round loss at the August Bike Bash. So coming into the Bike Brawl, Stewart was looking for redemption. After qualifying number three with a 7.595 he made his way through eliminations taking out Trevor Schnitz, Chad Sosnowski, and finally Mark Hylton on his way to another final round appearance. Notably, Stewart also broke the class MPH record of 196.13 with a 196.82 pass. Unfortunately, he was unable to back it up for an official recording.
On the other side of the ladder, in only his seventh DME Racing Real Street race, Ralphie Navarro, who qualified with a 7.581, made his first final round appearance in the class. Navarro took wins over Bud Harrod, and Brittany Bohne earning himself a bye to the final against Stewart.
In the final, Stewart took a starting line advantage with a .072 to Navarro's .112, yet Navarro caught up quickly. However, his slower reaction cost him the race as he went through the beams .04 seconds later than Stewart, with both racers putting up identical 7.627 ET's on the board.
The August Bike Bash final also ran during qualifying but was uneventful. Trevor Schnitz, who was making his first Pro Final appearance in his short racing career, would be a no show for the final due to breakage, giving Mark Hylton an easy win and more points to pad his points lead for the championship.
HTP Performance Super Stock
Winner – David Fondon / Runner-up – Blake Johnson
The Kawasaki ZX-14's dominated HTP Performance Super Stock at the September Bike Brawl. David Fondon was the number one qualifier with an 8.753, followed by Mike Davis with an 8.819.
During qualifying, the final two rounds from the August Bike Bash were completed. Curtis McDougald had a bye in the semi-final while Mike Davis would face class champion David Fondon. Fondon took the starting line advantage on his 2020 Kawasaki ZX-14, leaving Davis on his 2013 ZX-14 in chase mode to the finish line. Fondon took another win running 8.787 to Davis' 8.819. Fondon would get another starting line advantage in the final, leaving McDougald trailing behind when his win light came on, running an 8.755 to an 8.867. This win made five undefeated wins in a row for Fondon.
Back to the Bike Brawl event, on Sunday during eliminations, Fondon took out all the heavy-hitters on his way to the final, including Mark Blake, Darion Payne, and Curtis McDougald. On the other side of the ladder, Blake Johnson worked through Dell Jones, his father Brian Jones, and Jyrec Givens on his way to his first Pro final.
Johnson qualified number three with an 8.856 and was well fit to give Fondon a run for the money. Johnson got the starting line advantage with a .118 reaction time to Fondon's slower .147. Johnson gave it his best effort running an 8.893 at 157.52, but Fondon's ZX-14 outran him with an 8.854 at 160.29 mph.
MaxxECU Pro Xtreme
Winner – Chris Garner-Jones / Runner-up – Rob Garcia
Chris Garner-Jones took the number one qualifying position in MaxxECU Pro Xtreme with a 3.901 followed by Rob Garcia with a 3.987.
In round one of eliminations, John Collins took a win over a broken Chris Cutsinger, Rob Garcia won with a 4.039 to Bobby Lovingood's 5.450, and Garner-Jones had an earned bye.
In round two of eliminations, Rob Garcia advanced with an earned bye running a 4.032. And Garner-Jones won with a 3.924 over John Collins' 4.048. The final would be uneventful as Garner-Jones took the win, breaking the beams when Garcia could not make the call for the final.
MaxxECU Pro Xtreme is presented by Ace Mechanical, Billy Vose Racing, Dallas Flat Glass, Dunigan Racing, DME Racing, Grothus Dragbikes, Harley Haul, Rob Bush Motorsports, Robinson Industries, Schnitz Racing, Timblin Chassis, and Worldwide Bearings.
Vance & Hines 4.60
Winner – Troy Hausmann / Runner-up – Kenny Cornell
For the first time this season, Kevin White held the number one qualifying position in the Vance & Hines 4.60 index class with a perfect 4.600. In round two, his weekend would end after a dreaded red-light against Kenny Cornell. Cornell would go on to win two more rounds to make it to his second final this season.
On the other side of the ladder, Troy Hausmann ran deadly consistent with an average ET of 4.62. Hausmann got the starting line advantage with a .016 reaction time to Cornell's .022. But Cornell didn't have the performance needed in the final against Hausmann's winning 4.642 as he crossed the eighth-mile finish line with a 4.874. This win will give Hausmann a points injection as we head into the season finale.
The Vance & Hines 4.60 August Bike Bash final ran during qualifying between Michael Ostrowski and Cameron Shelton. Ostrowski cut a perfect .000 light to Shelton's .041 light. The eight-mile finish line came up quickly as Ostrowski won with a 4.619 run to Shelton's 4.629.
APE Nitrous Bulls
Russell Dennison Jr was the only rider in the APE Nitrous Bulls class and landed a winner's circle finish. Richard Gadson is the only rider that can stop him from winning the championship with one race left in the season.
3 Sixty 5 Monster Bulls
Winner – Mike Burkhart / Attila
Runner-up – Rendolf Torbed / Kastigala
Mike Burkhart on 'Attila' is on a winning streak in the Tommie's Motorsports DMV Bulls. After Burkhart's Bike Bash win, he made a few performance upgrades and was back eager to keeping knocking out his competitors. On Burkhart's way to the final he sent the points leader, David Page, and Michael Thyen back to their trailers to pack up for the weekend. 2019 class champion Rendolf Torbed from Curacao, who was on hiatus in 2020 was back ready to play. Torbed on 'Kastigala' made easy work of Junior Johnson on 'Reparation' and Howard Gerken on 'Son of Sam' on his way to meet Burkhart in the final. Even though the champ was back, it wasn't enough as Burkhart boomed down the track for his second straight victory.
Tommie's Motorsports DMV Bulls
The action was heated Saturday night in Tommie's Motorsports DMV Bulls. The points leader Geoff Godfrey came in hot up with fresh upgrades to 'Minion', taking out Edward Thomas on 'Da Setup' in round one. In round two Travis Kidd on 'Rebirth' sent Godfrey back to the drawing board and putting his point lead in jeopardy.
At this first XDA event, Deshon Jones made a statement taking 'Mae Jean' to a final round after knocking out Augustine Herrera on 'Bankrupt' and Travis Kidd. Duane Jackson on 'Miss Behavin' took out heavy-hitters Brian Childress on 'Joey Wales,' Cody Lowe on 'Codeine' and Desmond Spaulding on 'Sho Nuff' on his way to the final.
Curfew hit Saturday night before Jones and Jackson could square off, and the two split the pot.
1 Stop Speed 5.60
Winner – Michael Rankin / Runner-up – Rico Brown
The 1 Stop Speed 5.60 eighth-mile index received two first-timers in the final. Michael Rankin, a staple in the sportsman classes, made his first XDA 1 Stop Speed 5.60 final along with Rico Brown, who is in his second season of motorcycle drag racing. Brown had the advantage going into the final because he was running deadly consistent with 5.607 ET average from the previous rounds compared to Rankin's 5.65 average.
Brown left the starting line first with a .060 reaction time to Rankin's .067. Brown got to the finish line first but broke out with a 5.570 ET, with the win going to Rankin on his 5.590 break-out pass.
Hard Times Parts & Service Gambler's Race
Winner – Pablo Gonzalez / Runner-up – Normal Teal
The Friday night Hard Times Parts & Service Gambler's race was again dominated by Pablo Gonzalez as he took back-to-back wins. In the final, he dialed a 9.34 to run against Norma Teal's 8.24 dial. Gonzalez took the tree with a .027 to Teal's .033. Both racers fought to get to the finish line first; Teal got there first but should have lifted quicker as he broke out running an 8.228 giving the win to Gonzalez's 9.364
VooDoo Components Bracket Bash
Winner – Derrick Milbourne / Runner-up – Derek Burkhead Jr
On Saturday, a whopping one hundred and forty racers entered the VooDoo Components Bracket Bash. After seven rounds of competition, Derrick Milbourne and Derek Burkhead Jr. would be the last men standing. Milbourne's reaction time average from the previous seven rounds was .042, while Burkhead Jr. had an advantage with a .030 average. Burkhead Jr. would react too quick and turn on the red light to hand the win over to Derrick Milbourne with a $4,500 class payout.
Mickey Thompson Tires Top Sportsman
Winner – Pablo Gonzalez / Runner-up – Robin Procopio
Pablo Gonzalez, who won the Mickey Thompson Tires Top Sportsman event at August's Bike Bash, would qualify number one for the third straight race with a 7.499. This would also be his third consecutive final and second-time meeting Robin Procopio in the other lane. Procopio and Gonzalez both have wins over each other, and this weekend would be a tie-breaker. Procopio ended her weekend cutting a -.003 red light to send Gonzalez to his second-winner circle appearance of the weekend.
MPS Racing Pro ET
Winner – Dustin Lee / Runner-up – Pablo Gonzalez
Over a hundred racers entered Sunday's MPS Racing Pro ET class. It would take seven wins before Dustin Lee and Pablo Gonzalez would meet in the final. Yes, Gonzalez was now in his third final of the weekend!
While Gonzalez was looking for a win, Lee needed a win to gain points for a shot at the championship. Lee dialed a 7.85 and Gonzalez a 7.50. With both 2008 Hayabusa's staged, Lee got the starting line advantage with a .050 light to Gonzalez's .071. As both riders headed to the finish looking over their shoulders, keeping an eye on their competitors position, it was Lee that made the better decision. Gonzalez backed off the throttle too soon, running a 7.57 while Lee ran closer to his dial with a 7.895 for the win.
Brock's Performance Street ET
Winner – Derrick Milbourne / Runner-up – Jermiah Manuel
On Sunday, Brock's Performance Street ET was dominated by Derrick Milbourne as his winning streak continued. Jermiah Manuel from Delaware won six straight rounds to meet Milbourne in the final. But his success would be undone in the final by his own hands. Manuel dialed a 9.07 to Milbourne's 8.89. As both racers crossed the finish line, neither was willing to let out, and they both broke out, Milbourne with an 8.89 and Manuel with an injurious 9.034. This win gave Milbourne his second winner circle appearance of the weekend.
Visit www.xdaracing.com for event information, class rules, schedule, and more.
The XDA 2021 motorcycle drag racing season concludes at Maryland International Raceway for the 29th annual DME Racing Fall Nationals on October 8-10, 2021. The Fall air is bound to bring out record performances, so mark your calendars now and be there to watch the Championship chases unfold.
About XDA Racing
The Xtreme Dragbike Association (XDA) is an east coast motorcycle drag racing series with 700+ motorcycle racers competing at each event. Every XDA event hosts professional classes, sportsman classes, grudge racing and a vendor midway. Lifestyle activities such as bike shows, bikini contests, DJ and live bands are also held at select events. For more information on the XDA, please visit www.xdaracing.com or connect with us on Facebook, Instagram, Twitter, and YouTube @xdaracing