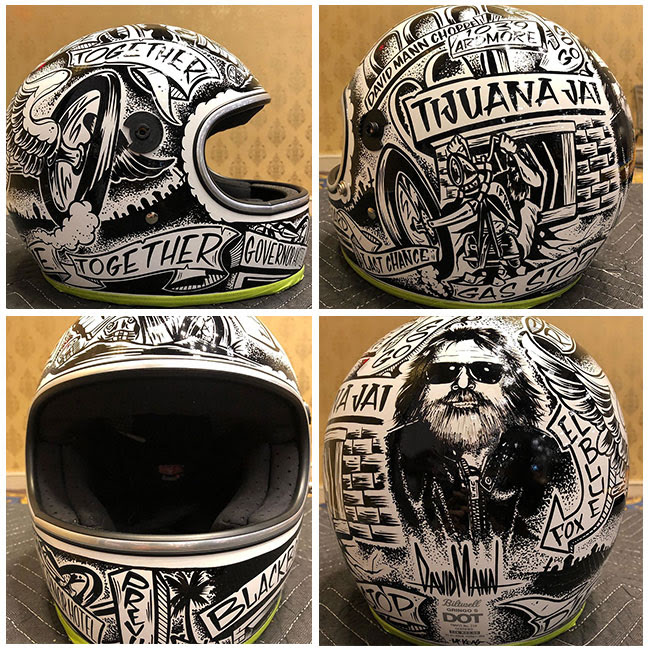 We're less than a month out from the 16th Annual David Mann Chopper Fest. It's time to get your tickets and register your bikes in bike show. With over 22 classes, $5K in cash prizes , and a limited edition event T-shirt, you're practically making money on the deal. Scroll down for details on winning helmets, getting free limited edition David Mann posters, and registering your bikes….
WIN THIS HELMET
Get your tickets for Chopper Fest before midnight November 21st, and you'll be entered to win this hand-painted Gringo helmet by Darren McKeag. Go to www.eventbrite.com for tickets now.
Check out Chopper Fest featured artist Shawn Dickinson's tribute to David Mann and recaps of all the bike shows and events you wanted to go to in the November issue of Quick Throttle Magazine.
Ten artists. Ten Biltwell Gringo helmets. Ten radical pieces of functional art. Be sure to stop by the David Mann Tribute Art Show in Anacapa Hall and take a peek.
The 16th Annual David Mann Chopperfest will be held Sunday, December 8, 2019, at the Ventura County Fairgrounds in Ventura, CA from 8 am – 4 pm.
In addition to the motorcycle show, we'll have a custom bike builder display featuring world-class bike builders, the "David Mann & Friends" Motorcycle Art and Culture Exhibit, hundreds of motorcycle vendors, a new and used motorcycle parts swap meet, food, 805 Firestone beer and live music. Plus, there is a $2500 cash prize for Best of Show bike and $500 for best Knucklehead, Panhead, Shovelhead, Antique, and David Mann Memorial thanks to the generous support of Russ Brown Motorcycle Attorneys.
The "If You Build It They Will Come" All Brand Motorcycle Show will feature 22 classes of motorcycles from antique & old school to radical design. Check out the Chopper Fest website Bike Show link below for more details on all the classes and entering your motorcycle. If you have a bike that fits one of these classes, please enter it, it's only $40, and you get one admission and a David Mann Chopper Fest t-shirt. The trophies are amazing one of a kind pieces of art by Sonny Boy.
General Admission is $15, Military with ID $10, kids 12 & under Free.
Congratulations to Eric Bennett for winning Best in Show and $2,500 at the 15th Annual Chopper Fest!
Bike Show Registration Form:
Register your bike online or download the bike show registration form. You can mail it in or send to sean@chopperfestival.com, 818.681.9719.
Vendor and Swapmeet registration is now open. Vendor/Swapmeet forms can be downloaded by clicking the link below or at www.chopperfestival.com or you can call or email Sean to reserve your space. 818.681.9719, sean@chopperfestival.com. Sean, in addition to putting together one amazing Chopperfest art show, will be working with Tory on the vendors this year.
Click here for the vendor application form
**Attention returning vendors** – Get your vendor applications in ASAP. There are still some spaces available.
See you there!
The "If You Build It They Will Come" All Brand Motorcycle Show presented by Russ Brown Motorcycle Attorneys.
Check out more photos of last year's Chopper Fest snapped by Geoff Kowalchuk compliments of the good folks at Biltwell. Go to www.Biltwell.com for pics.