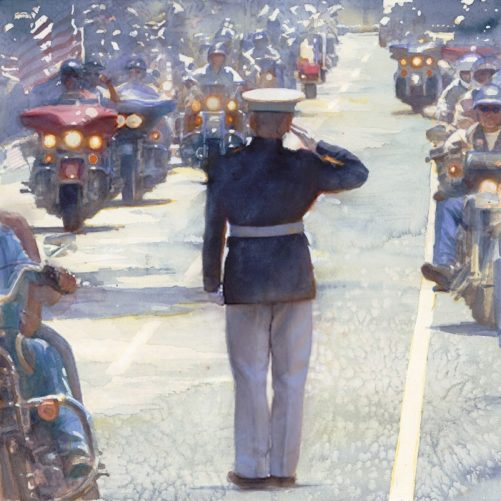 "Memorial Colors" and "Acknowledged" – either commemorative print would look GREAT in your house, office or Clubhouse . . . wouldn't they ?
Joint "Bikers Helping Bikers Art Raffle" – co-hosted and benefiting local 20+ year nonprofit organizations helping local families of riders in need, promoting motorcycle safety and awareness aimed at reducing accidents and injuries, and working within local, State & Federal Governments for bikers. Raffle is permitted and run in accordance with Massachusetts State Lottery Commission rules.
Drawing is Sunday, August 30
th
, – need not be present and will be 'Live-Streamed' on the Boston Biker Facebook page, Sunday, August 30
th
, the last day of the rescheduled 97
th
Laconia Motorcycle Rally Week (8/22 – 30/2020)
, with Paul W. Cote, Sue Hart, and Laconia Rally leaders pulling the winning tickers from the bucket !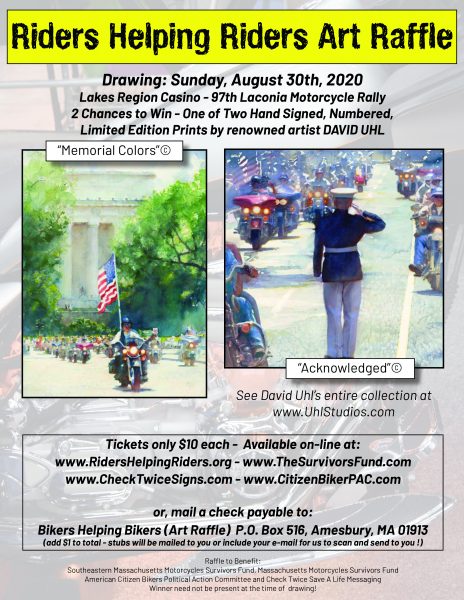 Tickets available via secure Paypal sites with your debit / credit card on-line –
$10 each or six (6) tickets for $50 (1 FREE !) –
or any one of these web sites
For all David Uhl's art collection, see www.UhlStudios.com