ONLINE SALE NOW THROUGH MAY 30TH – 20% OFF ENTIRE SITE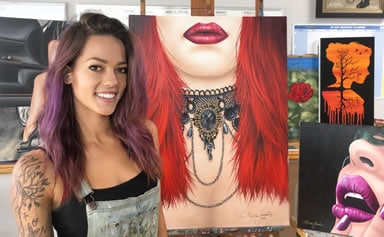 Here's a sample from their gallery by Alexa. Actually, I bought this piece of art for the Bikernet Chinese Whorehouse home in Deadwood. It works right? –Bandit
Alexa Jacobs was born on November 23, 1991 in Summit, New Jersey.  She only lived there for four years before her family packed up and moved to San Diego, California.  She grew up in Rancho Santa Fe in a beautiful house with acreage and many animals.
At age 15, she started working part-time for her dad, Scott, as his under-painter. The first time she painted lasted a brief 15 minutes before she was uninterested and ready to move on to her next teen adventure.
Although Scott thought he lost his apprentice forever, Alexa worked on and off for him for the next several years, amongst many other odd jobs, including modeling for Harley-Davidson.
It wasn't until she had eight years of painting experience with her father that she gained enough courage to create some of her own masterpieces.  Her first several years painting her own canvases were spent experimenting with many different mediums, subjects, and styles. Although she believes in the world of art you never stop discovering, she is confident she has found her niche.