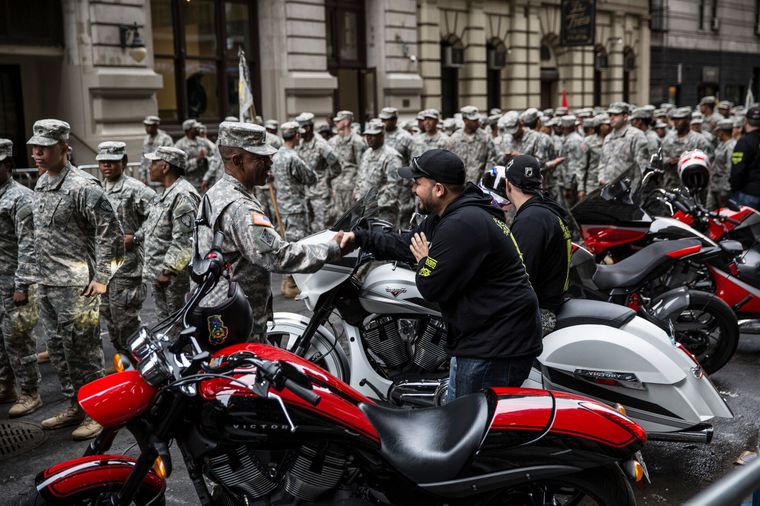 by Patrick Filbin from https://www.stripes.com/
(Tribune News Service) — Chris Mathison served three tours in Iraq over a 14-month period.
As a U.S. Army infantryman, he was in charge of millions of dollars worth of equipment, led a team of fellow infantrymen and, all things considered, was a soldier who was depended upon and good at his job.
When he came back home to Tennessee, he had a hard time adjusting.
The Nashville native moved to Cookeville after he got out of the service in 2011 and tried to find a stable job.
"I've probably been through 10 jobs," Mathison said. "It's hard to find something that fits. You don't feel like you belong, there's no sense of purpose or belonging."
He went to school and received an associate's degree, but even school was a tough adjustment.
"I remember very fondly when I got out, I was going through a sociology class," Mathison recalled. "As we were flipping through the book, I found a picture of my unit in Iraq and it just kind of blew my mind."
Mathison, 35, had a whole life behind him that he had a hard time talking about. Not only was the subject matter sensitive, he couldn't find like-minded people to talk to. As an infantryman, he was surrounded by people who were going through the same things as he was, living through the same experiences.
When he came back home, he was taking general education courses with 19-year-olds.
"That was interesting," he said with a smirk.
Soon after he got out, Mathison signed up for his first program with the Wounded Warrior Project, the country's largest veterans charity organization.
He enrolled in the organization's TRACK program, which had a curriculum meant to heal, develop and train the mind, body and spirit of each wounded warrior through two semesters of college.
It also incorporated peak performance training, health and wellness training, personal finance advice and a physical education program.
Ever since, he's been a loyal supporter of the organization that helps veterans in a number of ways.
Wounded Warriors also helped Mathison get certified in scuba diving.
One of the newest programs in Georgia is a 12-week mental health workshop that kicks off with a three-day motorcycle road trip across North Georgia.
Jon Blauvelt, a public relations specialist with Wounded Warriors, said the program is designed to give veterans an outlet to manage PTSD, traumatic brain injury and other invisible wounds of war while connecting with nature and fellow veterans.
Motorcycles play a huge role in the therapy. Through wind and throttle therapy, reflective discussion and several weeks of follow-ups, the group of eight veterans from Tennessee, Georgia, Alabama, Texas and Florida will experience a once-in-a-lifetime trip while bettering themselves mentally and spiritually.
"When you're on one of these big bikes, all you're thinking about is the bike," Blauvelt said. "I'm on this bike, here are my surroundings, here's the weather, but you're not thinking about PTSD or [traumatic brain injury], you're not thinking about what happened before and you're not thinking about the future. You're thinking about the present moment."
It's a perfect fit for Mathison, who is also a part of the Combat Veterans Motorcycle Association.
Mathison and the seven other riders strolled in at the Harley-Davidson store in Dalton, Georgia, on Tuesday afternoon for a lunch hosted by the motorcycle shop.
Cynthia Allgood, manager of the store, said it was a privilege to host the veterans who sacrificed so much for the country without asking for anything in return.
"Something like this gets you together with like-minded individuals and you can talk about everything and it creates a really good atmosphere," Mathison said. "You're able to make some really good friends that I would not have met."