A British multi-city authority introduces plan to ban private ownership of automobiles by 2041.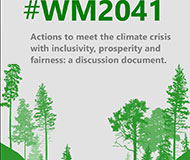 A local government group in the West Midlands, England, earlier this year released its "net zero" plan to deal with global warming over the next two decades. Listed among the plan's final steps is the elimination of private ownership of automobiles — even those that are fully electric-powered. The plans were revealed as part of a public consultation that ended Thursday.

"Car journeys are on the wrong trajectory in this region," the document explains. "It is not practical to transfer this use over to electric vehicles… If this carries through, by the time we reach 2041, a majority of people will not own cars… All other journeys are completed by walking, cycling, scoots, and use of buses, Metro and trains."

The plan was produced by the West Midlands Combined Authority (WMCA), which represents all twelve local government entities in the county of nearly three million residents. None of the authority's members is directly elected, though the body has power over transportation and economic development issues.

Opponents of the plan highlighted the way local governments have been pursuing an incremental strategy of introducing lowered speed limits, traffic calming, higher taxes and similar anti-motorist policies to build gradually toward the ultimate goal of banning private ownership. Groups like Friends of the Earth have admitted their goal in lowering speed limits is to promote a "modal shift" by taking the glamor out of driving. The WMCA document is more explicit about the final objective.

"At last the truth is out," Alliance of British Drivers spokesman Nigel Humphries said. "This has been the plan behind closed doors since the 1990s, but it's never been clearly and publicly stated before. This is for the simple reason that when it is, up to 97 percent of people reject it."

Under the plan, a complete ban on gasoline-powered cars would kick in by the year 2036. Before that happens, local governments would impose a "clean air zone" creating car exclusion zones in areas surrounding schools. A "scrappage scheme" would then encourage residents to destroy automobiles in return for a travel pass with £3000 (US $3850) in mobility credits for use of transit or bicycles.

From The Newspaper.com
Sound familiar? Watch out and register to vote, quick!–Bandit